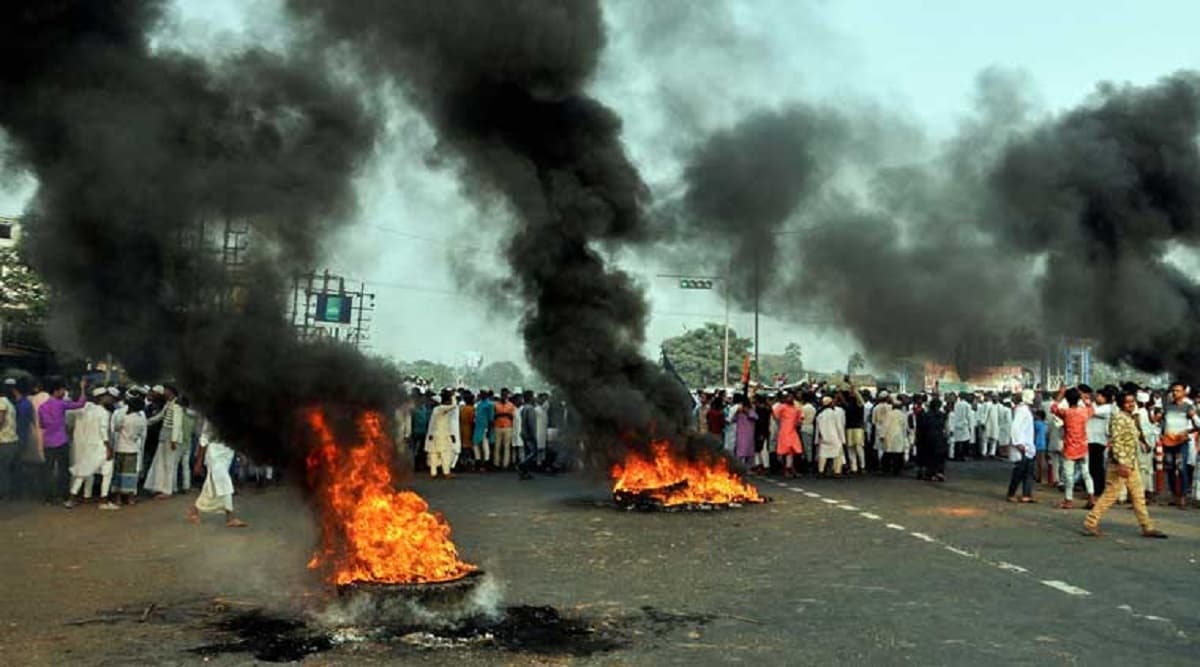 New Delhi, December 14: The protests against Citizenship Amendment Bill (CAB) turned violent in West Bengal, with five empty trains being set on fire by arsonists in Murshidabad district on Saturday. The burning of trains comes a day after anti-CAB protesters set fire on a portion of the Murshidabad station while protesting against the changes in citizenship law. Assam Unrest: Internet Ban Extended Across State Till December 16 as Tensions Prevail Over Citizenship Amendment Act.
In several parts of Bengal, including state capital Kolkata, massive rallies have been taken out by protesters who have opposed the passage of CAB by Indian Parliament. The agitators have alleged a ploy by the central government to "oust Muslims" through the National Register of Citizenship (NRC) while granting citizenship to non-Muslim refugees via the CAB.
Chief Minister Mamata Banerjee, earlier today, appealed the protesters to restraint from violence. While calling for peace, Banerjee assured that the residents of Bengal should not worry about the CAB-NRC project. her government, she claimed, would never allow it be implemented in the state.
"I request everyone to not create any disturbance or involve in any kind of violence. Be sure that the Citizenship Amendment Act and National Register of Citizens will not be implemented in Bengal as we won't allow it. Please don't block roads and take law in hands," she said.
Senior BJP leader Rahul Sinha lashed out at Banerjee for allegedly adopting a soft approach towards the anti-CAB protesters who have resorted to arson. "State is burning due to TMC, if it continues like this there will be no solution except President's rule. CM should give message to police that if protesters are seen doing violence, they should be shot," he demanded.
West Bengal Governor Jagdeep Dhankar, who has been involved in a row with the Chief Minister since his appointment to the top post earlier this year, said the CAB should be implemented across the nation, including Bengal.
"If the Parliament in its wisdom has given us a law, which is rule of the land, everyone particularly those like me and others who hold Constitutional positions have to believe in it," he said.
"This law is applicable all over the country. I can't say I will not go by it, no one else can say it. If anyone has taken oath under the Constitution they can't say it will be challenged. I appeal to everyone, please don't politicise the issue," Dhankar further added.