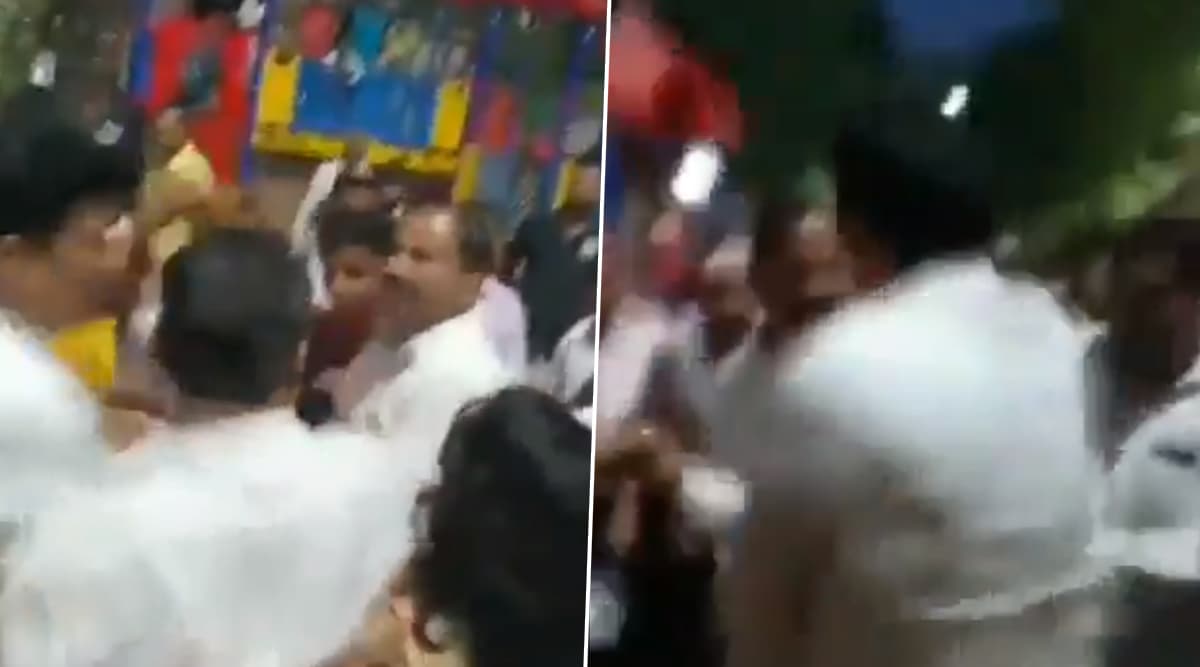 New Delhi, October 31: Aam Aadmi Party (AAP) legislator Saurabh Bharadwaj and Bharatiya Janata Party (BJP) councillor Subhash Bhadana on Wednesday exchanged some sharp words over the construction of a Chhath ghat at Ambedkar Park. Saurabh Bharadwaj alleged that Subhash Bhadana and BJP workers halted the construction of Chhath ghat. The BJP councillor said that permission was not granted by the South Delhi Municipal Corporation (SDMC) in this regard. AAP Changed Narrative, BJP Doesn't Have Courage to Do Hindu-Muslim Politics in Delhi: Kejriwal.
The argument between Bharadwaj and Bhadana broke out when the AAP MLA arrived at Ambedkar Park. He alleged that SDMC officials had stopped the flood and irrigation department officials to carry out excavation work to prepare a temporary ghat at the park. He also said that he was informed that the civic body had granted permission for the construction of a Chhath ghat. Meanwhile, Bhadana along with BJP workers had arrived. BJP Accuses AAP Govt of Being 'Slow' in Spending Budgetary Allocations for Development.
"We had taken a few labourers to the park in the evening to prepare the ghat so that people could do Chhath Puja. The BJP councillor suddenly came there with his supporters and pushed the labourers away. He also snatched the spade I was using to dig the pond," the AAP legislator was quoted as saying. Bhadana, however, claimed that the SDMC had not granted permission for constructing the Chhath ghat inside Ambedkar Park.
Watch: AAP MLA Saurabh Bharadwaj, BJP Councillor Subhash Bhadana Clash
देखिए भाजपा पार्षद और भाजपा कार्यकर्ताओं को, पूर्वांचली समाज के लिए दिल्ली सरकार छठ घाट बना रही थी। आधी खुदाई के बाद काम रुकवा दिया, धरना दे रहे है।

सारी परमिशन है, कई साल से यह छठ पूजा होती है, मगर अब धर्म के नकली ठेकेदार परेशान हैं। pic.twitter.com/cp0SEK8KiS

— Saurabh Bharadwaj (@Saurabh_MLAgk) October 30, 2019
दिल्ली में भाजपा छठ पूजा के खिलाफ, ग्रेटर कैलाश विधानसभा में छठ घाट तैयार करने को लेकर भाजपा के पार्षद भड़ाना ने विधायक @Saurabh_MLAgk पर हमला किया!!

.@AamAadmiParty pic.twitter.com/xrsz3pDQhZ

— देशभक्त अभिषेक जयहिन्द (@AbhishekJayhind) October 30, 2019
The BJP councillor said that since the redevelopment of Ambedkar Park by the SDMC, no cultural activities are held there. "We organise Chhath Puja at the adjoining Janmasti Park, so I suggested to the AAP leader to construct an additional ghat there and not damage Ambedkar Park. But he did not listen," he was quoted as saying.