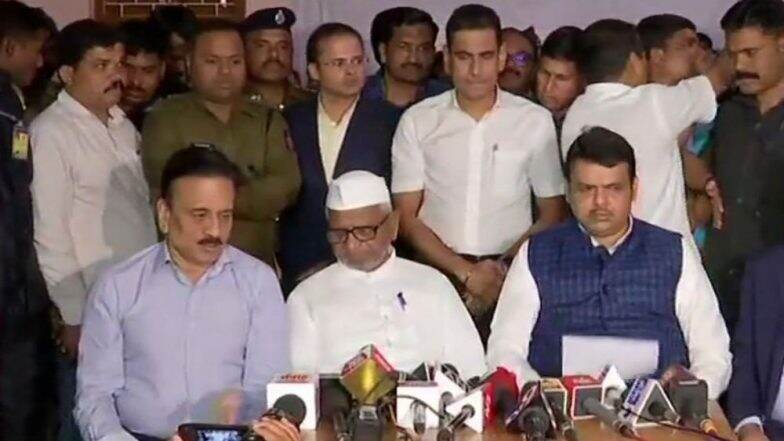 Ralegan Siddhi, February 5: Social activist Anna Hazare on Tuesday ended his hunger strike after Maharashtra Chief Minister Devendra Fadnavis assured him that the Centre will soon appoint a Lokpal. Anna Hazare called off his protest after holding a discussion with Fadnavis for about six hours. Following the meeting, Hazare said he was satisfied with what Fadnavis assured him regarding the appointment of Lokpal.
"We have decided that the Lokpal search committee will meet on February 13 and the directions of the Supreme Court will be followed. A joint drafting committee has been set up, it will prepare a new bill and we will introduce it in next session," Fadnavis told reports after meeting Hazare. "I am satisfied with what Devendra Fadnavis has said," the 81-year-old anti-graft crusader said. He added that all his demands were accepted. Raj Thackeray Meets Anna Hazare, Requests Him Not to Sacrifice Life For 'Useless' Government.
On the death anniversary of Mahatma Gandhi, January 30, Hazare had launched his indefinite hunger strike to demand the setting up of a Lokpal at the Centre and Lokayuktas in states saying the Narendra Modi government "had failed" to set up the anti-corruption bodies. During his protest, he also admitted that the Bharatiya Janata Party (BJP) had used him to win the 2014 Lok Sabha elections.
"Yes. The BJP used me in 2014. Everybody knows that it was my agitation for Lokpal that catapulted the BJP and also the Aam Aadmi Party (AAP) to power. Now I have lost all regards for them," Hazare had said. Hazare whose ongoing indefinite hunger strike entered the seventh day on Tuesday has lost over 5 kilograms and is in a critical condition, doctors attending to him said.