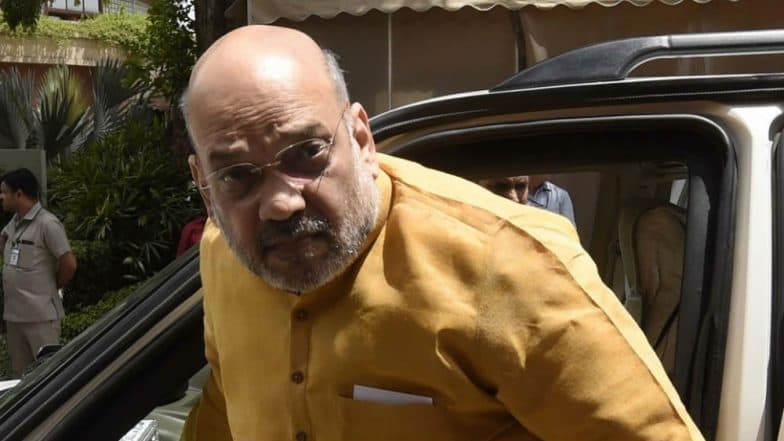 New Delhi, August 19: Home Minister Amit Shah chaired a high-level meeting at the Home Ministry office today, on Monday. The meeting was attended by National Security Advisor (NSA) Ajit Doval, Home Secretary Rajiv Gauba and other senior intelligence officials, reported ANI. Reports indicate that the prevailing security situation in Jammu and Kashmir was discussed at the meeting along with the issue of Pakistan after the abrogation of Article 370 and the bifurcation of Jammu and Kashmir into two Union Territories. Article 370 Abrogated From Jammu and Kashmir: Home Minister Amit Shah Proposes Scrapping of the Article, What Does the Article State?
The meeting was held on the day when schools and offices have been allowed to remain open in Jammu and Kashmir in a phased manner. MoS Jitendra Singh Says Time to 'Free Pakistan Occupied Kashmir (PoK)', Hopes to See it Happening in 'This Lifetime'.
India on Friday also told Pakistan that it has to "stop terrorism" for talks to begin as the UN Security Council held a rare closed door meeting to discuss revocation of the special status of Jammu and Kashmir.
See the Pictures in the Tweet Below
Delhi: National Security Advisor (NSA) Ajit Doval leaves the Home Ministry after attending a meeting chaired by Home Minister Amit Shah. Home Secretary Rajiv Gauba & senior intelligence officials also attended the meeting. pic.twitter.com/nrWHgV4yVq

— ANI (@ANI) August 19, 2019
Briefing the media following the conclusion of the informal meeting requested by China and Pakistan, Indian envoy to the UN Syed Akbaruddin said India's position was and remains that matters related to Article 370 of the Constitution are entirely an internal matter of India and these have no external ramifications.
Rajnath Singh, Defence Minister of India, while addressing a public meeting at Kalka in Haryana also underlined India's tough stance and "no compromise" policy with Pakistan. "Talks will only take place on the issue of Pakistan-occupied Kashmir. No talks will be entertained on any other issue."
Jitendra Singh, Minister of State (MoS) in the Prime Minister's Office, in a statement on Sunday called for unity in the Parliament of India to "free Pakistan Occupied Kashmir (PoK)" so that it can be "merged with India." Jitendra Singh also said that, "Let us pray to the almighty that we get the chance to see this in our lifetime."