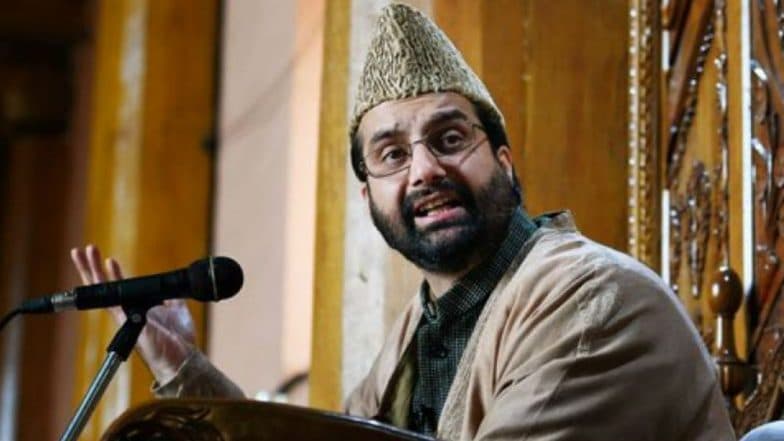 Srinagar, Monday 11: Days after being summoned by the National Investigation Agency in New Delhi headquarters, separatist leader and Hurriyat Conference chairman Mirwaiz Umar Farooq on Monday said that he couldn't come to national capital as there are security issues and he fears for his life, as 'prevailing condition of hostility' is pertinent.
Earlier on Saturday, the NIA – investigating the terror funding case in Jammu and Kashmir – had summoned separatist leaders Farooq and Syed Naseem Geelani, son of hardline Hurriyat leader Syed Ali Shah Geelani, to Delhi on Monday for questioning. Kashmir Terror Funding Case: NIA Summons Separatists Mirwaiz Umar Farooq, Naseem Geelani For Questioning to Delhi. 
On Monday, Farooq's counsel Ajaz Ahmad Dhar sent a letter to NIA stating the denial of the separatist leader for questioning in Delhi, with security reasons in place.
In the letter, it was written, as reported by Hindustan Times: "The notice in question appears to have been issued on the basis of fallacious assumptions and misinformation solely aimed at maligning the Mirwaiz –i- Kashmir, knowing his status and position, it appears to be outcome of considerations other than law. My client is not acquainted with the subject matter of FIR/NIA Crime no RC 10/2017/NIA/Dli, referred in the notice."
Adding more, the letter stated, "Under the prevailing condition of hostility wherein there is a threat to the personal safety of my client it becomes unwise for my client to travel to Delhi. If the NIA wants to examine my client they can do so in Srinagar. He is willing to cooperate as he has nothing to hide."
The NIA had taken control of the investigation on February's second week – after Pulwama terror attack – on the terror funding case and have raided several houses of separatist leaders in the Valley. The NIA officials have carried out searches at seven locations, including the residences of Farooq, Geelani, JKLF leader Yaseen Malik, Shabir Shah, Ashraf Sehrai and Zaffar Bhat in connection with the same case. Pulwama Attack: Security to Five Separatist Leaders Mirwaiz Umar Farooq, Abdul Ghani Bhat, Bilal Lone, Hashim Qureshi and Shabir Shah Withdrawn by Government.
Informing about the case, the NIA officials have stated that they have seized incriminating documents, including property papers, financial transactions receipts and bank account details during the raids. NIA spokesperson also added that electronic devices, including laptops, e-tablets, mobile phones, pen drives, communication system and DVRs, were also seized.