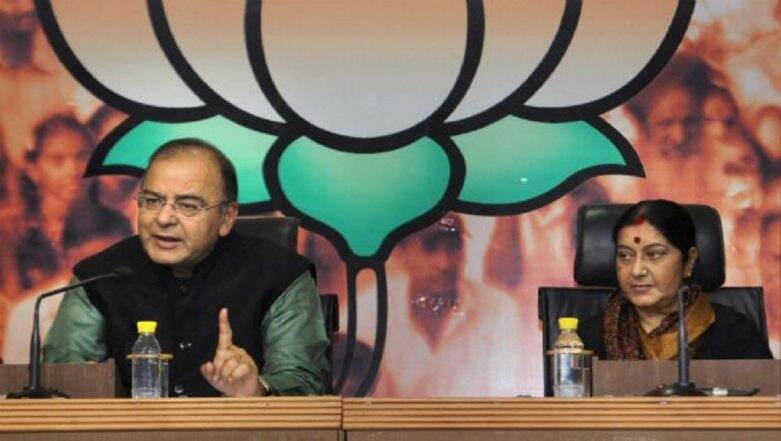 New Delhi, May 22: Three top ministers of the Narendra Modi-led NDA government were not in the polling fray this year. Despite contesting in 2014, BJP veterans Sushma Swaraj and Arun Jaitley, along with LJP chief Ram Vilas Paswan, did not contest in the Lok Sabha elections 2019. Varanasi Astrologers Throw Spanner in Exit Poll Predictions.
Speculations are rife that at least two among the trio - Jaitley and Paswan - would be part of the Ministry if the coalition is re-elected to power. On Sushma, BJP insiders have told reporters that the 67-year-old is considering to retire from active politics.
Sushma, who won from the Vidisha parliamentary constituency in last general polls, announced in November 2018 that she would not be contesting in 2019. While she sighted health reasons to not contest direct polls, she clarified that it must not be construed as her political retirement.
The External Affairs Minister's husband, Kaushal Swaraj, however, indicated that a retirement was on the cards. "Madam (Sushma Swaraj) - Thank you very much for your decision not to contest any more elections. I remember there came a time when even Milkha Singh stopped running," he had posted on Twitter.
Meanwhile, Jaitley, who is also plagued by health issues, is likely to continue as a key member of the Modi ministry if the ruling dispensation gets re-elected.
The Finance Minister had in 2014 unsuccessfully contested against senior Congress leader Capt Amarinder Singh from Amritsar. The latter emerged victorious in the polls despite the Narendra Modi wave being at its peak.
Meanwhile, Ram Vilas Paswan, who has been representing the Hajipur constituency since 1977, decided not to contest in this elections. The LJP has claimed that his decision is aimed at passing the baton to the younger generation.
Paswan would, however, continue to remain in active politics. The NDA would nominate him to the Rajya Sabha. He is expected to be nominated as a member from Assam -- the elections for which would be held on June 7.