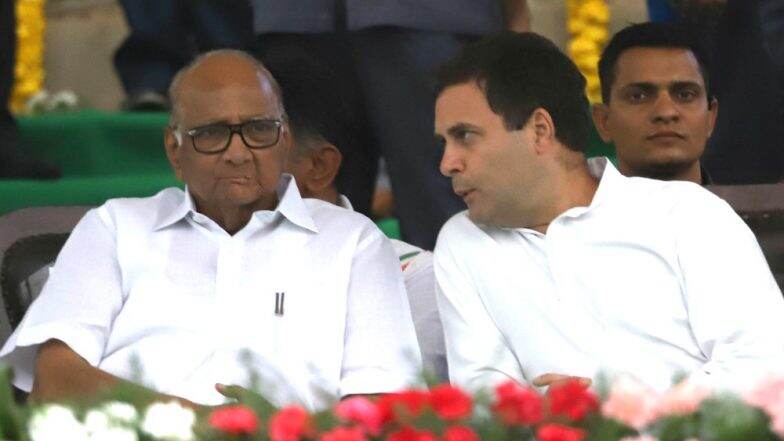 Mumbai, September 5: The Congress and the Nationalist Congress Party (NCP) have almost finalised their seat-sharing pact for the upcoming Maharashtra Assembly elections, due in October. According to reports, the Congress and NCP have finalised the seat-sharing arrangement for 224 out of the 288 Assembly seats in Maharashtra. The two parties are likely to jointly contest 250 seats, leaving 38 seats for smaller parties. Ramdas Athawale Demands BJP-Shiv Sena to Allot 10 Seats to RPI For Contesting in Maharashtra Assembly Elections 2019.
"We had a good discussion with NCP regarding seat distribution for Assembly elections in Maharashtra. We have agreed on 70 percent of the seats, rest will also be taken care of," former chief minister and senior Congress leader Ashok Chavan said on Thursday. The Congress-NCP combine is unlikely to forge an alliance with Prakash Ambedkar–led Vanchit Bahujan Aghadi (VBA). Asaduddin Owaisi's AIMIM is also part of the VBA. Maharashtra Polls: Over 21 Lakh Voters Added to Electoral Roll in 7 Months, Female Voters Outnumber Males.
Of the 250 seats, both the Congress and the NCP may contest on an equal number of seats. The remaining 38 seats are likely to be shared by Peasants and Workers Party (PWP), Raju Shetti–led Swabhminai Shetkari Sanghtana (SSS), Communist Party of India (Marxist), other Ambedkarite and left parties. The seat-sharing is reportedly based on the basis of the 2014 state poll results, where the two parties had contested independently.
In the 2014 Maharashtra Assembly elections, the Bharatiya Janata Party (BJP) emerged as the single largest party winning 122 seats. The Shiv Sena, which contested alone, came second with 63 seats. The Congress and NCP bagged 42 and 41 seats respectively. Bahujan Vikash Aghadi and the PWP won three seats each, while the AIMIM secured two seats.