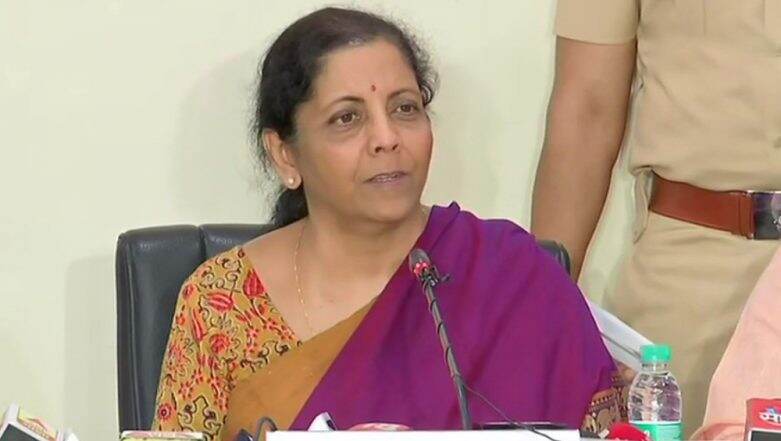 New Delhi, August 27: Hours after Congress leader Rahul Gandhi accused the government of adopting knee-jerk reaction to the ongoing economic slowdown, Finance Minister Nirmala Sitharaman struck back at the Opposition. Citing the recent general elections mandate, Sitharaman said the country has already rejected such charges against the government. Nirmala Sitharaman's Remedy For Ailing Auto Sector & Real Estate: Cheaper Loans, Easy EMIs.
In her second press conference in five days, Sitharaman spoke on entreprenuers and tax collection. The finance minister reiterated that the tax collection targets are achievable.
When asked for reply on Rahul Gandhi's jibe, Sitharaman said,  "I don't want to attach much importance to what Rahul Gandhi has said. Whenever Rahul Gandhi raises things like 'chor,chori,' one thing comes to my mind, he tried his best 'chor, chor,chori,' but public gave him befitting reply. What's the point of using the same words again?" Government Prevails Over RBI to Release Rs 176,000 Crore Surplus.
"We want entrepreneurs to carry on with their business without a worry," added Finance Minister Nirmala Sitharaman at the media briefing in New Delhi on Tuesday. Her comments come a day after the government received  ₹1.76 lakh crore from the RBI.
"Whatever be the size- small, medium, micro, nano or large entrepreneurs of this country, we want them to carry on with their business without a worry," said Sitharaman.
"I want to say that the Bimal Jalan committee had eminent experts in it. It was constituted by the RBI and not by the government. They've had several sittings and come out with a report, like earlier committees that looked into the excess capital," she further said.