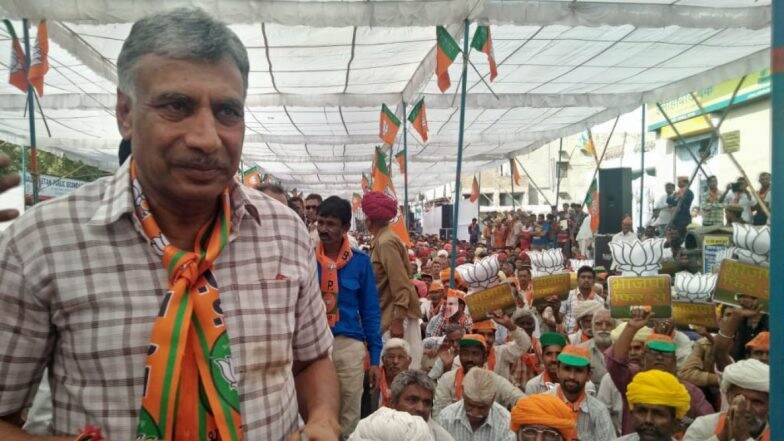 Jaipur, October 7: Though the Supreme Court is yet to pronounce its verdict in the Babri Masjid-Ram Janmabhoomi title dispute case, a legislator of the Bharatiya Janata Party (BJP) in Rajasthan claimed that Ram Mandir will be built in Ayodhya on November 18. Assuming that the verdict will go in favour of Hindu parties, BJP MLA Gyanchand Parakh said that the year 2019 is auspicious for devotees of Lord Ram. Uddhav Thackeray Rakes Up Ram Mandir Issue Ahead of Maharashtra Polls, Says 'Shivsainiks Ready to Lay First Stone of Temple'.
"The hearing in the case will be completed by October 17 and by November 18 a temple will be built on Ram Janmabhoomi. This year is very auspicious for us," Gyanchand Parakh declared on Sunday at a Ramlila event in Pali, his assembly constituency, where he was invited as chief guest. The BJP legislator's statement came two days after Uttar Pradesh Chief Minister Yogi Adityanath said that a "very good news" regarding the Ram temple awaited all. Government Holds Supreme Right to Give Land for Construction of Ram Mandir: Subramanian Swamy.
"We are Ram bhakts. There is a lot of strength in bhakti. I feel we will soon get to hear very good news," Adityanath had said without elaborating or mentioning Ram temple. Last Friday, the Supreme Court said that it would wrap up the hearing in the Babri Masjid-Ram Janmbhoomi title dispute case on October 17, a day earlier than its schedule. A five-judge bench, headed by Chief Justice of India Ranjan Gogoi is holding a day-to-day hearing in the case.
"October 17, the last day of the hearing, the court has carved out a time-frame for arguments on molding relief for the parties," said CJI Gogoi. It is expected that the judgement will be pronounced on or before November 17, the day of the Chief Justice's retirement. The bench also has Justices SA Bobde, DY Chandrachud, Ashok Bhushan and SA Nazeer. The Muslim parties are expected to finish their arguments on October 14, followed by two days to Hindu parties to make submissions on their rejoinder.
The apex court commenced the daily hearing on the matter on August 6. Fourteen appeals have been filed in the top court against the 2010 Allahabad High Court judgment, which partitioned the disputed land equally among the three parties - Ram Lalla, Sunni Waqf Board and the Nirmohi Akhara.