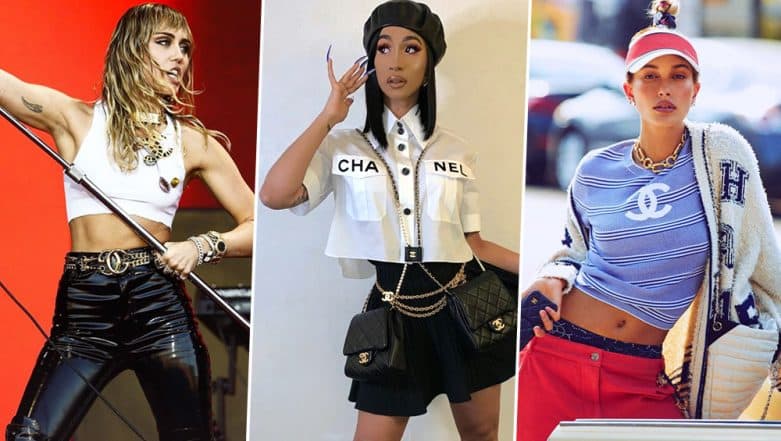 There's a trend going around that all the celebrities and their mothers are following. Every influencer, celebrity and famous person has jumped on this trend. And that trend we're talking about wearing brand logos. In the 1980s, people wore logos on their outfits to flaunt the designer apparel. Seems like fashion never goes out of style, it just gets slept on for a while. Like many other styles, Logomania is back and stronger than before. International Bikini Day 2019: Know More About This Beach Outfit As It Turns 73 on July 5.
What is Logomania?
Logomania is a trend where the name of the brand or its logo is printed on a piece of clothing. Celebrities and influencers can't stop showing off the expensive brands they wear. The trend Logomania has taken over by storm and here's why.  Logomania takes minimal efforts to look boujee, something everyone is running after.
Whether it's fake or real, people want it. The most common and famous example of Logomania is the Gucci belt. Who hasn't seen it? These outfits with logos actually cost more than any outfit with eye-catching details.  Here are some examples of Logomania. How Many Calories Do You Burn When You Have Sex? Find Out Which Position Is Good for Weight Loss.
Kylie and Stormi in Matching Fendi
View this post on Instagram
Gucci Glares
View this post on Instagram
Cardi B in Chanel
View this post on Instagram
Instagram Influencer Amrezy Showing off her Christian Dior Handbag
View this post on Instagram
Hailey Baldwin Bieber with her Alexander Wang Thong
View this post on Instagram
Hailey Baldwin in Chanel
 

 

 

 

View this post on Instagram

 

 

 

 
Miley Cyrus Rocking a Gucci Belt
 

 

 

 

View this post on Instagram

 

 

 

 
If you're a fan of this look, here's how to rock it.
Keep it simple: That's all. If you're going for the brand logo look, pair it with something simple. If your top has the logo, pair it with some simple jeans. Or keep the bottoms plain and some muted colour. Let the logo do the work for you.