Do you fancy buying bikinis even though you don't necessarily have a beach holiday coming up? There are so many designs and patterns to choose from to show off your toned figure. But a newly launched hand-print bikini design is bound to make people's head turn. Brazilian designer Adriana Degreas' sexy bikini costing £260 looks like you are giving yourself a hand. It is a bizarre design but it does grab not just others attention but also boobs. Erm, yes! NSFW Instagram Trend: Upside Down Bikinis Are Going Viral and You Have to See These Hot Pictures!
Called the 'Hands Strapless Bikini' it features a sheer tulle bandeau top with well-manicured hands covering the boobs except for the cleavage. The nails are painted red which look like real hands holding on your boobs. The cheeky design seems to have impressed quite a few people. Those who love risque fashion have tried it and people are leaving impressive comments. Stick-On Swimwear! New Trend Sees Bikini Made of Duct Tapes, See Pics!
View Pics of the Hands Strapless Bikini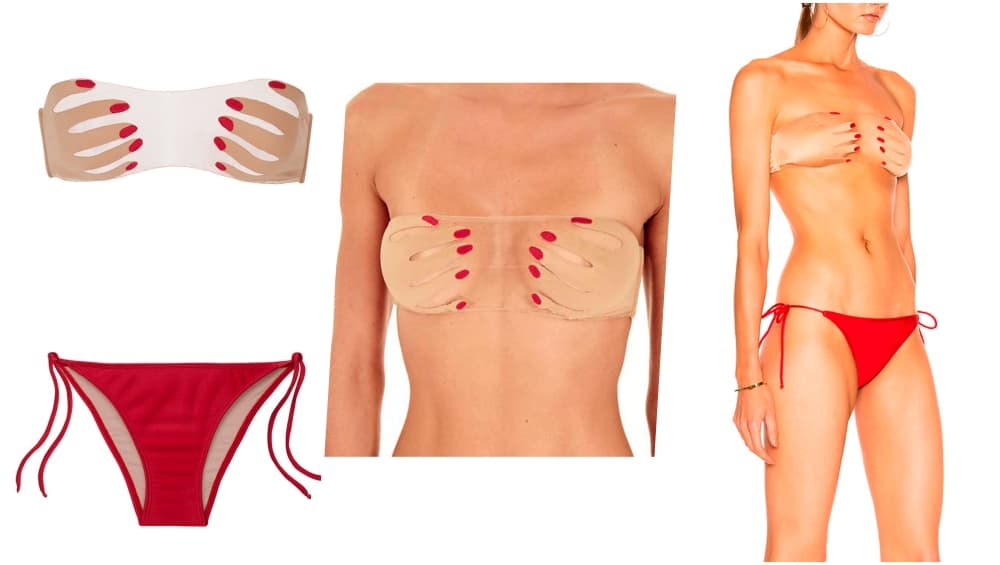 If you are wondering how it would look then Insta star Kelly Travelling tried it and posted the picture to her 7000 plus followers. The comments on her picture had everyone looking for details of the bikini top.
Check Kelly Travelling's Picture Trying Out the Bikini Top
View this post on Instagram
If risque fashion is your game then this bikini piece is a thing to try out this season. Give yourself a hand and show it off. Also, make sure your nail polish matches with the colour of these nails, then it is going to be just perfect. Do you fancy this new design or is it too bizarre for you?
(The above story first appeared on LatestLY on Jun 19, 2019 01:09 PM IST. For more news and updates on politics, world, sports, entertainment and lifestyle, log on to our website latestly.com).