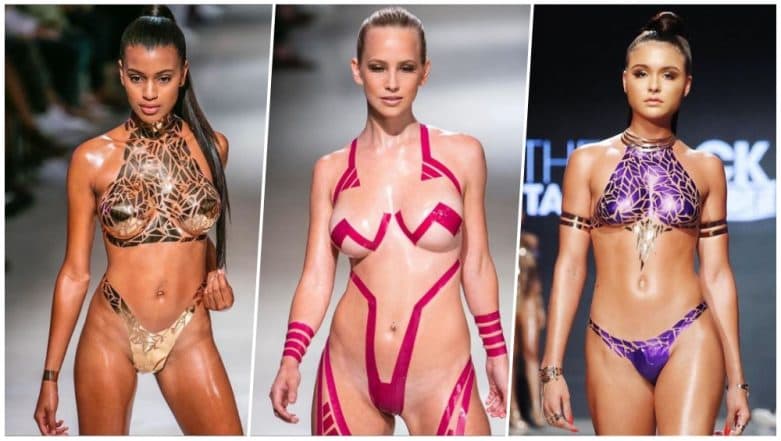 Whenever you think of a duct tape it is to fix something that needs to be put together. The waterproof adhesive tape is used more in packaging and constructions but can you imagine it being stuck on your private parts as a costume? Sounds ridiculous right? But in the times of evolving fashion trends, The Miami Swim Week show 2018 saw duct tape modified into swimwear! The stick-on swimwear trend made its debut on the ramp as models walked on with coloured duct tapes wrapped around their private parts.
Another bikini fashion that has become a trend is the upside down bikinis, which is to wear the bikini top upside down in creative ways. Fashion trends go through their unconventional paths but this experimental style may not be too comfortable. These models left little to the imagination of the audiences as these swimwear pieces were made of the tape strips covering the nipple and the crotch areas.
Take a look at some of the stick-on swimwear, duct-tape bikinis that were modelled on Miami Swim Week Show:
Ditching the black tape
Playing with colours!
Going Bold With Gold
The idea of using stick on to syle is of Black Tape project, which made headlines for their concept a while back. Take a look at some of their other bikini creations.
Bolder stripes!
Silver sparkle
Of course, black is hot!
Creative ways of putting the tape together must say! But we do not even want to imagine how painful it must have been for these models to get off their swimwear, or just pull off their bikinis! What do you think of these?