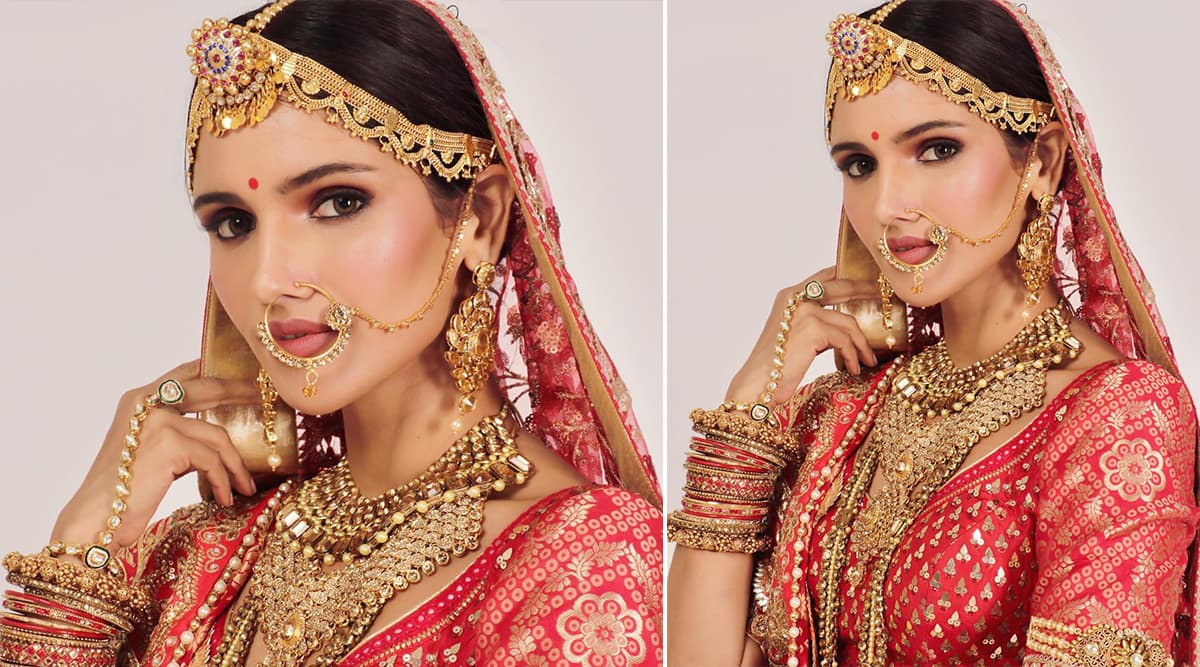 Our very own diva, Vartika Brij Nath Singh is not slowing down, as her grace is increasing each passing day with any outfit and looks she experiments. The wedding season is on, and right in time, the beautiful girl dazzled up in bridal couture. The Miss India Universe has shared a mesmerising picture of her in a gorgeous red and golden lehenga, aptly accessorised with bridal jewellery. You will need a moment to behold her beauty before you shower all your compliments on the look. While she is preparing for the global competition, the 68th edition of Miss Universe 2019, Vartika has shared a glimpse from her photoshoot on her Instagram, and we are going haywire over her bridal look. Vartika Singh Set to Grace Miss Universe 2019 Ramp: Know Everything About Diva Universe Who Will Represent India at the Beauty Pageant in Georgia. 
Donning a bridal red lehenga with beautiful golden embroidery, the 26-year-old is looking breath-taking. She completed her look with heavy golden jewellery, while posing in front of the camera. Vartika is undoubtedly one of those who like to stay rooted in purist traditions and clad in quintessential red wedding lehenga. Just rightly she captioned the photo! "A glimpse of my national costume! I love how vibrant and regal it is. Your thoughts on the look?" reads the caption. Well, we have too many thoughts, Vartika!
Here's the Pic:
If this just a glimpse, we can only dream how the entire shoot will come up. We cannot wait for more for Vartika to share the pictures of her in this gorgeous tales of red and gold. Meanwhile, the 26-year-old diva is set to walk the ramp of the prestigious Miss Universe 2019. Lara Dutta was the last winner from India to bring home the crown. As we continue to drool over her beauty, we wish her all the stars from the universe while she represents our country in the global stage.