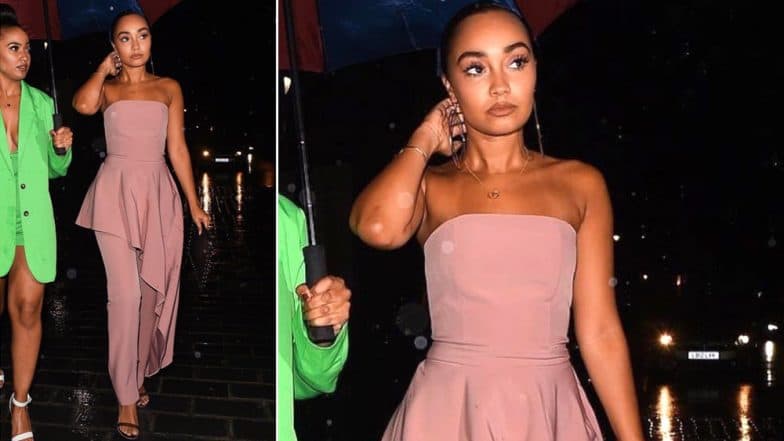 Leigh-Anne Pinnock from Little Mix had recently attended the first birthday party of the famous London nightclub and restaurant, Duo London. Her sister Sairah Pinnock is an event organiser and planner and had arranged the event for the pub. As Leigh-Anne gushed about how proud she was of her sister for hosting and throwing a killer party, people had their eyes on the singer and her dusky rose outfit. Yo or Hell No! Sophie Turner Picks a Black Deep Cut Neckline Gown by Alexandre Vauthier for Joe Jonas' Birthday Bash.
Leigh-Anne wore a dusky rose jumpsuit from AQ/AQ in the style Adelia Strapless Jumpsuit. The jumpsuit had a massive frill from her waist going all the way to her ankle of the left foot. The strapless dress had a peplum cut, that complimented her pear/hourglass figure. She kept the attire clean with a standard black, logomania clutch by Balmain. The clutch has silver studs on the edges and retails for a whopping $1,054. The jewellery is simple, with a Cartier gold necklace and a few rings. The chain is called Love Necklace, and it's sold for $2,160! Yo or Hell No! Cardi B Flaunts Cleavage and Abs in West Hollywood.
Leigh-Anne Pinnock at the Party
View this post on Instagram
The 2000s strappy sandals are back. Leigh-Anne is sporting a House of CB Ghost Black Straps Leather Sandals with the jumpsuit. The footwear is not her style in any way. We've always seen her with crazy stuff, and this is somewhat strange. What are your thoughts on her look?
Yo or Hell No! Leigh-Anne Pinnock's Peplum Jumpsuit and Strappy Sandals