Durga Puja 2018 is one of the most important festivals in the Bengali calendar and the celebrations have started in full swing. There is an excitement on the face of every Bengali across the world, who are eagerly waiting to welcome Goddess Durga along with her family. These six-days of fun and festivity is also the time of homecoming for every Bengali who resides outside their hometown. Sharad Navaratri 2018: What Are Nine Avatars of Goddess Durga or Navdurga? Pictures, Mantras & Celebration Dates of Navratri Festival.
According to the Hindu mythology, the auspicious occasion of Devi Paksha starts from Mahalaya. This year, Mahalaya was celebrated on October 8. It marks the end of Pitru Paksha or Pitri Paksha and the start of Devi Paksha, which signifies the start of all auspicious time. It is believed that on this day, the ten hands goddess descends on the earth to fight against all the evils and protect us.
The ten day popular festival Durga Puja or popularly known as Navaratri in North India is a story of a creation of a powerful female with ten arms-Goddess Durga, and how she gains victory in her fight with Asura. It means the victory of good over evil. Mahalaya 2018: Date & Significance of the Day When Pitru Paksha Ends & Goddess Durga Descends On Earth.
Here is an extensive list of Durga Puja Images, Durga Puja 2018, Happy Durga Puja Wishes in English, Subho Durga Puja, Shubh Durga Puja Wishes in Hindi, Happy Durga Puja Images, Durga Puja Durga Puja status in Bengali, Bangla Durga Puja Kobita, Durga Puja SMS in Bengali Language, Durga Puja Quotes in Bengali Font and Wallpapers in HD to wish on your friends and family in this Durga Puja. Navratri HD Photos & Maa Durga Images for Free Download Online: Happy Navaratri Wallpapers in 1080p & Navadurga GIFs for WhatsApp Greetings.
Subho Sharadiya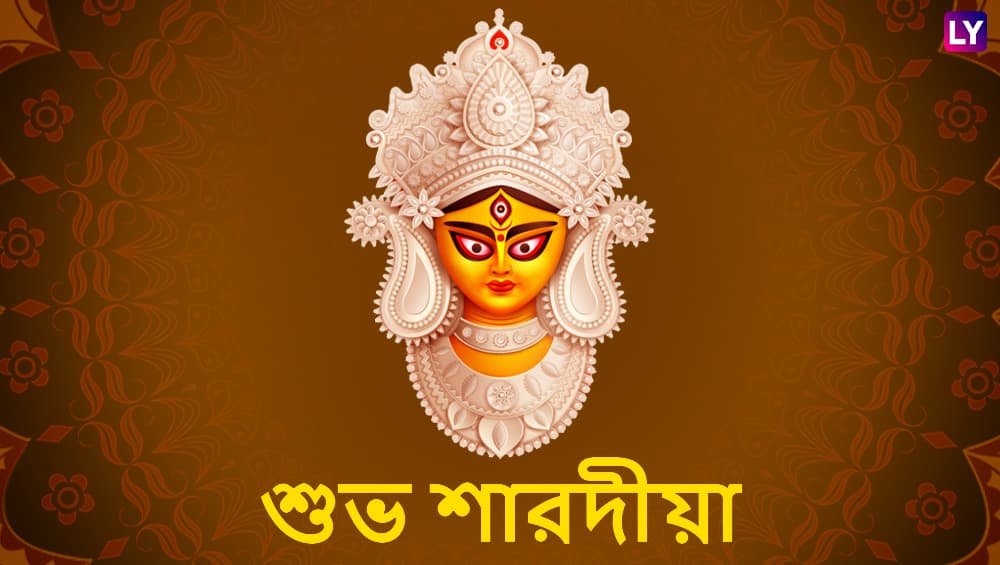 The WhatsApp message reads Subho Sharadiya which means good wishes for the festive Durga puja season.
Subho Shashthi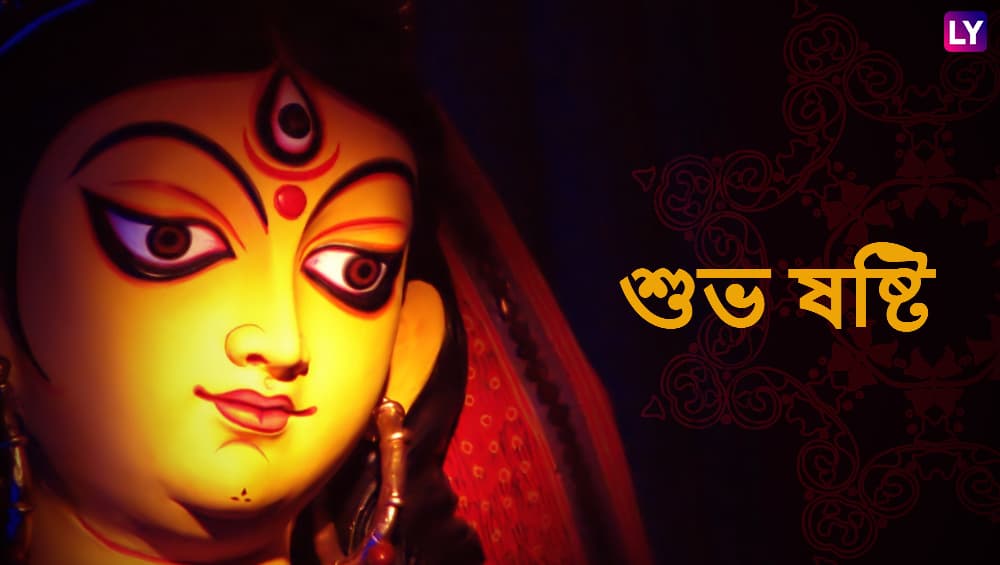 WhatsApp message reads Subho Sashti, which in English means happy Sashthi- the sixth day of Durga Puja. On this day, the face of the Durga Idols in most pandals gets revealed. Serpentine lines in front of famous puja pandals starts from this day onward.
Subho Saptami
WhatsApp message reads- Subho Sapatami in English, which means Happy Saptami- the seventh day of Durga Puja. From this day onwards, several rituals of the puja starts, from offering pushpanjali in the morning to bringing kola bou and the distribution of bhog.
Shubo Ashtami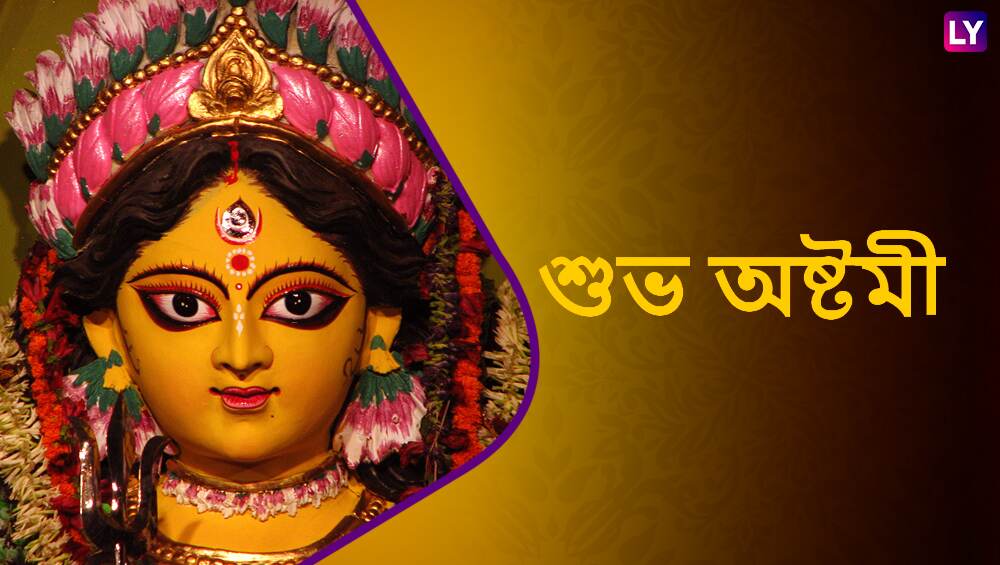 WhatsApp message reads-Subho Ashtami, which in English means Happy Ashtami, the eight day of Durga Puja. This is one of the most important days of the Durga Puja. It starts with kumari puja in the morning, devotees offering pushpanjali before the Goddess and ends with Sandhipuja. It is believed that from the time Sandhipuja ends, Navami starts. When is Durga Ashtami 2018? Shubh Muhurat & Time for Maha Ashtami Puja and Pushpanjali Aarti During Durgotsava.
Subho Navami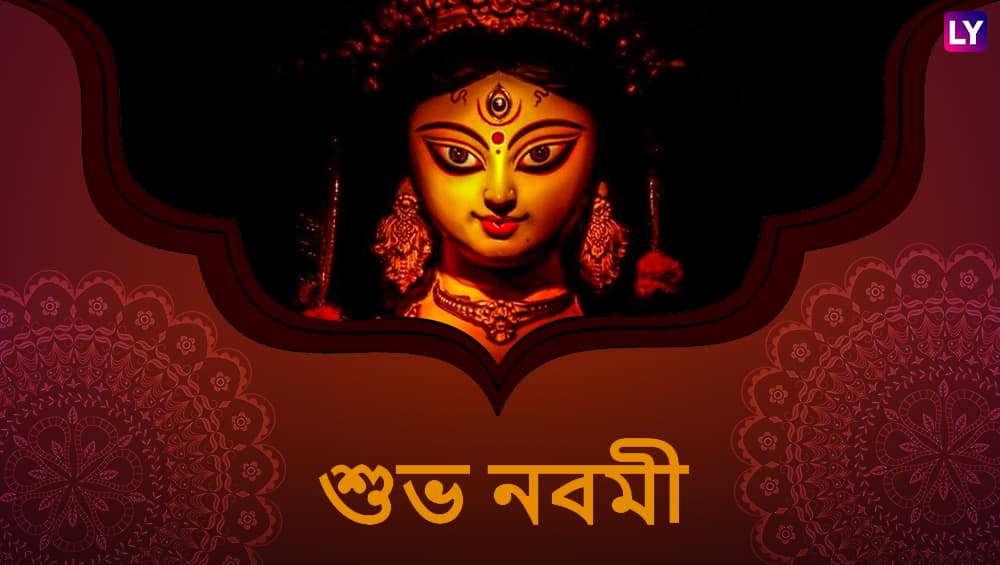 WhatsApp Message reads-Subho Navami, which in English means Happy Navami, the ninth day of Durga Puja. Among some of the major rituals performed this day are pushpanjali and balidan. When is Maha Navami 2018? Shubh Tithi, Muhurat & Time for Navami Puja During Durgotsava.
Well, we hope the above greetings are helpful in wishing your fellow friends and family. You need to be in Kolkata during Durga Puja, in order to see the extensive planning and the creativity which goes on before the large-scale festival kick-starts. If you can't make it, then make sure to visit any of the pandals near your place to get a feel of Durga Puja and have the delicious bhog without fail. We wish our readers a Very Happy Durga Puja and a colourful Navaratri.
(The above story first appeared on LatestLY on Oct 16, 2018 04:28 PM IST. For more news and updates on politics, world, sports, entertainment and lifestyle, log on to our website latestly.com).