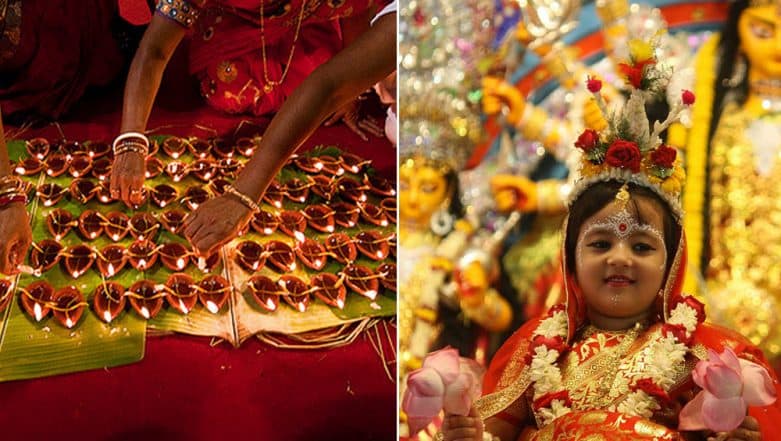 Maha Ashtami or Durga Ashtami date in 2018 is falling on October 16, Wednesday. For people in West Bengal and other eastern states, it is the third day of Durgotsav or Durga Puja festival. As for the rest of the country, Maha Ashtami is the eighth day of Navratri or Navaratri festival. The auspicious occasion of Durga Ashtami or Maha Ashtami witnesses certain rituals without which the festival is incomplete. During the worship of the Mother Goddess durga, the eight avatars of Durga called Ashtanayikas are also worshipped which include Brahmani, Indrani, Vaishnavi, Varahi, Narasinghi, Kameshwari, Maheshwari and Chamunda. Durga Ashtami 2018 Wishes and Subho Ashtami HD Images: Best WhatsApp Messages & Status, SMS, GIFs and Facebook Cover Photos to Wish Happy Maha Ashtami!
Durga Puja is one of the biggest festivals in West Bengal and also in the other parts of the country, where Bengalis celebrate the homecoming of Goddess Durga and her children with much fanfare. Durga Ashtami Puja is also known as Astra puja, as the weapons of the Goddess are worshipped. According to Drikpanchang.com, the Ashtami Tithi Begins at 12:46 on October 16 and ends at 15:17 on October 17. Durga Puja 2018 in Kolkata: From Padmaavat to Haldi Being Used as Themes, Pandal Hoppers Can't Avoid These Popular Pujas.
Pushpanjali Aarti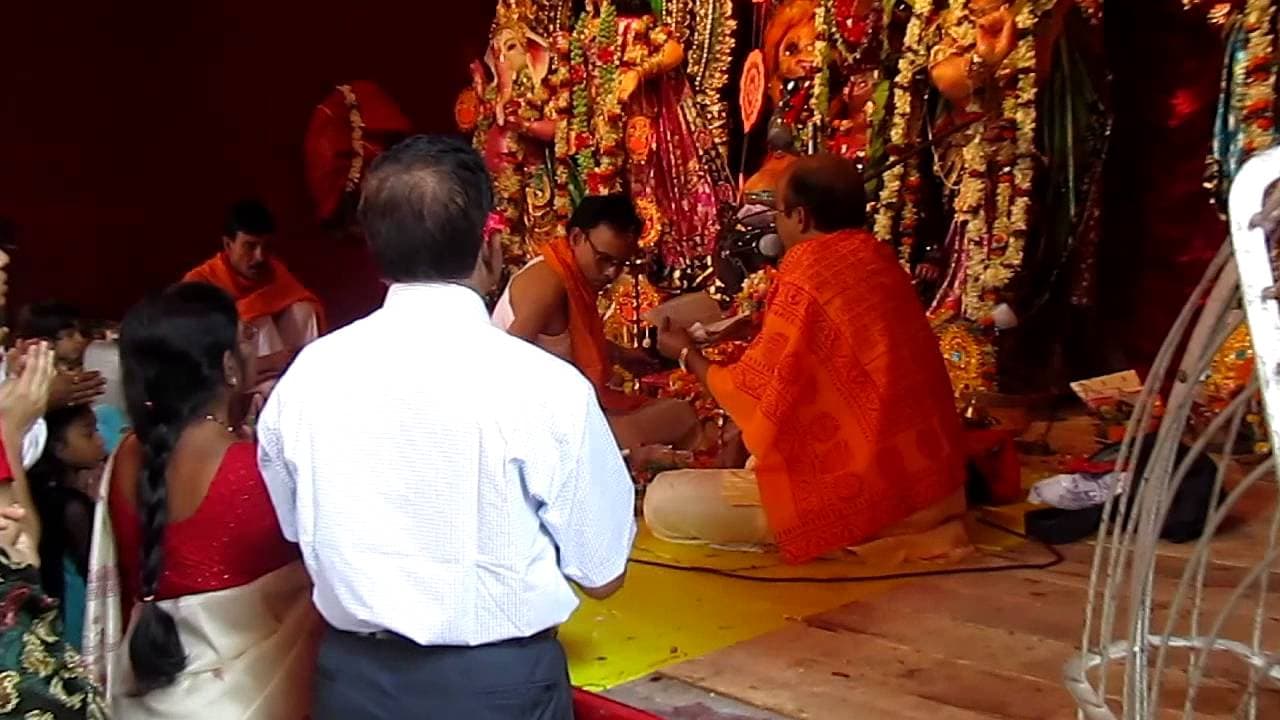 Pushpanjali means offering flowers to the Goddess. It is an important ritual during Durga Puja and is offered daily on Saptami, Ashtami, Navami. However, most Bengalis make sure to offer Pushpanjali on the day of Asthtami. The priests chant a mantra, and along with him, the devotees also chant mantra with flowers in their hands. Pushpanjali is offered three times, after which hands are folded and people pray in front of the ten-armed goddess.
Kumari Puja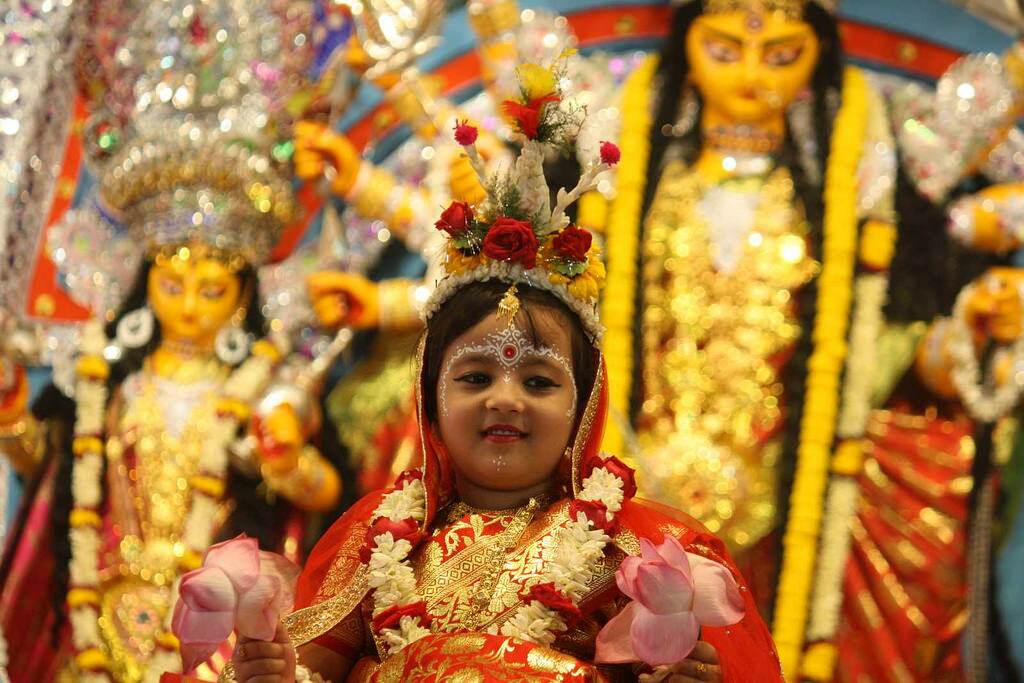 Kumari Puja is one of the most significant parts of Maha Ashtami. It is usually celebrated on this day, but it can also be done on Maha Navami. According to Hindu mythology, Maa Durga is worshipped in various forms and in the Kumari Puja ritual, the goddess is worshipped as a kumari or a virgin girl. A girl can be anywhere from 1 to 16, and is named according to her age. A girl of 1 year is called Sandhya, of 2 years Saraswati, of 3 years Tridhamurti, of 4 years Kalika, of 5 years Subhaga, of 6 years Uma, of 7 years Malini, of 8 years Kuvjika, of 9 years Kalasandarbha, of 10 years Aparajita, of 11 years Rudrani, of 12 years Bhairavi, of 13 years Mahalaksmi, of 14 years Pithanayika, of 15 years Ksetrajna and of 16 years Annada or Amvika. Kanya Puja 2018 Dates During Sharad Navratri: Kanjak Puja Vidhi, Kumari Pujan Significance Taking Place Durga Ashtami & Maha Navami.
At the dawn of Ashtami or Navami, the Kumari is bathed in Ganga water and is clad in a red benarasi sari. She is then adorned with flowers and jewellery, alta is applied to her feet and a 'tilak' of sindur on her forehead. The young kumari fasts the whole day, until the puja is over. On a decorated chair she is made to sit before the goddess and a flower from the Devi's hand is placed in her hand. It is customary to gift the girl with gold, silver and clothes. To gift the Kumari is considered to be a pious act. It is said that Ramakrishna worshipped his own wife in the form of Kumari. After the completion of the ritual, the divinity of the Goddess Durga is said to be seen in the girl. Thousands of devotees gather for Kumari Puja in Belur Math, the global headquarters of the Ramakrishna Math and Ramakrishna Mision.
Sandhi Puja
Sandhi Puja is the concluding part of Maha Ashtami and the most important part of Durga Puja. The last 24 minutes of Ashtami and first 24 minutes of Navami is regarded as the Sandhi kal. It is said that this is the exact time at which Devi Durga killed the notorious pair, Chanda and Munda. The arrangements of Sandhi Puja is grand, some of the essential ingredients of the Puja are- 108 lotuses and 108 earthen oil lamps to begin with. Sandhi Puja Muhurta starts 14:55 to 15:43 this year.
Balidan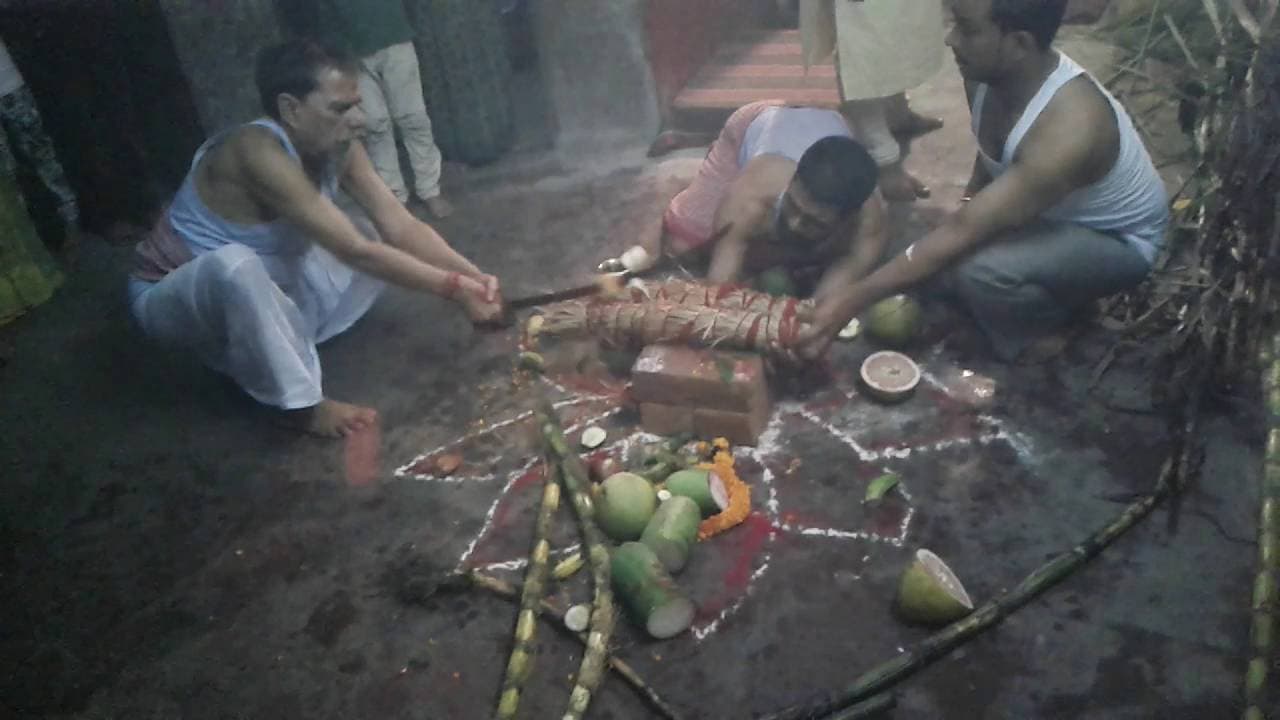 The Balidan time starts from 13:21 to 15:38, according to Drikpanchang.com.  Bali in the real sense means the sacrifice of ego, lust, greed and other bad elements. Devotees who abstain from animal sacrifices, perform symbolic Bali with vegetables like banana, cucumber or pumpkin. Belur Math in West Bengal does symbolic Bali with white pumpkin and sugar cane during Navami Puja. In certain villages, animal sacrifices are still followed, but awareness to stop it is being widely done.
Durga Puja marks not only the homecoming of Goddess Durga, but also for people residing outside their hometown. They make it a point to return home during this time and spend it with their friends and family. We wish our readers a Very Happy Durga Puja and a colourful Navaratri.