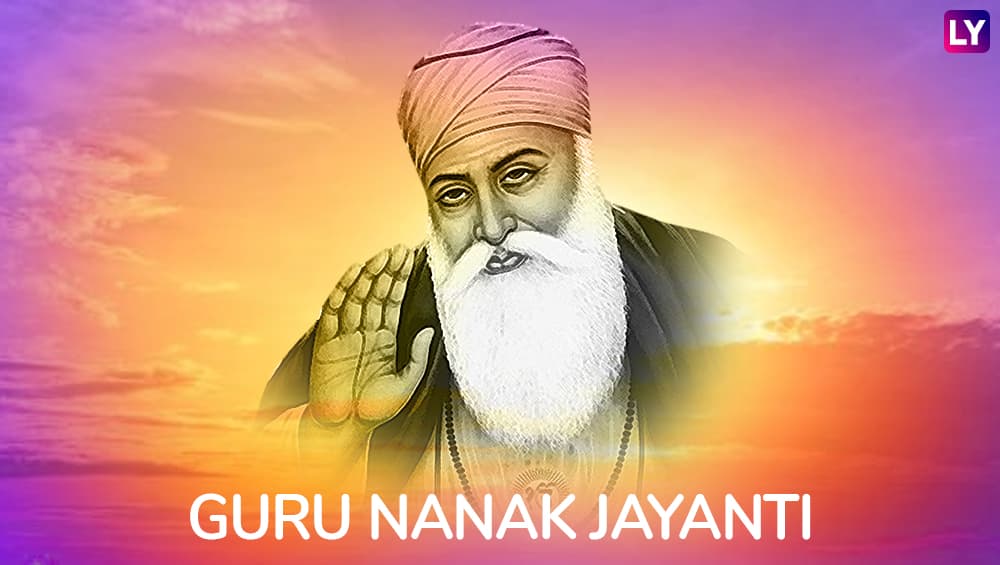 The 550 birth anniversary of Guru Nanak Dev, the first guru of Sikhs will be celebrated on November 12 this year. Guru Nanak Dev was the founder of Sikhism. He was born at Rai Bhoi Ki Talvaṇḍi village in Nankana Sahib, now part of Pakistan in 1469 AD. Guru Nanak's birth is celebrated across the world as Guru Nanak Jayanti or Guru Nanak Purab on Kartik Pooranmashi. People on this day offer prayers at gurudwaras and listen to shabad kirtans. Guru Nanak Dev 550th Birth Anniversary Celebrations: Nankana Sahib Gurudwara Illuminated Ahead of Gurpurab (Watch Video).
Guru Nanak's birth anniversary is celebrated with great enthusiasm. A day prior to the Guru Nanak Jayanti, a religious procession, referred to as Nagarkirtan in various cities. Guru Nanak Dev words are registered in the form of 974 poetic hymns in the holy text of Sikhism, the Guru Granth Sahib. Guru Nanak travelled extensively during his lifetime. He made four spiritual journeys also known as Udasis. Guru Nanak Jayanti 2019 Wishes in Hindi: WhatsApp Messages, Greetings, Quotes and GIF Images to Share on 550th Prakash Utsav of Guru Nanak Dev Ji.
Here are some of The Famous Shabads on Guru Nanak:
Jagat Baba Guru Nanak:
Mitti Dhund Jagg Chanan Hua:
Sab Te Vadda Satgur Nanak:
Nanak Aayea Kali Taran:
Dhan Guru Nanak:
Guru Nanak's teachings rested upon two themes – praise of virtues and condemnation of vices. He also wanted to bring an end to the conflict among various religions and rejected the caste system. Guru Nanak believed that there is no Hindu and no Muslim, and there is only one God who is formless. Guru Nanak Dev spent last 18 years of his life at Kartarpur town which is now part of Narowal district of Pakistan. Punjab Govt to Install Chair Dedicated to Guru Nanak Dev in 11 Universities.
On the occasion of the 550th birth anniversary of the first Sikh guru, both India and Pakistan opened a corridor on November 9 connecting the Indian town of Dera Baba Nanak with Kartarpur. The Kartarpur Corridor will allow visa-free entry to Indian devotees to visit Darbar Sahib Gurudwara in Pakistan. Pakistan has agreed to allow 5,000 pilgrims to visit the Gurudwara daily.