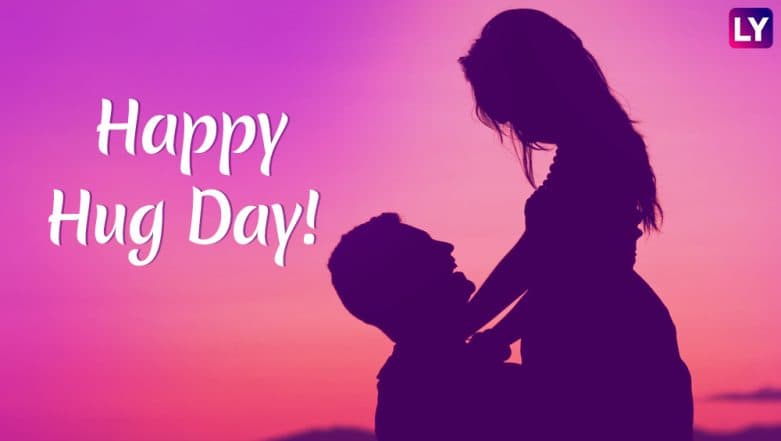 The season of love is here. Everywhere you look around, you will feel the obvious vibe of love that's present in the air. With Valentine's Day just a few around away, couples are busy making it a special week of love for their partners. Starting with Rose Day, Propose Day, Chocolate Day, Teddy Day, Promise Day, the next in line of the Valentine Week is the Hug Day. Hug Day 2019 is celebrated on February 12. A hug is such a basic instinct between two lovers or rather closed ones. Whenever you meet your loved one, you first greet them with a hug. Valentine's Week also honours this beautiful gesture by dedicating a day to it. A lot of people then search for love-filled Hug Day wishes and messages to send them to their loved ones. Hug Day messages send your words just an embrace, soothing and promising. A lot of people thus look for Hug GIFs, WhatsApp stickers, Hug day images and messages to express their feelings. We have compiled some for you so can go ahead and wish your loved one a very Happy Hug Day! Hug Day 2019 Date in Valentine Week: Significance of This Romantic Day That Brings Lovers Closer!
A hug is such a simple gesture but it conveys a lot. It can be such a relief to hug your partner at the end of the day. A hug can increase the bond between two lovers. But those who stay far or cannot meet regularly can only hope to send virtual hugs or hug messages. If you are among those few, let us give you a lovely collection of Hug day messages, wishes, Hug WhatsApp Stickers so that you can greet your partner on this lovely occasion this Valentine Week. Hug Day 2019: A Warm Embrace Can Speak Louder Than Words! Different Types of Hugs and Their Meanings.
Happy Hug Day Messages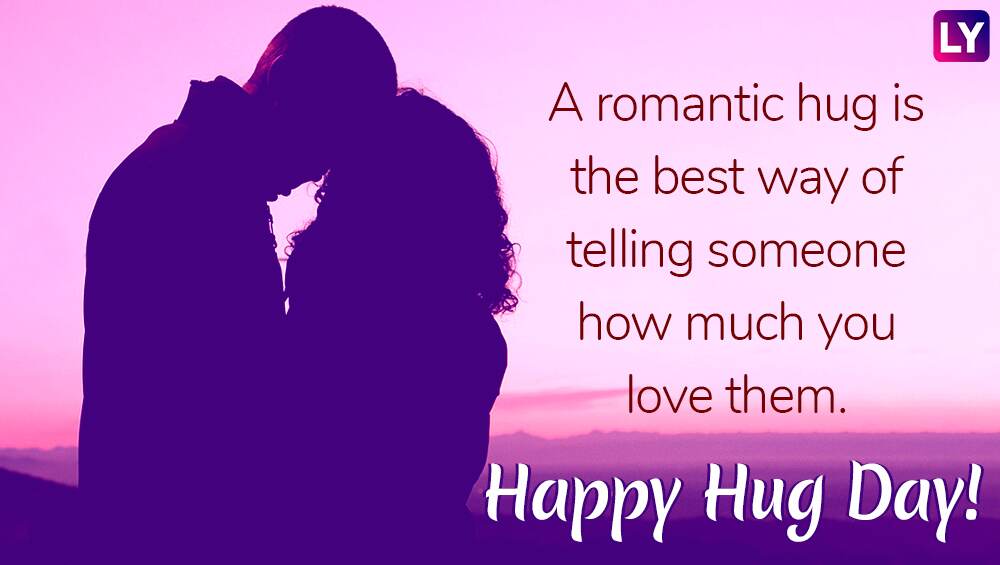 Message reads: A romantic hug is the best way of telling someone how much you love them. Happy Hug Day!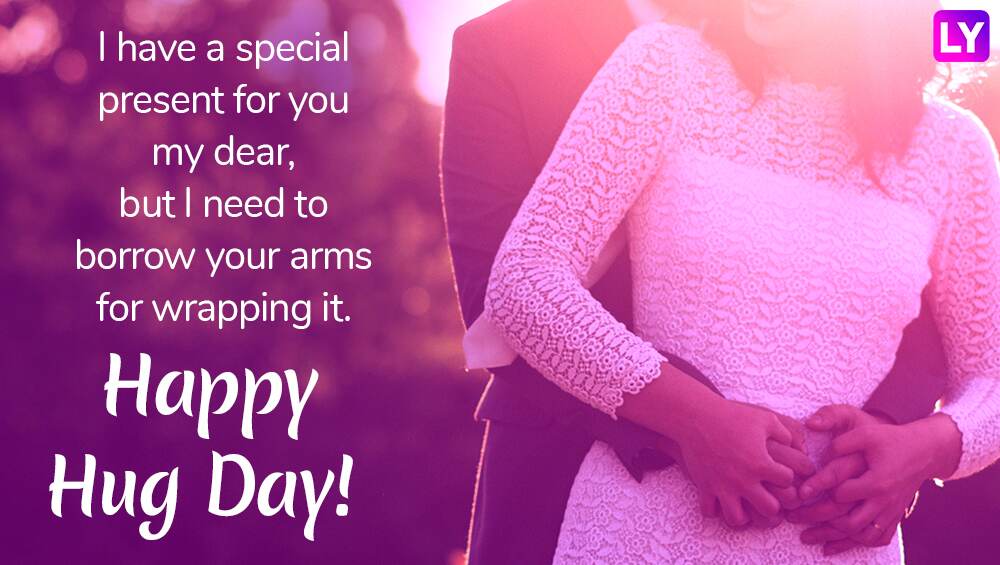 Message reads: I have a special present for you my dear, but I need to borrow your arms for wrapping it. Happy Hug Day!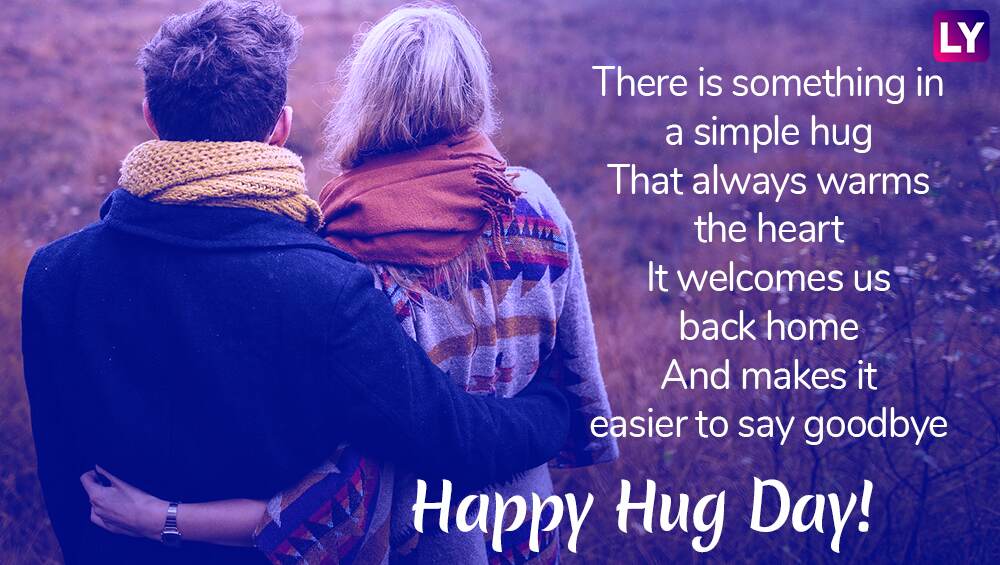 Message reads: There is something in a simple hug, That always warms the heart. It welcomes us back home, And makes it easier to say goodbye
Happy Hug Day!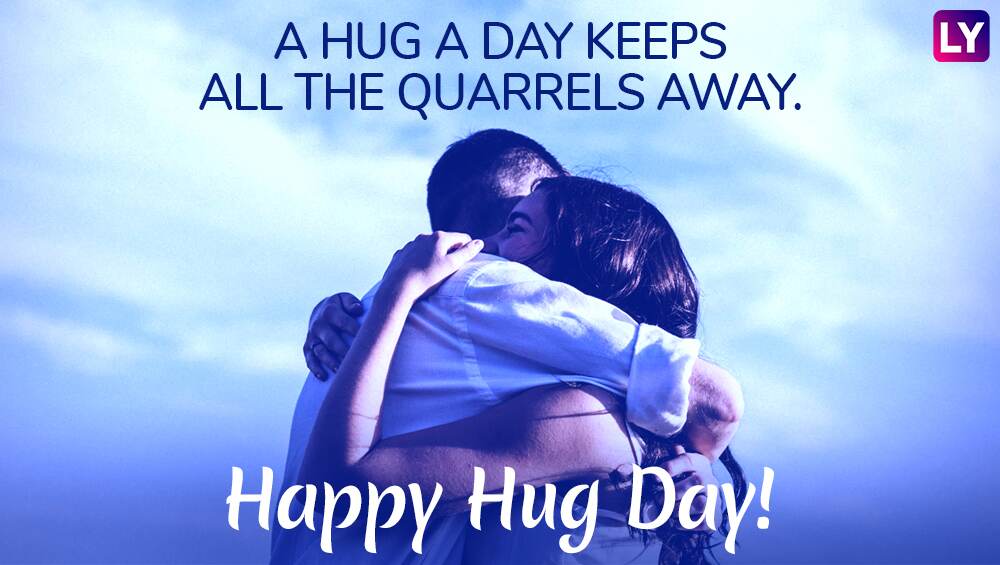 Message reads: A hug a day keeps all the quarrels away. Happy Hug Day!
Message reads: You can't wrap love in a box but you can surely wrap your love in arms. That's the beauty of a hug. Happy Hug Day!
Hug Day GIFs
Send a lovely hug
Tight Hug GIF
Hug Day WhatsApp Stickers
If you are the kind to send stickers instead of words, then WhatsApp Stickers is the best way of expressing your feelings. Thanks to technology, it is easier to send emotions over just one click. You can send across hug day messages by using Hug stickers. There are several sticker applications which will give you hug stickers. You can download hug stickers for WhatsApp from the Play Store and then send them to your loved ones.
You could send any of the above messages, picture images, GIFs or Whatsapp stickers to wish your partner on Hug Day 2019! These messages will help you express your feelings to your loved ones better. We wish you all a very Happy Hug Day!