The festival of colours, Holi is just about a week away. It is a festival that is celebrated enthusiastically in India. Holi 2019 will be celebrated on March 20, followed by an extended celebration on the next day, March 21. A festival of indulging in splashing waters and colours together, it has a lot of fun and dance associated with it, other than the traditional and religious beliefs. The festival symbolises the victory of good over evil. Just as the excitement and enthusiasm of the festival are seen among the people, equal enthusiasm is seen on social media in the form of memes and jokes. People also exchange WhatsApp stickers for Holi and wish their friends and family. Holi 2019 memes and jokes start trending in the Holi week. And if you too are looking to share some laughter around the festival of colours, let us give you a collection of funny memes, images and jokes of Holi. Holi 2019 Date & Holika Dahan Puja Muhurat: Significance, Mythology, Celebrations Associated With the Festival of Colours.
The celebrations of Holi begin with Holika Dahan which involves burning a holy pyre which symbolises the devil of Holika. People gather together in communities and collect wood and other combustibles to light the bonfire. On the following morning, people play with colours and water, called the rangwali Holi. A special drink, Bhang, is made for this celebration. It contains a bit of cannabis so it is used for intoxication. It is overall a day for fun and frolicking. Here are some funny jokes and memes about Holi. Funny Holi Photos, WhatsApp Jokes and GIF Image Messages to Wish Happy Holi.
When You Want to Wish Happy Holi But Also Troll Them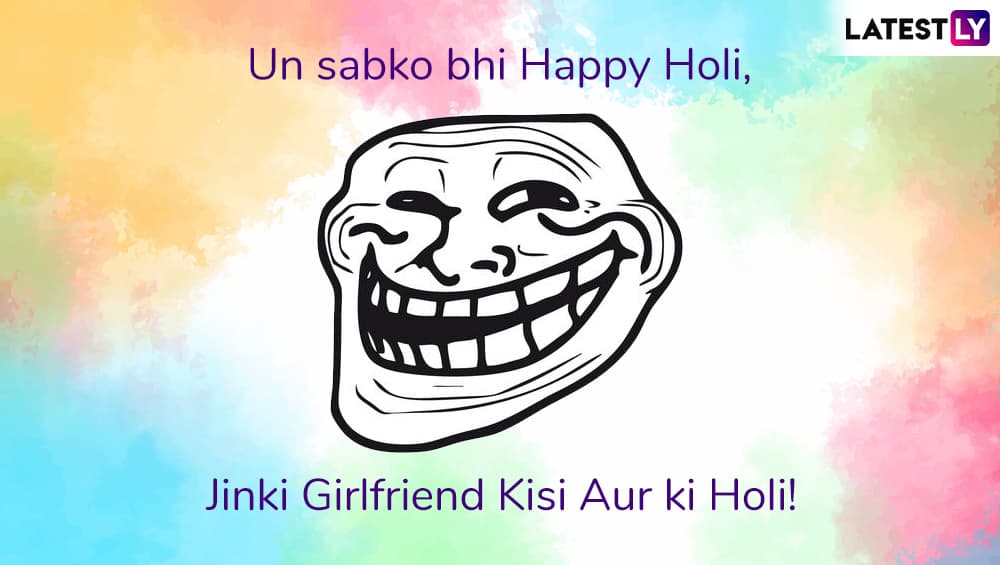 Getting Into The Holi Mood, a Little Too Well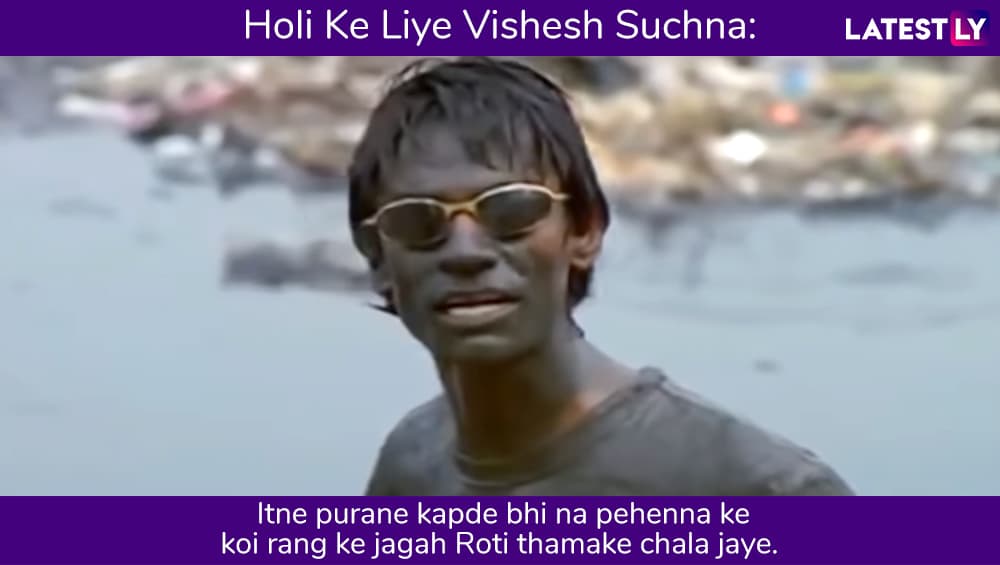 Holika Was The Original Rihana! 
Beware of These Colours! 
She: Mere rang dekhoge? Holi ke liye layi hu 😀

He: 2 saal me saare rang to dikha diye apne ab kya bacha hai 😏

*Breakup*

— Rishabh Srivastava (@AskRishabh) February 20, 2018
Same Drill Every Year
This is the funniest meme till now on holi pic.twitter.com/GncPOYksjz

— Pinch of salt (@mechiemata) March 12, 2019
That's Mostly All of Us! 
Pic 1 : Expectation.

Pic 2 : Reality.#HappyHoli 😂😂 pic.twitter.com/0xUSoK3azA

— SnowThunder Hurricane (@MonStorm16) March 2, 2018
Pic 1 - How I think I look like while playing holi.

Pic 2- How I actually look like while playing holi.

Tweet inspiration -@PUNchayati pic.twitter.com/IUM0FX23gV

— Perfect Errorist (@TheNitishaDixit) February 21, 2018
Happy Holi GIFs
Holi WhatsApp Stickers
Along with sending these funny images and jokes, you can also start sending Holi greetings with the help of WhatsApp stickers. You can download special Holi WhatsApp stickers and send them to your friends through the messaging app.
These are some of the common jokes and memes that start doing the round on the internet every year during Holi. If you do not enjoy playing and indulging in the colours, you can always share these jokes and celebrate the spirit of the festival.
(The above story first appeared on LatestLY on Mar 13, 2019 07:00 PM IST. For more news and updates on politics, world, sports, entertainment and lifestyle, log on to our website latestly.com).