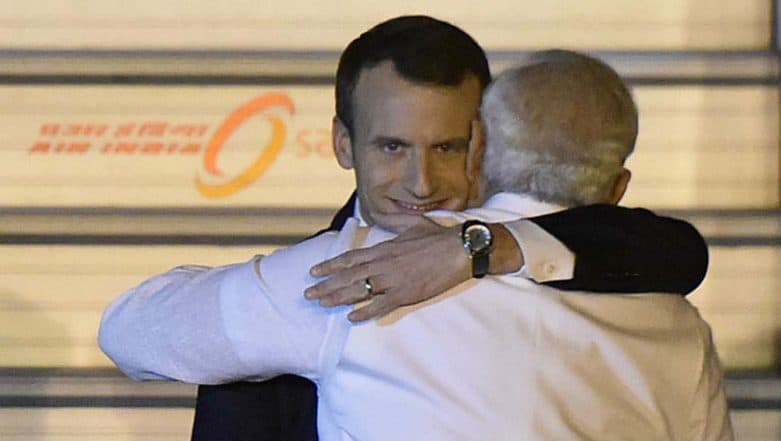 Hug Day is the sixth day of Valentine Week 2019. On Hug Day, couples give a warm and tight hug to their partners. While Hug Day is generally associated with young couples, there have been a number of hugs that went viral on social media in recent times. On this Hug Day, we compile a list of hugs picture or video of that made the internet explode. While some hugs made us all laugh, some triggered social debate on same-sex relationship and moral policing. Happy Hug Day 2019 Wishes: WhatsApp Stickers, SMS, GIF Image Messages, Romantic Greetings to Share This Valentine Week.
1- Rahul Gandhi Hugs PM Modi: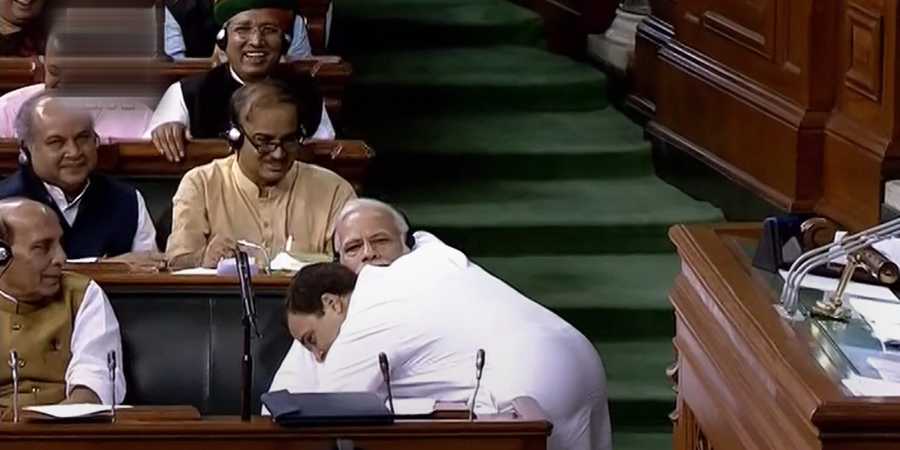 Let us begin with the most famous hug of the recent time. In July 2018, Congress President Rahul Gandhi left everyone stunned when he hugged Prime Minister Narendra Modi after his speech in the Lok Sabha on 'no-confidence motion' during the Monsoon Session of Parliament. Through his hug to PM Modi, Rahul Gandhi wanted to underline how the Congress approach is not marked by anger.
2- Kolkata Metro Couple Hug: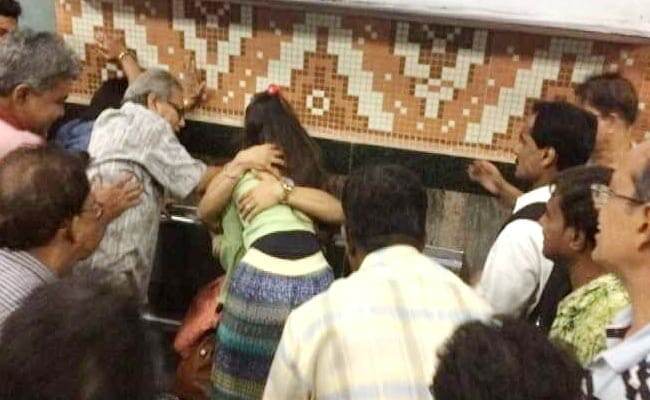 In May 2018, a couple travelling by Kolkata Metro was beaten up at the Dum Dum metro station for hugging in the train. While their hug 'provoked' commuters, the assault received huge condemnation on social media with people slamming attackers for 'moral policing'. Hug Day 2019: Know About Types of Hugs, Their Meanings and Why You Should Embrace Your SO, This Valentine Week.
3- 'Lesbian' Hug: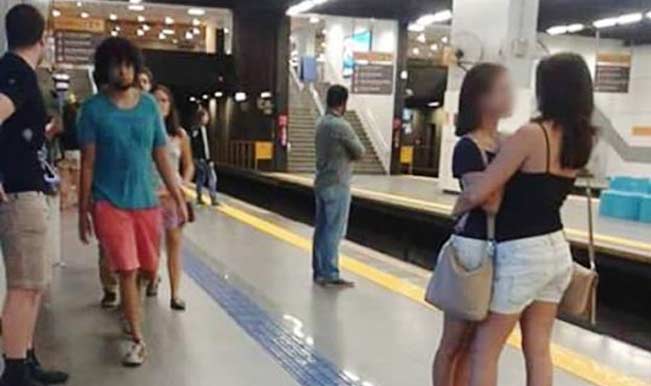 In 2015, a Brazilian, Nelson Felippe, photographed two women embracing each other at subway platform and shared it on Facebook. The picture went viral. "I am not prejudiced, I think everyone does what they want in your life. But I find it absurd. I be thanks to witness a scene like this. What makes every one in particular is your problem, but what you do in public concerns me yes," he wrote while sharing the picture.
He continued writing, "And I refuse to see a scene like that and consider something normal. I do not wish the evil of no one, but people should be preserved. Are challenging social conventions and this can be dangerous. If it happens after a tragedy, or worse, if someone dies, will put the blame on whom? On me? The worst of all is the example for the children." Many jumped to the conclusion that the Brazilian was being homophobic.
However, Nelson was not talking about the two girls. He was pointing at a boy who was standing on the yellow line ignoring safety rules. "How are you going to be the head of a child who sees this scene every day? Kids will find that it is normal to expect the subway on top of the yellow strip. So, do not do like that guy over there. Follow the example of the girls. Wait for the subway before the yellow strip, and only Chevrolet the track after the subway is stopped and with the doors open," he concluded.
4- Emmanuel Macron Hugs PM Modi With Creepy Smile: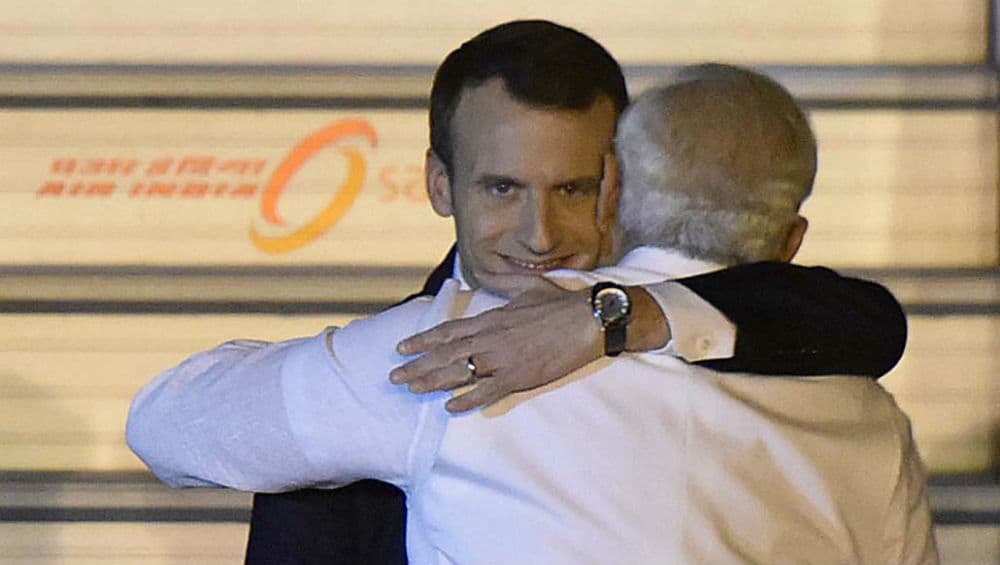 Prime Minister Narendra Modi is known for hugging world leaders whenever he stepped out of the country or a foreign leader visits India. The picture of his hug to France President Emmanuel Macron went viral in March 2018. The picture made the internet explode because of Macron's creepy smile while hugging PM Modi.
5- Trump Hugs US Flag: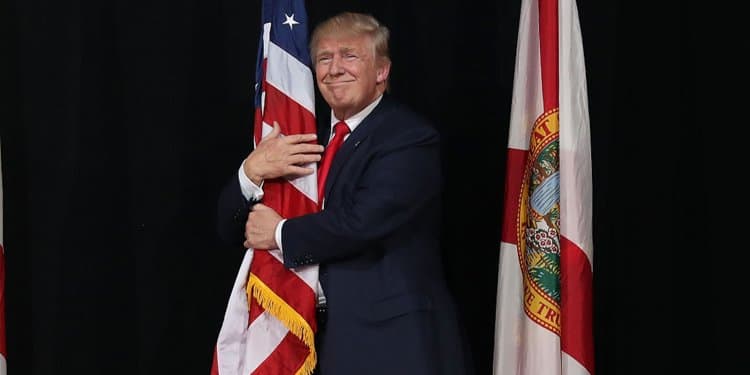 In June 2019, US President Donald Trump's picture hugging the American flag went viral on social media. Trump concluded a speech to the National Federation of Independent Businesses by embracing one of the US flags on the stage.
6- Protest Hug:
In November 2014, a picture of a white police officer hugging a 12-year-old black boy during a demonstration in Portland, Oregon received applaud on social media and sent a powerful message. Protests were going on across the United States in solidarity with the family of Michael Brown, the unarmed black teenager shot and killed by a white policeman, following a grand jury's decision not to indict the officer.
During a protest in Portland, Devonte Hart was weeping with a sign around his neck that said free hugs. Policeman Bret Barnum looked at Devonte's sign and asked, "Do I get one of those?" The pair hugged, spreading the message of love, compassion and togetherness.