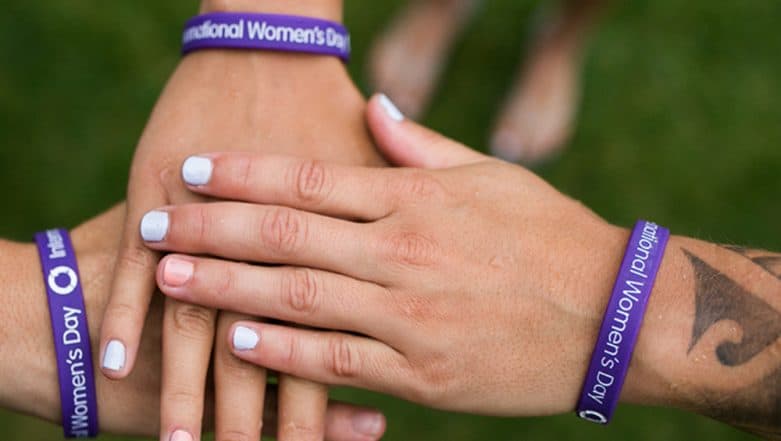 It is International Women's Day 2019 on March 8, there are so many ways to get involved, and one of the easiest is to wear purple along with thousands of other counterparts across the globe, who will be donning the same. Purple is the official colour of International Women's Day, which was founded more than a century ago, explaining its significance. And given the variety of ways different nations celebrate March 8, from marches to cultural outings; there is also a wardrobe choice. So, why do people wear purple on International Women's Day? Before you put on your favourite purple outfit on March 8, know the history and significance behind the empowering colour. These Empowering Ads by Indian Brands Are a Must See. 
Hollywood's decision to show solidarity for Time's Up by wearing black to 2018 Golden Globe Awards ceremony made a powerful statement as did the white roses donned by many attendees of the Grammy Awards that same year. The colours you choose to wear on International Women's Day 2019 undoubtedly will carry an unspoken meaning that is louder than words. International Women's Day 2019 Theme, History, Importance and Significance. 
Why is Purple the Colour of International Women's Day?
Colour trendsetter Pantone announced ultra-violet as the 2018 colour of the year and International Women's Day (IWD) is running with it as it represents, "visionary thinking." But why purple? It is not just because it is a pretty colour. The colour has a long-known history and has been strongly associated with efforts to achieve gender equality. According to IWD's official website, the combination of purple, green and white symbolise women's equality originated from the Women's Social and Political Union in the United Kingdom, 1908. The colour signifies justice and dignity, green expresses hope and white represents purity, but it is no longer used due to 'purity' being a controversial concept. As widely associated with contemporary feminism, purple symbolises achievements gained and achievements yet to come. #MeToo, #TimesUp, #IBelieveHer, Feminist Hashtags Started by Women for Women. 
Another notable fact that purple was also the colour of the Women's Liberation movement. Looking at the women's rights history, it appears that purple is the best colour accurately representing the strides that women are making to fight for an equal society. So, wear purple on International Women's Day 2019 and strive to build a gender-balanced world.