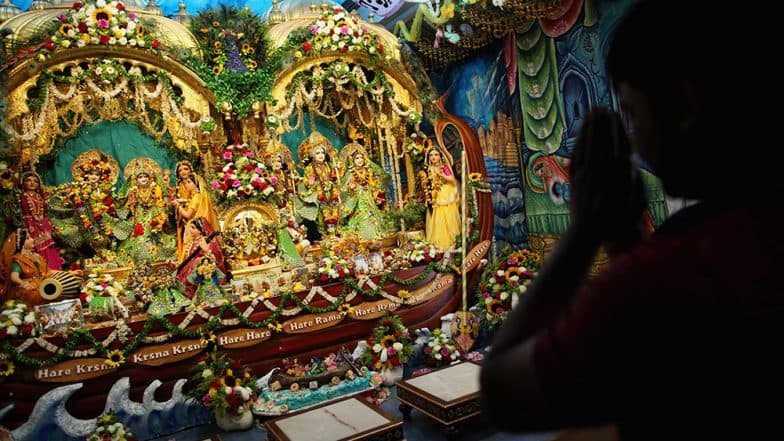 The auspicious festival of Janmashtami will be celebrated across the country on August 23-24 this year. The annual Hindu festival, also known as Krishna Janmashtami or Gokulashtami, celebrates the birth of Laddu Gopal (Krishna), the eighth avatar of Vishnu. According to Hindu calendar, Janmashtami is observed on the eighth day (Ashtami) of the Krishna Paksha (dark fortnight) in Shraavana, which usually falls in the month of August and September of the Gregorian calendar. According to Drikpanchang, this year, the 5246th Birth Anniversary of Lord Krishna will be celebrated across the nation. Krishna Janmashtami 2019 Festival Date: Significance, Gokulashtami Puja Tithi and Celebrations Associated With Lord Krishna's Birthday.
The festival is celebrated with great fanfare especially in Mathura and Vrindavan. It is an important festival particularly to the Vaishnavism tradition of Hinduism. The festival is also celebrated in major Vaishnava and non-sectarian communities found in other parts of the country including Manipur, Assam, West Bengal, Odisha, Madhya Pradesh, Rajasthan, Gujarat, Maharashtra, Karnataka, Kerala, Tamil Nadu, Andhra Pradesh among other states. 10 Quotes & Timeless Lessons Given by Lord Krishna From the Bhagavad Gita.
Puja Vidhi for Krishna Janmashtami 2019
On the auspicious day, devotees wake up early in the morning (Brahma Muhurta) and take a bath. While bathing, devotees have to meditate on the mantra- "Un yagnaayya yogapataye yogeshrarai yoga sambhavaya govindayaya namo nam". After taking a shower, devotees have to wear neat and clean clothes. They then have to make the idol of Krishna and offer him first bath of Ganges water (Gangajal) and offer milk, curd, ghee, sugar, honey and saffron to the idol.
The idol of Lord Krishna is decorated with jewellery, mukut (headgear) and new clothes. At 12 o'clock at night, devotees worship the Laddu Gopal and then perform the Aarti in the end. During the Puja, devotees also sing bhajans and mantras dedicated to Sri Krishna. After the Aarti is completed, the devotees then distribute the Prasad among all the members of the household.
The Puja Vidhi for Krishna Janmashtami is done step by step while chanting specific mantras. The steps include:
Dhyanam (meditation of Lord Krishna)

Avahanam (chant mantra by joining hands in Aavahan Mudra by folding both thumbs inwards)

Asanam (place five flowers in front of the idol)

Padya (wash Lord Krishna's feet with water)

Arghya (offer water for head Abhishekam)

Achamaniyam (offer water for sipping)

Snanam (offer water for bathing

Vastra (offer Moli as new clothes)

Yajnopavita (offer Yajnopavita to the lord)

Gandha (offer scent)

Abharam Hastabhushan (offer jewellery)

Nana Parimala Dravya (offer various fragrance stuff to the idol)

Pushpa (offer flowers to Krishna idol)

Dhupam (offer dhupa while chanting mantra)

Deepam (offer deep to Shri Krishna)

Naivedya (offer Naivedya)

Tambulam (offer paan leaves with betel nuts)

Dakshina (offer gift to the lord)

Maha Nirajan (offer aarti)

Pradakshina (offer symbolic pradakshina - circumambulate from left to right of Shri Krishna); Namaskar (pay homage to the lord)

Kshamapan (seek pardon from Shri Krishna for any known-unknown mistakes done during puja)
Pooja Tithi
Mid Night Moment - 01:54 AM, August 24

Chandrodaya Moment - 12:30 AM, August 24 Krishna Dashami

Ashtami Tithi Begins - 04:39 AM on August 23, 2019

Ashtami Tithi Ends - 05:02 AM on August 24, 2019

Rohini Nakshatra Begins - 12:18 AM on August 24, 2019

Rohini Nakshatra Ends - 12:47 AM on August 25, 2019
Fasting Rules
Observing fast or vrat on Janmashtami is followed by Hindus since ancient times. It is believed that fasting on Janmashtami is auspicious as it is believed that if a devotee observes fast with true dedication, he achieves health, wealth and prosperity as written in the scriptures. If a devotee fasts on this auspicious day, it is believed that he will be closer to the Supreme Being and he achieves salvation. There are two types of fast observed on Janmashtami – nirjal vrat and phalahar vrat. During nirjal vrat, devotees do not consume water or any kind of food for the entire day. And in phalahar vrat, devotees are allowed to drink water and milk and can also eat fruits. People generally follow phalahar vrat on Janmashtami.
Devotees are engaged in dance-drama enactments of the life of Lord Krishna according to the sacred Bhagavata Purana, such as Rasa lila or Krishna Lila, devotional singing through the midnight when Krishna was born, fasting (upavasa), a night vigil (ratri jagaran), and a festival (mahotsava) on the following day are a part of the Janmashtami celebrations. Krishna Janmashtami is followed by the festival Nandotsav, which celebrates the occasion when Nanda Baba distributed gifts to the community in honour of the birth.