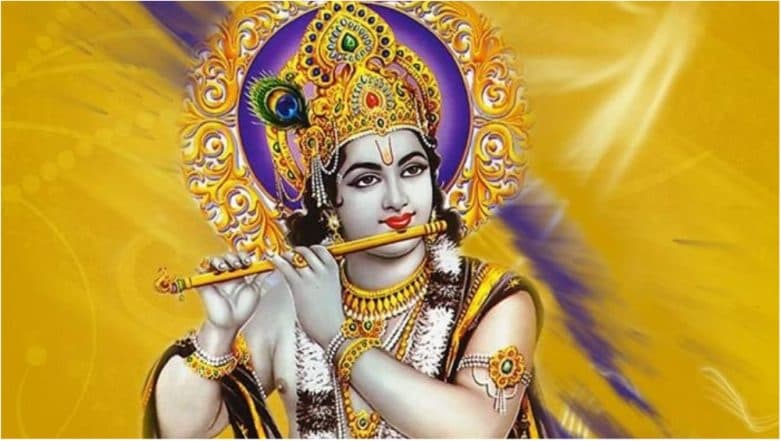 Mathura, August 23:  Janmashtmi is celebrated across the country to mark the birth of Hindu god Lord Krishna. According to Hindu Mythology, he is the eighth incarnation of Lord Vishnu. Lord Krishna, the most popular deity in Hindu mythology, was born on the eighth day of the Krishna Paksha (dark fortnight) of the month of Bhadrapad (August-September), as per the Hindu Lunar calendar. This year, the festival will be celebrated on August 23-24. Janmashtami Dahi Handi 2019 Songs: From Chandi Ki Daal Par to Go Go Govinda, These 8 Songs Will Get Radha on the Dance Floor.
Krishna temples across the country are decorated with lights, and various stages of Krishna's life are enacted in the holy shrines. Mathura and Vrindavan are the two holy cities in Uttar Pradesh which were closely associated with Lord Krishna. Temples in these cities have some of the best Janmashtmi celebrations across the country. Janmashtami 2019: 'Rider Krishna' Spreading Traffic Awareness In Varanasi, UP.
How to Get Live Darshan From Banke Bihari Temple in Vrindavan and Krishna Janmasthan Temple Complex in Mathura? Get Live Streaming Details
Every year Banke Bihari Temple in Vrindavan and Krishna Janmasthan Temple in Mathura witness a sea of devotees on the occasion of Janamashtmi. People can also catch live darshan of Janamashtmi celebrations on Youtube channels and websites of these temples. You can be part of celebrations at these famous Krishna temples via live streaming. Get live darshan from Vrindavan via live streaming online HERE.
Mathura is the birthplace of Lord Krishna, while in Vrindavan he spent most of his youth. There are more than 4000 temples dedicated to Lord Krishna in these two cities. On this day, the idol of Lord Krishna is decorated with jewellery, mukut (headgear) and new clothes. At 12 midnight, devotees worship the Laddu Gopal and then perform the Aarti in the end. All night devotees chant mantras dedicated to Lord Krishna.