"Veena Pustak Ranjit Haste Bhagawati Bharati Devi Namaste." This is what most of us who grew in a Hindu household recited on Saraswati Puja every year. We will be celebrating Saraswati Puja 2019 on February 10 (Sunday). Saraswati Puja on Basant Panchami has been a major Hindu festival, especially for students. On this special day, we bring you a collection of Saraswati Puja 2019 wishes in Hindi, Basant Panchami messages in Hindi, Vasant Panchami greetings along with images and wallpapers of Goddess Saraswati to wish Happy Saraswati Puja 2019 to your friends from school and college. You will also find links to download Basant Panchami 2019 WhatsApp Stickers, photo frames and images for free online. Basant Panchami Images & Saraswati Puja HD Wallpapers for Free Download Online: Wish Happy Vasant Panchami 2019 With WhatsApp Sticker Messages and GIF Greetings.
Basant Panchami, also spelt as Vasant Panchami is celebrated annually on the fifth day of the bright half of the Hindu lunisolar calendar month of Magha, corresponding to late January or February in Gregorian Calendar. During this time, first of the four Navratri, Maghi Gupt Navratri is celebrated in honour of Durga and her nine avatars. On the fifth day of the celebrations, devotees worship Maa Saraswati. Saraswati Puja during Vasant Panchami is widely famous in the states of West Bengal, Bihar, Jharkhand, Odisha, Assam. Apart from India, Nepal and Bangladesh also celebrate Saraswati Puja by observing a holiday in varsities and schools. Basant Panchami 2019 Date and Significance: Saraswati Puja Tithi Timings, Mantra and Story Attached to the Hindu Spring Festival.
Saraswati Puja is a big occasion for everyone from students or ones who are practising music, art or learners in any form. Devi Saraswati is a Hindu Goddess of knowledge, wisdom, music, art, creativity and learning. Vasant Panchami is believed to be the birth anniversary of Goddess Saraswati. Hence the day of Vasant Panchami is also known as Saraswati Jayanti. Basant Panchami 2019: Kalidas to Kamadeva, Here's Interesting Mythological Tales Behind Saraswati Puja.
On Sunday, students will wake up early, take a bath, wear clothes, especially of white or yellow colour as they are Goddess' favourite colour. They will evoke Maa Saraswati and worship her following rituals and customs. But before all of that, the first thing everyone will do is wish each other Happy Saraswati Puja 2019. Yes, it has become a modern-age custom and with WhatsApp turning out to be an easy platform to remain connected with everyone, exchanging greetings on festivals have become comfortable. Saraswati Vandana Mantra Video With Lyrics on Basant Panchami 2019: Recite This Devotional Song for Art, Knowledge and Wisdom.
You will find everything related to Happy Saraswati Puja, Saraswati Puja 2019, Saraswati Puja wishes, Saraswati Puja wishes images, Saraswati Puja wishes in Hindi, Saraswati Puja images in Hindi, Saraswati Puja greetings, Saraswati Puja wishes images free download, Saraswati Puja images in Bengali, Basant Panchami in Hindi, Basant Panchami images, Basant Panchami wishes, Basant Panchami WhatsApp Stickers 2019, Basant Panchami 2019 images, and more.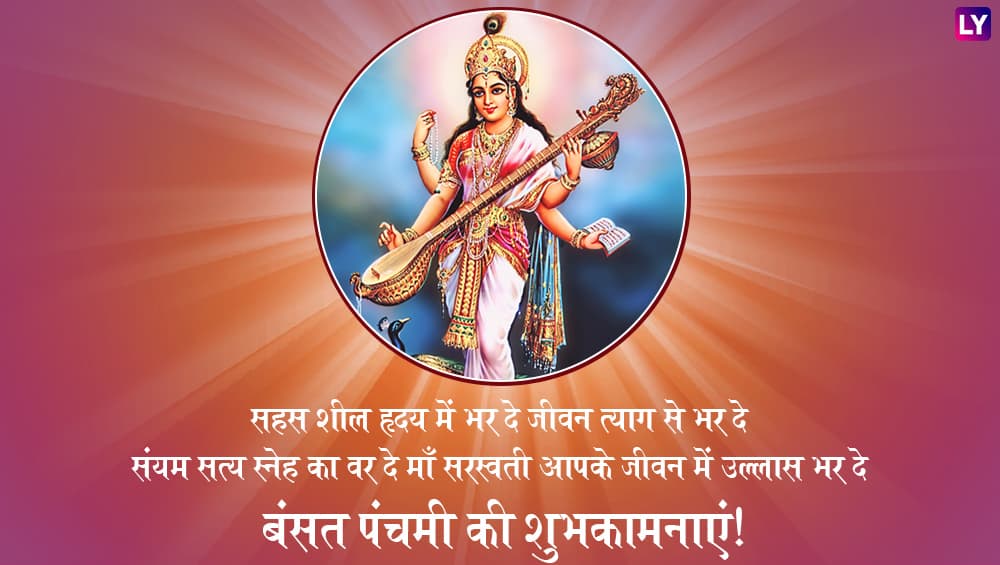 WhatsApp Message Reads: सहस शील हृदय में भर दे, जीवन त्याग से भर दे, संयम सत्य स्नेह का वर दे, माँ सरस्वती आपके जीवन में उल्लास भर दे, बंसत पंचमी की शुभकामनाएं!
WhatsApp Message Reads: Sarswati Ma Aapko Har Wo Vidya De Jo Aapke Pas Nahi Hai Aur Jo Hai Us Par Chamak De Jise Apki Duniya Chamak Uthe. Happy Basant Panchami!
WhatsApp Message Reads: Saraswati Namastubhyam, Varade Kaama Roopini, Vidhyarambam Karishyami, Siddhir Bavatu Me Sadha. Vasant Panchami 2019 Ki Hardik Shubhkamnayein.
WhatsApp Message Reads: किताबों का साथ हो, पेन पर हाथ हो, कोपिया आपके पास हो, पढाई दिन रात हो, जिंदगी के हर इम्तिहान में आप पास हो। बसंत पंचमी की हार्दिक शुभकामनाएं। हैप्पी बसंत पंचमी।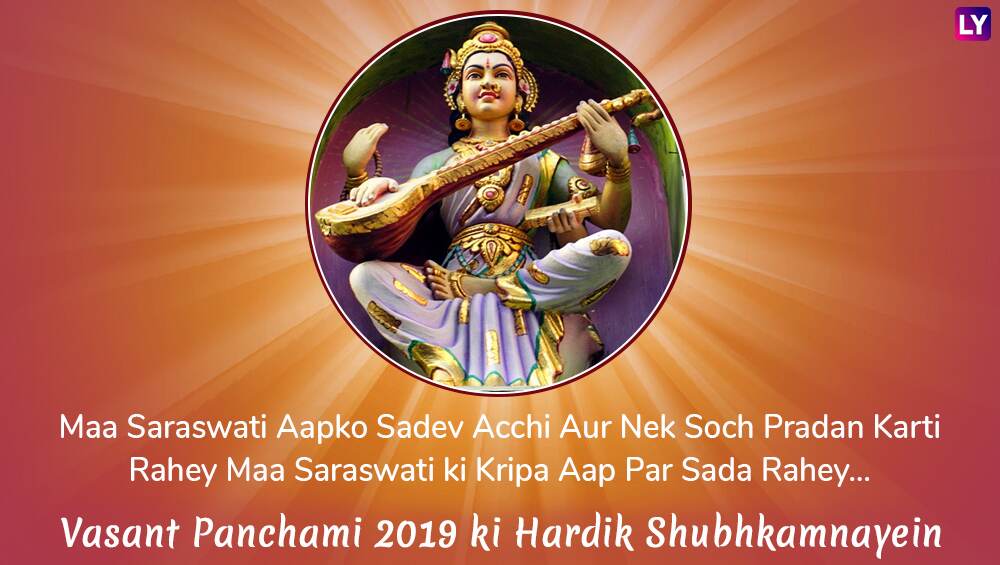 WhatsApp Message Reads: Maa Saraswati Aapko Sadev Acchi Aur Nek Soch Pradan Karti Rahey Maa Saraswati Ki Kripa Aap Par Sada Rahey…Vasant Panchami 2019 Ki Hardik Shubhkamnayein.
WhatsApp Message Reads: Is Se Pahle K Sham Ho Jaye, Mera SMS Auron Ki Tarha Aam Ho Jaye, Aur Sare Mobile Network Jam Ho Jaye, Apko Basant Panchami Ki Shubh Kamnayen …Happy Basant Panchami 2019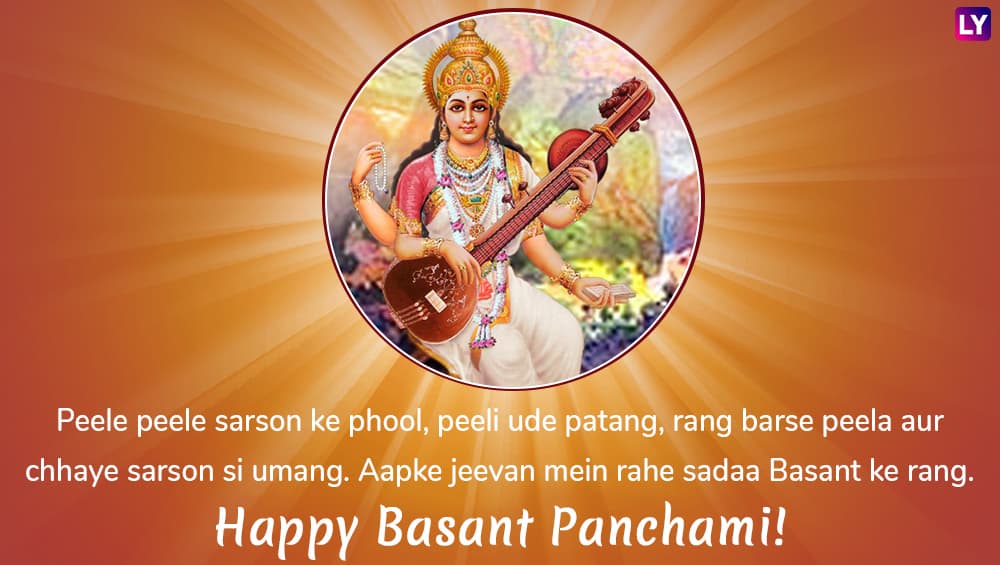 WhatsApp Message Reads: Peele Peele Sarson Ke Phool, Peeli Ude Patang, Rang Barse Peela Aur Chhaye Sarson Si Umang. Aapke Jeevan Mein Rahe Sadaa Basant Ke Rang. Happy Basant Panchami!
WhatsApp Message Reads: Saraswati Puja Ka Ye Pyara Tyohar, Jeewan Me Layega Khushi Apaar, Saraswati Viraje Aapke Dwar, Shubh Kaamna Hamari Kare Sweekar. Happy Basant Panchmi 2019.
Saraswati Puja is also called Shri Panchami. Goddess Saraswati is a major deity in Hinduism. If she bestows her divine blessings on her devotees, their life can change for good. She is the goddess of ultimate truth, and her presence is always important in a person's life. We wish everyone a very Happy Saraswati Puja 2019 and also a Happy Basant Panchami.