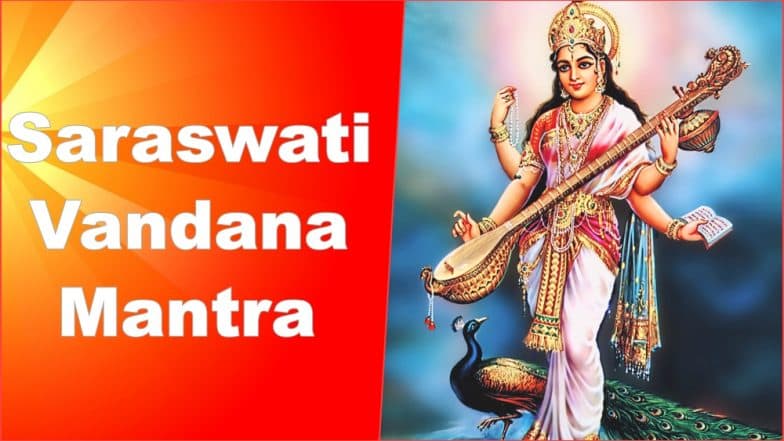 Festivals are great fun, but preparations can be a bit tiring. But not Saraswati Puja. If you grew up in a Hindu household, you would know of the joy and excitement around Saraswati Puja celebrations in India. They are celebrated on Basant Panchami (also written as Vasant Panchami) in the honour of Devi Saraswati, the Hindu Goddess of Knowledge, Wisdom, Art, Music and Learning. We are celebrating Saraswati Puja 2019 on February 10 (Sunday). One of an important part of this festivity is reciting Saraswati Vandana Mantra. Saraswati Ya Kundendu, part of the famous Saraswati Stotram is the most famous Stuti dedicated to Goddess Saraswati. Students and their parents recite this incredibly powerful mantra to please Maa Saraswati. The mantra is also sung as a devotional song, like the many videos available on YouTube. Basant Panchami Images & Saraswati Puja HD Wallpapers for Free Download Online: Wish Happy Vasant Panchami 2019 With WhatsApp Sticker Messages and GIF Greetings.
Goddess Saraswati is the divine figure in every student's life. Be it in education, music or art, a learner seeks Maa Saraswati's blessings to excel in their respective field. Along with Lakshmi and Parvati, she forms the holy trinity of goddesses (tridevi). Always draped in white saree, carrying a veena (a classical Indian musical instrument) and a lotus in another, Saraswati is not only the embodiment of knowledge and wisdom but also an avatar of Brahmavidya, the goddess of the ultimate truth. Basant Panchami 2019 Date and Significance: Saraswati Puja Tithi Timings, Mantra and Story Attached to the Hindu Spring Festival.
The word Saraswati has been derived from the two words, knowledge (Sara) and self (Sva). It is believed Maa Saraswati prefers simplicity and purity of the heart. As she has authority on academics and the arts, everyone from students, artisans, musicians to even teachers and scientists following Hinduism pray to Devi Saraswati for guidance and knowledge. They do so by reciting Saraswati Vandana Mantra every morning as obeisance to the Goddess. On account of Saraswati Puja or Basant Panchami 2019, it is a must to chant Saraswati Vandana Mantra during the festivity. It is recited during Saraswati Puja on the eve of Vasant Panchami.
Saraswati Vandana Mantra
Yaa Kundendu tushaara haara-dhavalaa,
Yaa shubhra-vastra'avritha
Yaa veena-vara-danda-manditakara,
Yaa shwetha padma'asana
Yaa brahma'achyutha shankara prabhritibhir Devai-sadaa Vanditha
Saa Maam Paatu Saraswati Bhagavatee Nihshesha jaadyaa-pahaa
Saraswati Vandana Mantra Meaning
May Goddess Saraswati, who is fair like the Jasmine coloured moon and whose garland is like frosty dew drops, who is adorned with radiant white clothes and on whose beautiful palm and arm rests the Veena, those throne is a white lotus, and who is surrounded and respected by the Gods beginning with Lord Brahma, Lord Vishnu and Lord Maheshwar, protect me. I implore Her to totally remove my laziness and sluggishness.
Watch and Recite Full Version of Saraswati Vandana Mantra in This Video:
Basant Panchami or Vasant Panchami is the fifth day of spring. It marks the arrival of the spring festival. Saraswati Puja is one of the main celebrations during this Magh Panchami. Vasant Panchami is also known as Shri Panchami and Saraswati Panchami. Though, Saraswati Puja is also celebrated during Sharad Navratri in October-November. We wish everyone celebrating Saraswati Puja on Basant Panchami. Make sure to recite Saraswati Vandana Mantra.