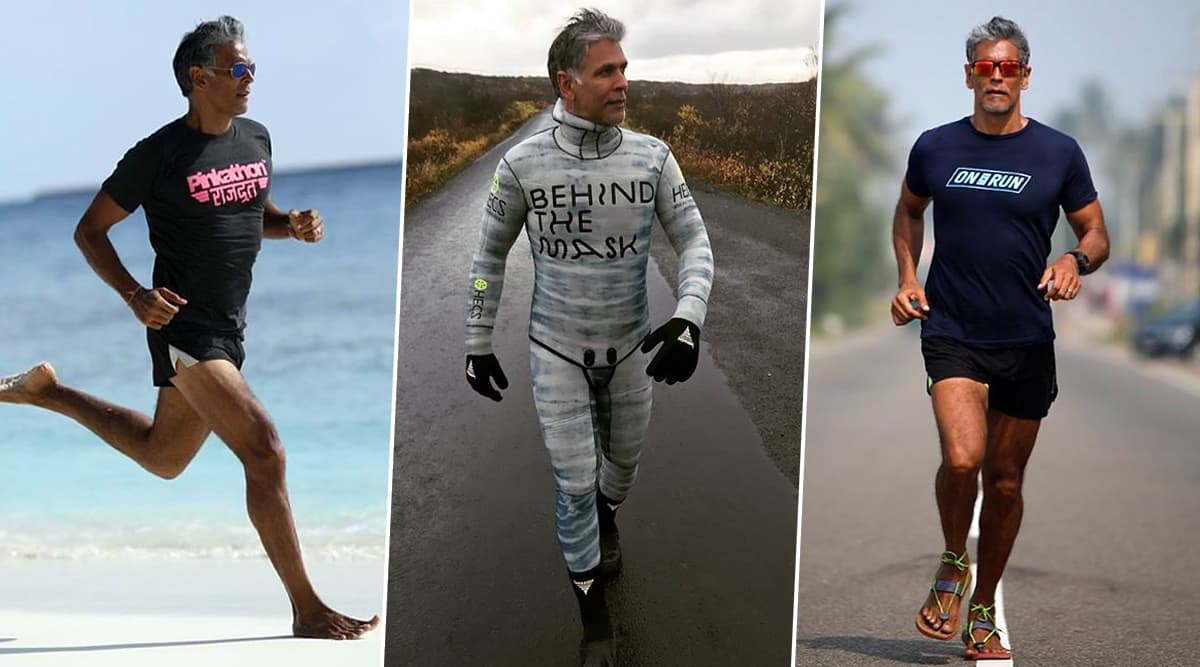 When we thinking about India's renowned supermodels, the first name that comes to our minds is Milind Soman's. Even in his fifties, he is super-fit and ripped and looks no less aesthetic than any young model of today. We still remember him emerging from a crate in Alisha Chinai's song "Made in India" which came out in 1995 where he looked super hot. Twenty-four years down the line, Milind Soman is 54 years old, he still looks equally ripped and muscular. Milind Soman is an ideal example of how age is only a number. In this article, let's get to know Milind Soman's workout and diet routine that keeps the Ironman of India ultra-healthy. Fitness Freak Milind Soman Prefers Outdoor Exercise Over Gymming – Here's Why.
Milind retired from modelling in the year 1995 and moved to serials and later worked for a few Bollywood films. He then started concentrating on endurance training. Milind Soman completed his first Ironman Triathlon in Zurich on July 19, 2015, which consisted of 3.8-km swim, a 180.2-km cycle ride and a 42.2-km run to be completed within 16 hours.
Milind achieved this feat in 15 hours and 19 minutes.  Two years later in 2017, he, completed Florida's three-day 'Ultra-Endurance Event' called Ultraman. Milind was the only one who ran barefooted and completed the activities in 34 hours and 46 minutes. Milind Soman's Throwback Picture Makes him Look like a Perfect Candidate for a James Bond Movie.
Milind Soman's Workout
Interestingly, the former supermodel does not hit the gym to maintain his fitness. He performs callisthenics, free bodyweight exercises, swimming, aqua aerobics and cycling to keep himself fit to participate in a long marathon. Milind used to own two gyms in Delhi under the brand name Breathe, however, in an interview with Hindustan Times, he revealed that he hardly used to visit the gym for development of his fitness. According to Milind Soman, holistic fitness and stamina can only be developed by endurance activities. Gyms are only meant for bodybuilding and rehab training. In the videos below, let us see some of Milind Soman's workout.
Milind Soman's Clap Push-Ups
Milind Soman's Under-Water Swimming 
Milind Soman's Dip on Parallel Bar 
Milind Soman's Pull-Up 
Milind Soman's Core Exercise
Milind Soman's Under-Water Fun 
Milind Soman's Aqua-Aerobic to Improve Endurance
Milind Soman runs with 12kg weight inside the water to increase his VO2 level and improve endurance. It is indeed a tough and challenging task.
Milind Soman Hand-Stand 
Milind Soman's Diet
As per Hindustan Times, Milind doesn't eat refined white sugar. Instead, he has jaggery or honey. He refrains from eating processed food and consumes a lot of fruits in the morning. Apart from that, he eats meals at regular intervals. He has even had insects for protein during intense training.
Milind Soman's Breakfast 
Milind Soman's Lunch 
Milind Soman's Eat Natural Food 
Milind Soman has been a national swimming champion at the age of nine. He took a break from sports between ages 23 and 38 years when he was involved in showbiz. Surprisingly, he still weighs the same as he used to at the age of nineteen. Milind Soman runs three to four times a week and also feels that the body should be given rest when it requires. Milind Soman also started with Pinkathon, to motivate women to participate in the marathon.