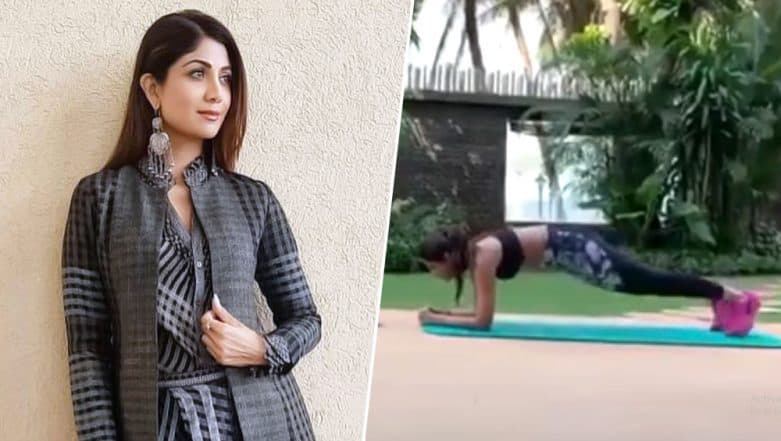 Wonder how celebrities have a flat aesthetic-looking belly? Shilpa Shetty is one such celeb with a perfectly flat tummy. How many times have we wanted a body like hers! But behind Shilpa's great figure and washboard stomach is a lot of hard work. Planks for Beginners: 5 Benefits of Planking You Didn't Know About. 
Shilpa is known for motivating us for fitness through her exercise videos, which she routinely uploads on Instagram. She keeps altering her workout so that it does not become monotonous. She also incorporates challenging yoga poses, breathing exercises and abs exercises to maintain her figure. Recently she posted a workout video with her husband in which she can be seen doing planks.
Watch Shilpa Shetty Kundra performing plank exercise with Raj Kundra
What is a Plank?
Plank is the isometric exercise, which works on the core. This exercise is one of the asanas in yoga known as kumbhakasana. One has to stay stationary position throughout the exercise. This exercise requires no equipment and can be performed anytime anywhere. Although this move looks easy, when executed practically it is challenging and makes your core feel the pain.
How to perform the plank?
1. Lie on the floor in a prone position.
2. Ground your toes on the floor, straighten up your knees and position your forearm on the floor at a distance of shoulder width apart.
3. Squeeze your glutes and keep your back straight.
4. Ensure that your neck and spine are in a neutral position, where your head should be in line with your back.
5. Once you get into the proper position, start exhaling and as a beginner try to hold yourself in the same form for 15 secs.
6. Perform three to four sets of 15 secs each and increase the hold of your plank as the time goes by.
There are various exercises for developing your core; however, plank exercise is one of the best and safest way to build your core muscles. Irrespective of whether you workout or not, you should make sure that you involve this exercise as a part of your day to day routine for better health.
(This article is written for an informative purpose and should not be substituted for medical advice. Kindly consult your doctor before trying any tips.)