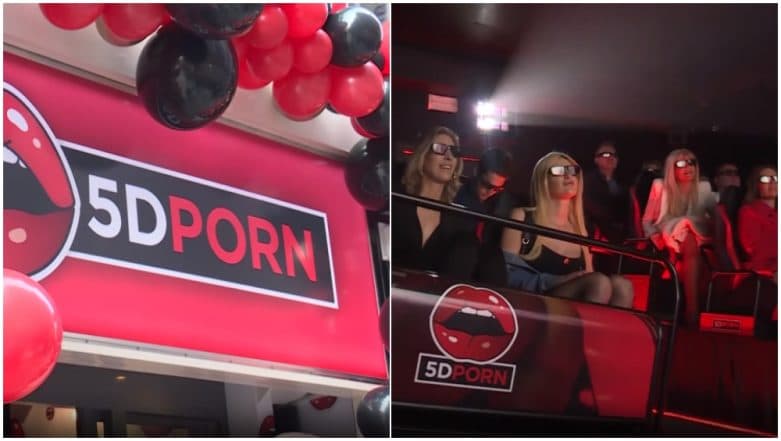 Amsterdam's Red Light District is quite well-known, not among the locals but even among the tourists visiting here. And now the newest entrant to experience more into the red light area is a 5D porn theatre which will stream X-rated content and also please or rather tease one's senses. A new sex cinema named '5D Porn' will give a variety of sensory effects to the viewers, as they watch XXX content in 3D. Ban on Guided Amsterdam Red-Light District Tours Upsets Prostitutes; Sex-Workers Say Such Experiences Teach Men to Respect Women.
Owner of the cinema Natalie was told in a report that this theatre was made exclusively for the experience. So they are not aiming at tourists per se but the Dutch locals can surely visit it for a sexually stimulating experience. This high-tech theatre has bouncing chairs, water cannons along with air and wind features to stimulate all five senses of the audience. Natalie calls it a bit like an amusement park. She told Dutch Review, "Lots of things happen so fast when you're in the audience that when it's finally all over you're left feeling energised." No More Porn Magazines in Japan! Stores Remove Adult Books With XXX Photos Ahead of 2019 Rugby World Cup & 2020 Tokyo Olympics.
Watch Video of 5D Porn Theatre Opened in Amsterdam:
The movies shown in this theatre will be in collaboration with Kim Holland, who is big in the Dutch porn industry. Only 18 people can accommodate the theatre at a time and there will be six screenings of the film will be played. Each film is for about an hour. "It's funny because in Amsterdam even the Dutch people have an interest in breaking free from the norm. Come with your wife, have a laugh, try something different," Natalie added. The cinema is located in De Wallen at Amsterdam's medieval centre. Tickets can be booked online at www.5dporn.nl. It is an experience that combines sexy with funny.