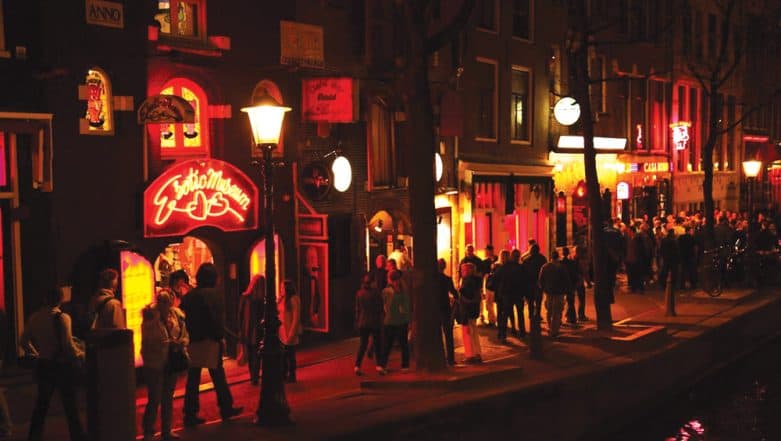 The city of Amsterdam decided to deal with over-tourism by restricting the guided tours to the city's red-light areas. The red-light areas are usually in the narrow lanes and when there are tourists, there is over congestion here. But the move which was also supposed to protect the sex-workers has found no support but opposition from them. The prostitutes are against the ban on these tours and say such tours instead help men to be respectful towards the sex workers and their profession. Sex Workers & Escorts Listed As Skilled Workers in New Zealand Visa Application Form for Immigrants.
Amsterdam adopted a new policy which banned guided sex tours to the red light areas after 7 pm, one of the ways to curb overtourism. The sex workers' union Proud has condemned the new rule and says these tours would instead educate the visitors to be more respectful towards the women here. The guides of these tours would ask visitors to behave. With no guides, there is a chance that the tourists would be free to visit anywhere and click pictures of the red light area. Sex Worker Who Slept With More Than 1200 People Shares Some of Her Weirdest Experiences.
A sex worker was quoted to Daily Mail, "It could also be that now there are no guides that people just wander into the area themselves and gawk at the women behind the window and take photos because there is no one anymore to inform them how to behave or what the rules of the game are in this area." She also questioned whether the banning of guided tours would really reduce the number of tourists coming to these lanes. Amsterdam's Prostitution Information Center also organises their own guided tours of the area.
The move of banning guided tours has even upset the tourist guides. The red light area here is like a magnet for the tourists, especially at night. There is a famous Red Light Secrets Museum of Prostitution, which gives the user a perspective from the sex worker's life. So these experiences create more respect for their profession.