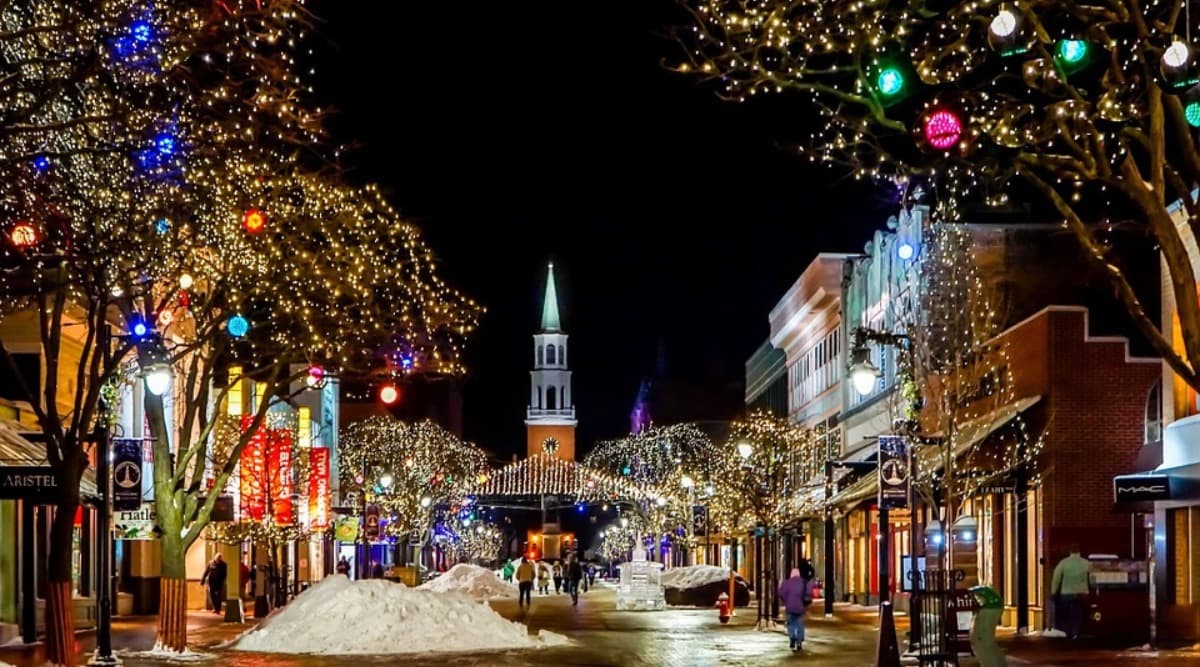 Christmas being a global festival, witnesses grand celebrations across countries. From Bethlehem to New York, most cities around the world dress up to the colours of the festival. From Santa Clauses, a stunning display of lights, Christmas trees, cakes, and the Midnight Mass service, the observance is simply a colourful one. While one city may celebrate its history of being Jesus' birthplace, other indulges in the modern-day festivities. And as Christmas 2019 approaches, we have compiled a list of world cities which is known for its Christmas celebrations. Christmas Markets 2019: From Cologne Cathedral to ICE Village, 5 Beautiful Christkindlmarkt From Around The World (Watch Videos)
While Christmas is a celebration in itself, snow adds in a bit flavour to the festivities. From ice skating, snowboarding, skiing, building snowman, igloos ice fishing, winter makes the spirit of the festival right. And coupled with Christmas, it makes the event look like a magical one. Also for those planning holiday during the holiday season, don't forget the Christmas market, they look nothing less than a drop of magic potion! Christmas 2019 Traditional Foods: From Stollen to Panettone, 9 Delicacies Around The World That Are Part of the Holiday Feast.
Santa Claus Village, Finland
Santa Claus Village is a Christmas village tour park located north of Rovaniemi Finland in Finnish Lapland. The place offers a number of attractions including snowmobiling, Northern Lights, reindeer sleigh rides, crafts and souvenirs.  The popular resident around here is Santa Claus himself and the town shines during the festival season like nothing else. In winter, the town covers up in blankets of snow and Christmas lights making it look straight out of a fairy tale book.
New York City, USA
The world's tallest Christmas tree is lit at the Rockefeller Center, the United States. Ice skating, Christmas lights, snow, department stores everything turns the festive mood on. The city witnesses various themed-parties other than dressing up itself celebrating the festival in the grandest way possible.
The Vatican, Italy
The Vatican, known for being the spiritual heart of Catholicism celebrates Christmas like none other. You will find a Christmas related event at every corner of the street. Vatican crowds with pilgrims visiting the churches. And for those visiting the Vatican for Christmas, ensure you attend the Midnight Mass in St Peter's Basilica on Christmas Eve, or at noon on Christmas Day. Christmas 2019: Czech Republic and Prague Are Best Places in Europe to Enjoy Authentic Food and Celebrations of Culture.
Bethlehem, Israel
Bethlehem located in South Jerusalem in Israel is believed to the birthplace of Jesus have all the more reasons to celebrates Christmas like no one else. The town receives tourists, visitors and pilgrims from around countries. The Old City of Bethlehem goes through a process of decorative transformation. Various processions of different denominations like Greek Orthodox, Armenian, Catholic, Protestant, and Ethiopian take place during Christmas time.
Zurich, Switzerland
Zurich promises two forms of experience during the festival season. Along with enchanting Christmas markets and a spectacular display of lights, they  also have quirky markets and loud celebrations. Other than which, those planning to spend Christmas in Zurich can also visit the museums, lake or maybe climb their skyscrapers. And do not forget to check out Zurich's Christmas Village or the Dolder Ice Complex which is Switzerland's largest artificial ice rink, that's incredibly popular. You can otherwise join a Christmas day processor stay in an igloo house!
While these are some of the popular places, there are plenty more to the list. From Mexico, Barcelona, Hawaii to Malta, every city celebrates Christmas in their own distinct ways. Christmas comes early in most towns and stays till last week of January in a lot of places. Although Christmas is an about parties and celebrations, it is the time of the year when people keep aside their busy lives and spend quality time with their families. As the holiday season has begun, we wish everyone Merry Christmas in advance!