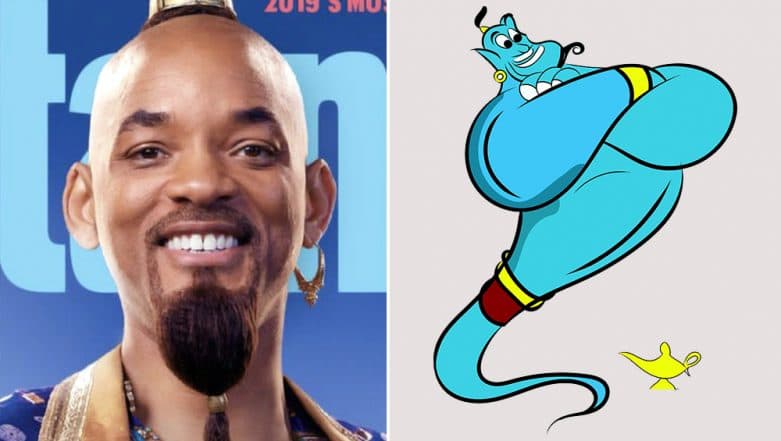 The first look of Disney's Aladdin is out and as much as people were awaiting the film, they seem to be disappointed with the result. Will Smith plays the role of the iconic character Genie in the series. But his human form which does not have any blue has caused a backlash for the film. People have used to watching Genie in blue and the first picture thus looked underwhelming with lack of CGI treatment. And people are very clear about their displeasure on social media, all of them left with the same reaction. And Will Smith has assured fans that he will in a blue form most of the time on screen. Aladdin FIRST Look OUT! Will Smith Looks Promising as 'Genie' in Disney's Live Action Flick and We Can't Wait! (View Pics).
People took to Twitter to give their reactions to Aladdin's first look which were released by Entertainment Weekly. Will Smith too shared it on his Instagram and told his fans that he will be blue most of the time. "This is how the Genie is in Human / Disguise Form. My character will be CGI most of the movie," he wrote on his Instagram. But before the clarification, fans were surely disappointed and some called it a pantomime. Check how fans on Twitter reacted to the first look of Alladin.
Is it a pantomime?
Not sure about Will Smith as the Genie in #Aladdin looks a bit Panto... pic.twitter.com/TV4cnvXX9y

— Tom Percival (@twpercival1) December 19, 2018
CGI Genie where are you?
All we wanted was a blue CGI genie, but instead we have Will Smith with a man bun and jewelry. pic.twitter.com/7EnAuZsZuG

— Sarah Nick (@SarahNickfm) December 19, 2018
Outrage and rhymes
Roses are red

The genie isn't blue

Enjoy all the outrage

And eat our fries too

— Checkers & Rally's (@CheckersRallys) December 19, 2018
Seems correct now?
Made this. Forward this blue genie and receive a tweet from "Jaden The Genie's Son" within 24hours wishing you good luck. #aladdin #willsmith. pic.twitter.com/Y1v6XWoa3O

— Shawn Frambach (@ShawnFrambo) December 19, 2018
Even Genie's shocked
I have a feeling when i wake up tomorrow morning Twitter is going to be exploding and criticised with the fact Genie is not Blue in the new images from the real life action Aladdin movie. pic.twitter.com/W6UerKICAy

— Dove's Movie Reviews (@tom13301956) December 19, 2018
Basically, a simple human form of Genie is not a genie after all! And realising the intensity of the backlash that was going on in social spheres, the actor has given a clarification or rather a promise that we will get to see him in blue.
Check Will Smith's post about his Genie look
The film directed by Guy Ritchie will see title role of Aladdin played by Mesa Massour and Jasmine played by British actress Naomi Scott. Well, let us wait for the childhood magic to be recreated on big screens.