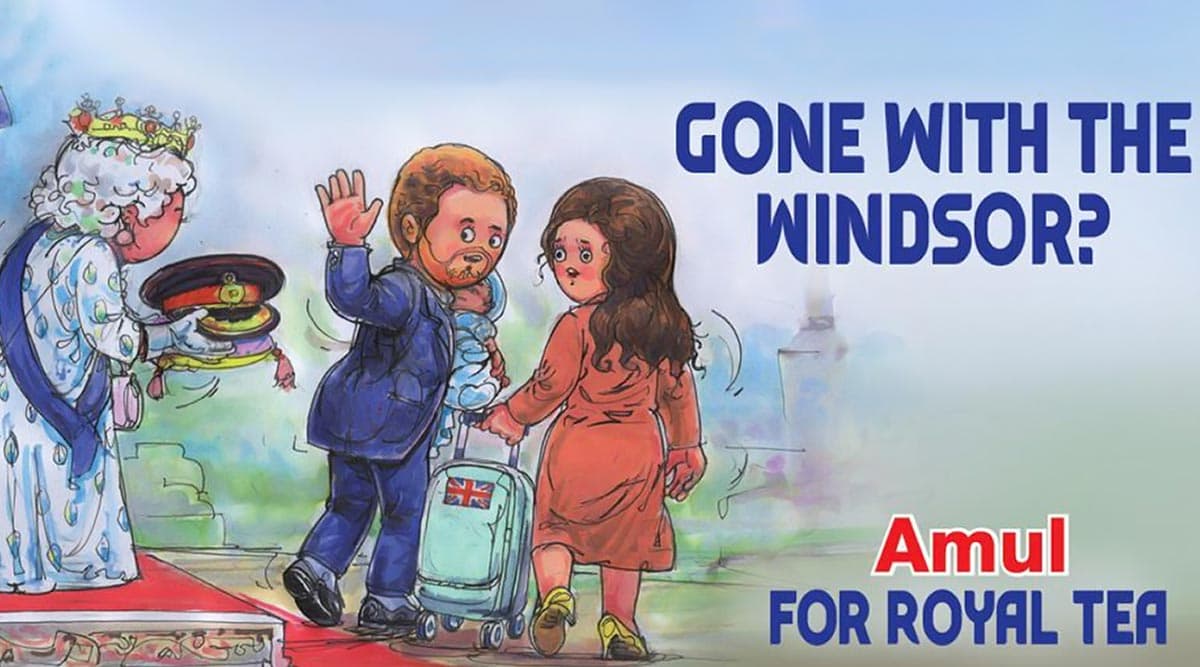 The Duke and Duchess of Sussex, Prince Harry and Meghan Markle announced last week that they will "step back as 'senior' members of the royal family". They mentioned their desire to work and become financially independent. It has been a topic of discussion everywhere not just in the UK with #Megxit becoming a trend across social media platforms. Joining in is Indian dairy brand Amul which dedicated a topical doodle to the exit of Prince Harry and Meghan Markle. Cleverly punning on the title "Gone With the Wind", they call it "Gone With The Windsor" and also marketing themselves. Prince Harry and Meghan's Exit From the Royals Reminds Desi Twitterati of K3G, Hilarious #Megxit Memes and Jokes Will Make You ROFL.
Amul is known for making topical ads on recent issues, be it national or international. The recently also made a beautiful doodle dedicated to Australians following the raging bushfires in the country. As everyone also talks about the exit of Harry and Meghan from the royal family, the dairy brand made a topical today on the same. They have shown a caricature of Queen Elizabeth with Prince Harry waving goodbye to her accompanied by his wife Meghan Markle. Not to miss out, Prince Harry is shown holding their baby son Archie. The text reads, "Gone With The Windsor" and below Amul, they write "The Royal Tea." Like every other topical, this too is a very creative way of advertising and addressing the issue.
Check the Amul Topical on #Megxit:
#Amul Topical: The issue of Megxit! pic.twitter.com/jOi6R4cwrq

— Amul.coop (@Amul_Coop) January 13, 2020
The Royal couple announced their thoroughly thought decision via Instagram. They added that they want to raise their son Archie in a striking balance, of appreciating the royal tradition as well as the family space. They mentioned about splitting their time between the UK and North America. The Buckingham Palace called it a "complicated situation" and the discussions are on with them.