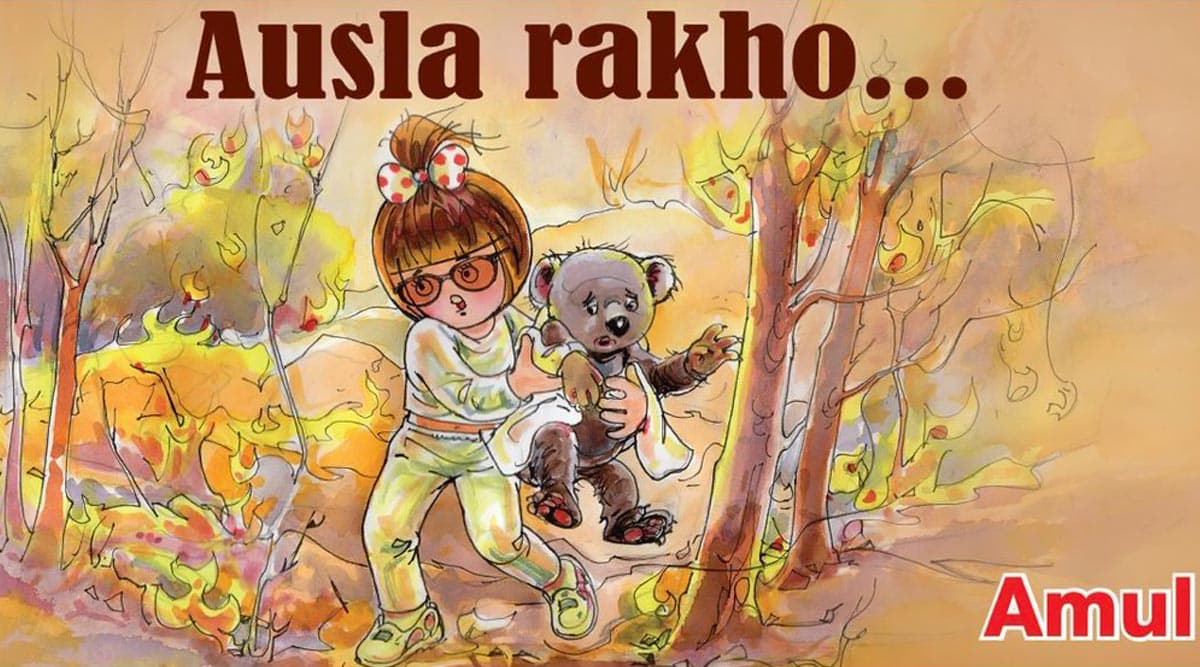 Australia bushfire is the worst thing that has happened to the continent in the longest time. Huge loss of flora and fauna and human lives and property took away so much from Mother Earth. The statistics coming in from Australia are sending chills down the spine. Amid all this, people from around the world are showing support to the Australia bushfire victims and firefighters in different ways. Right Shane Warne auctioning is the signature green baggy cap for raising funds to Kaylen Ward aka The Naked Philanthropist selling her nudes to make money for the fires. There is no one way, people are trying their best to help Australia. Know Kaylen Ward, The Naked Philanthropist (@lilearthangelk) Who Sent XXX Nude Photos in Exchange of Funds for Australia Bushfire.
Amul recently shared its signature topical sending condolences to Australia. In the picture, you can see the Utterly Butterly Amul girl rescuing a Koala from the Australia bushfires and captioned the picture with,"#Amul Topical: In support of the people of Australia...". Topical contains the text "Ausla Rakho" aka "Hausla Rakho" which translates in English to "Hold on" or "be upbeat". Who Is Jenna Lee? Facts About XXX Model Who Is Trading Her Nude Photos to Raise Funds for Australia Bushfire Victims (View Pics). 
Check out the tweet:
#Amul Topical: In support of the people of Australia... pic.twitter.com/3gGP6UnYkr

— Amul.coop (@Amul_Coop) January 7, 2020
New South Wales (NSW) officials reportedly said fires claimed about 1,588 homes and damaged 653 more. The Insurance Council of Australia estimated the damage bill had reached A$700m (£370m; $485m), but said it expected the cost to rise significantly, as per reports by BBC. Firefighters have turned out to be the real heroes in this situation. They have been working relentlessly putting their lives at stake.