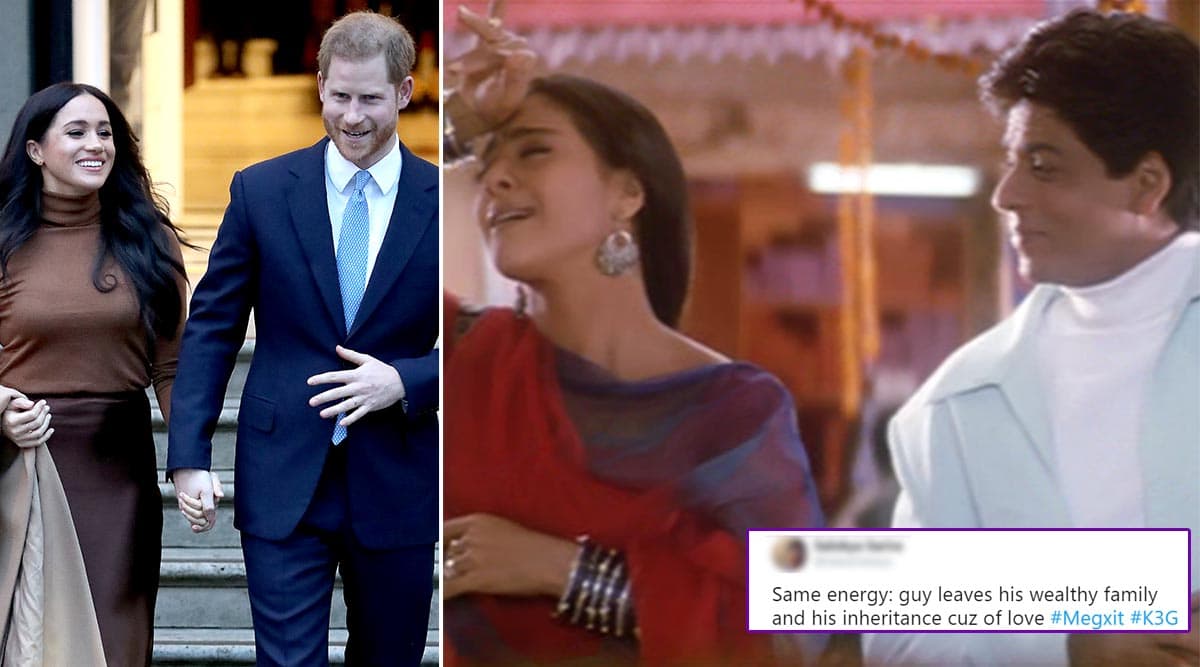 Prince Harry and his wife, Meghan Markle, surprise the world with their decision to step back from their senior roles and spend more time in North America. Soon the couple dropped this bombshell announcement; the internet meme machine whirred into action. The Duke and Duchess' exit from their royal duties was met with both shock by some and hearty applause by others. And the term "Megxit" was coined. While the rest of the world offered all kinds of hilarious reactions, #Megxit reminded desi Twitter of Rahul and Anjali from Kabhi Khushi Kabhi Gham. People just cannot stop referring Prince Harry as Sharukh Khan and Meghan Markle as Kajol from K3G; we don't hate it! The desi version of #Megxit memes will make you ROFL.
On January 9, 2020, the social media account of the Duke and Duchess of Sussex released an official statement that they have decided to "work to become financially independent" and balance their time between the United Kingdom and North America. Several reports have also indicated that the senior royals were upset with the decision of Harry and Meghan. The royal couple's wax statues are also relocated to a separate viewing area at Madame Tussauds, London.
While all of this was happening, a section of people on Twitter, applauded the couple and respected their decision to become financially independent. And then again, we have the meme makers. And for this time, our desi Twitterati, who just could not stop comparing the decision to K3G's Rahul and Anjali's exit from the Raichand's house and start a new life in London. For those who don't know, in the movie, Rahul (acted by Shahrukh) was a wealthy boy who left his family for the love of his life, Anjali (played by Kajol) who belonged to a different societal status. Check out the desi version of #Megxit memes. Warning: Some of the tweets might make you pee, out of laughter!
Brace Up For Some Desi K3G Megxit Memes:
The queen must be singing

Aaaaaaaa aaaaaaa aaaa Kabhi khushi kabhi gham..... https://t.co/MxygaLbrDp

— Dr. Bewda Rick (@SavageRaptor7) January 9, 2020
LOL!
i know it's cringe.jpeg but i can't shake off the rahul and anjali vibe from harry and meghan peacing out. anyway. pic.twitter.com/dk267L0LfI

— Imaan Sheikh 🌈 (@sheikhimaan) January 8, 2020
Who is Mr. Raichand?
So the Queen is buddha Raichand? Holy shit 😂

— el nano (@nehasaidwhat) January 9, 2020
Totally!
Same energy: guy leaves his wealthy family and his inheritance cuz of love #Megxit #K3G pic.twitter.com/3rQxKSiPsD

— Salokya Sarira (@SalazarSalokya) January 9, 2020
Was It?
#K3G was better but I agree. https://t.co/oNqy8CtBN0

— Yasmin Jaswal (@yasmin_jaswal) January 10, 2020
OMG:
This family needs to watch Bollywood movie #K3G. This is a desi drama where the son and his wife wants to move out and the buddhi old lady is adament on parampara, onushrrashtan and other old nonsense. #Megxit #MeghanAndHarry #meganandharry #queen pic.twitter.com/8exClBavme

— A Bengali In Toronto (@a_bong) January 10, 2020
Just like the movie, we hope that the tension (in case there is) between the royals is sorted and they too have their happy ending! And may Harry and Meghan get the financial independence they desire. As of the latest reports, some royal fans are still in shock with their decision.