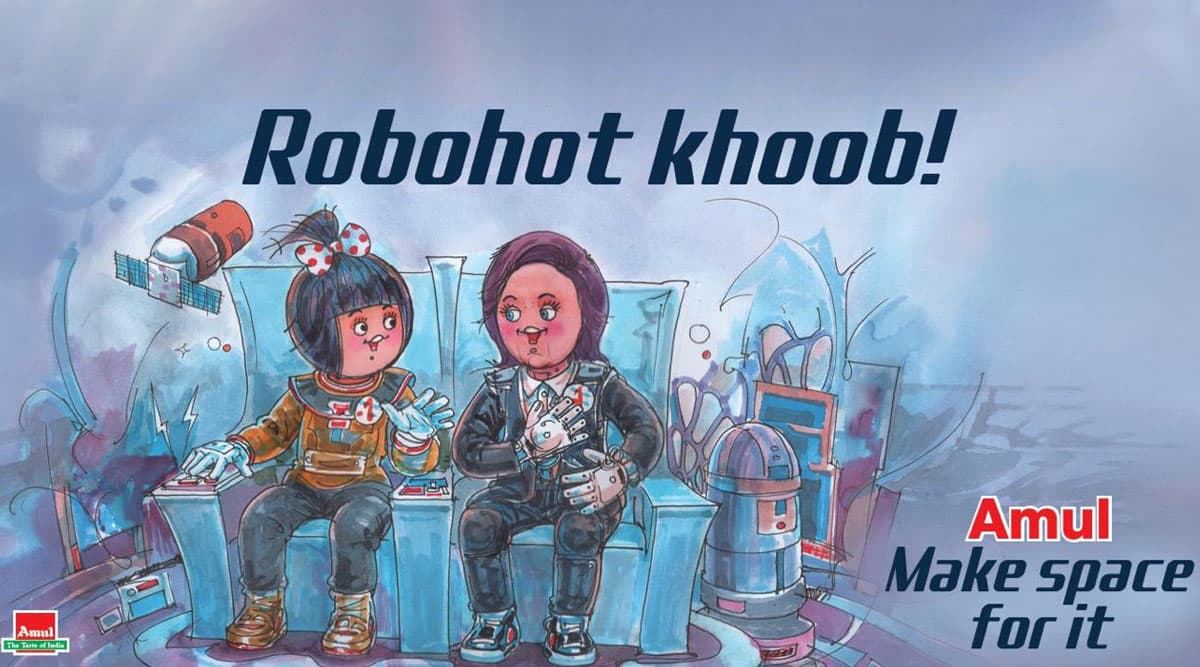 While the country cannot contain its happiness after Vyommitra, ISRO's half humanoid to go as a trial to space before Gaganyaan mission, Amul just released an amazing topical for Vyommitra. Amul wrote while introducing the topical on Twitter: "ISRO introduces female humanoid 'Vyommitra' for Ganganyaam mission!". On the topical is the picture of utterly-butterly girl in astronaut costume with Vyommitra beside her. A quirky phrase, "Robohot Khoob". You can also see the use of a pun on the topical. They wrote, "Make Space For It".
Check Amul Topical:
#Amul Topical: ISRO introduces female humanoid 'Vyommitra' for Ganganyaam mission! pic.twitter.com/TTmNZR6aXH

— Amul.coop (@Amul_Coop) January 23, 2020
Vyommitra, ISRO's Half-Humanoid is named after a combination of two Sanskrit words Vyoma (Space) and Mitra (Friend). Just recently when she was revealed to the common people, a wave of cheer took over. She introduced herself to the audience and said, "Hello everyone. I am Vyommitra, the prototype of the half-humanoid, been made for the first unmanned Gaganyaan mission." Explaining about the role in the mission, she said, "I can monitor through module parameters, alert you and perform life support operations. I can perform activities like switch panel operations..." The robot said she can also be a companion and talk to the astronauts.
Union Minister Jitendra Singh tweeted a 31-second video and wrote, "In the run-up to the first Human Space Mission by India at @isro ... 'Vyommitra', the humanoid for #Gaganyaan unveiled. This prototype of humanoid will go as a trial before Gaganyaan goes with Astronauts. #ISRO" ISRO chairman K Sivan told reporters the half humanoid will simulate human functions in space and also interact with the environment control life support system. "It will be simulating exactly the human functions there (in space). It will check whether the system is right. This will be very useful to simulate, as if a human is flying," he added.