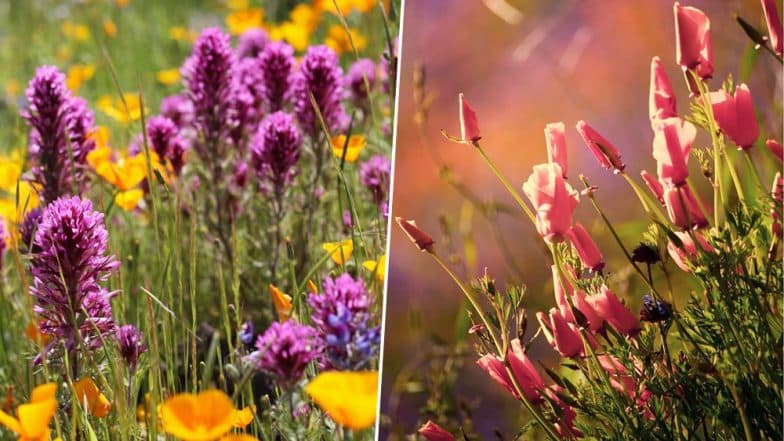 The state of California in the United States is experiencing a brilliant super bloom. Wildflowers have laid a colourful carpet across Anza Borrego Desert State Park, the largest state park in California near Borrego Springs and in different places of the state. The slopes of Walker Canyon near Lake Elsinore in California is covered in a layer of bright orange poppies making it look straight out of dreamland.
Seems two years of continuous rains made the dormant seeds to burst open around the Spring season putting up a vibrant show in the area. The cold weather has further provided more moisture to the ground helping in the steady growth of the flowering plants. The flowers have also sprouted in the regions between San Diego and the Salton. 5 Beautiful Flowers That You Can Eat for Numerous Health Benefits.
View this post on Instagram
Most flowers are in the colours of pink, purple, yellow and white. You could see everything from bright pink Bigelow's Monkeys, purple Sand Verbena, yellow Evening Primrose and white desert lilies. In California, super blooms generally happen once every 10 years, however, years-long drought conditions had reduced the phenomenon recently. Udyanotsav 2019: Flowers Lay a Beautiful Carpet at Rashtrapati Bhavan's Mughal Gardens in Delhi.
Check out the pictures here:
View this post on Instagram
In the last two years, this is California's second bloom which is otherwise rare.
View this post on Instagram
The 2017 super bloom was the brightest one Anza-Borrego Desert State Park saw in the last 20 years.
View this post on Instagram
The carpet of flowers was spread so far and wide that it could be spotted from outer space.
View this post on Instagram
Anza-Borrego has a wide variety of plants including the tall ocotillo that brings forth bright flowers. San Diego Union-Tribune reports that those planning to visit the park should go early in the morning as they close later in the day due to warm weather. Last year, California's Death Valley, one of the hottest and driest places witnessed a similar Super Bloom.