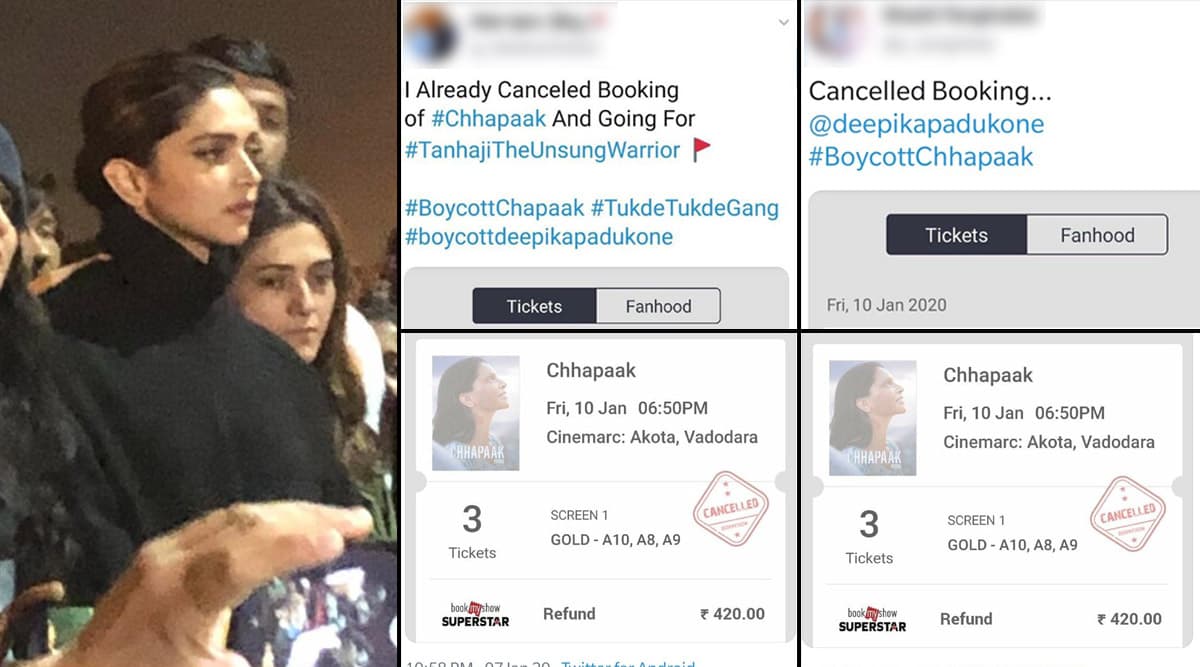 Mumbai, January 8: Moments after Deepika Padukone was seen at the Jawaharlal Nehru University to show solidarity with the students in protests against the JNU violence case, "BoycottChhapaak" trend was started by right-wing Twitter handles on Tuesday, calling on people to shun the star's latest release. Soon, various Twitter handles started to share images of cancelling tickets of Chhapaak movie shows. However, fake news buster website Alt News co-founder Mohammed Zubair on Wednesday shared a collage which showed that multiple people used the same image while claiming that they cancelled tickets for Chhapaak's show. The film Chhapaak is slated for release on Friday, January 10. After Deepika Padukone's JNU Visit #BoycottChhapaak Starts to Trend on Twitter.
BJP leader Tajinder Pal Singh Bagga took to Twitter to react to Deepika's JNU visit. Bagga shared a picture of Deepika Padukone standing alongside injured JNUSU President Aishe Ghosh and former JNU student Kanhaiya Kumar and wrote along with it, "RT if you will Boycott Movies of @deepikapadukone for her Support to #TukdeTukdeGang and Afzal Gang." Soon, number of people started tweeting with the hastag #BoycottChhapaak and shared images of "supposed" cancellations of tickets. Deepika Padukone's JNU Visit: BJP Leader Tajinder Singh Bagga Calls For Boycott of Chhapaak Actress' Films for Allegedly Supporting 'Tukde Tukde Gang'.
Check the Tweet Below
Many IT cell members have booked and cancelled exact same ticket for #Chappak #boycottchhapaak

Gold - A10, A8, A9 🙆🙆 pic.twitter.com/6TDiGPLeO4

— Mohammed Zubair (@zoo_bear) January 8, 2020
Another Tweet on the Images Shared
About 500 people on twitter have cancelled the same ticket for chhapaak. pic.twitter.com/tooJbPdKdZ

— 𝑲𝒖𝒍𝒋𝒊𝒕 𝑺𝒂𝒏𝒅𝒉𝒖 (@saandhux) January 8, 2020
Even though Deepika was attacked on Twitter for her visit to JNU, she also earned a lot of praise from various quarters for standing by the students after JNU violence. The star was applauded for taking a stand and the image of her on the JNU campus, where she was seen greeting JNUSU president Aishe Ghosh, went viral in no time.
On Sunday, masked men and women entered JNU campus in large numbers and attacked students and teachers with sticks and iron rods, showed video clips. They also vandalised cars and property inside the university. Close to 30 students were admitted to the AIIMS with severe injuries following the evening clash. They included two office-bearers of the Jawaharal Nehru University Students Union (JNUSU), including President Aishe Ghosh - who was reportedly hit over the eye with an iron rod, received severe injuries. Several students in various universities and cities in India held protests against the violence in JNU and demanded action against those behind the attack on students and teachers in JNU.