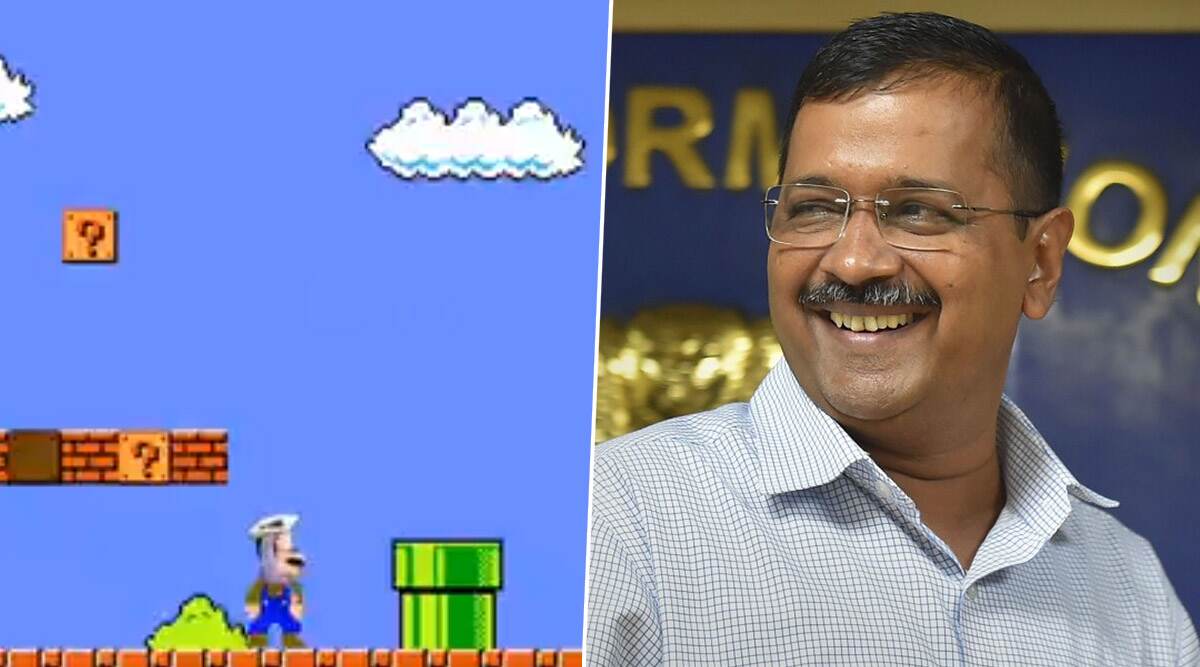 New Delhi, January 14: With the poll race heating up in Delhi, the Aam Aadmi Party (AAP) has upped its campaign on social media. In its latest campaign video, the party has used popular video game - Super Mario - to promote "Super Kejriwal". The video, which was liked and retweeted by thousands, has been lauded by Twitter users. The "creativity" of AAP's IT team ended up impressing scores among the netizens. BJP Sends Rs 500 Crore Defamation Notice to Arvind Kejriwal for Using Manoj Tiwari's Video in AAP's 2020 Delhi Elections Campaign Song.
In the 75-second clip, Kejriwal's journey as an activist of India Against Corruption to the Chief Minister of Delhi is mapped. The video, while keeping the viewers engaged through the Super Mario set-up, lists the top schemes and policies unveiled by the AAP government in the last five years.
Watch Video of AAP's Super Mario Version
SUPER KEJRIWAL pic.twitter.com/PDZoUYxd6s

— AAP (@AamAadmiParty) January 13, 2020
Twitterati Laud
This one is too good... https://t.co/KzbIx2LCLn

— Amit Sharma (@asharma555) January 14, 2020
'Winning Hearts'
Okay, winning hearts straight away! https://t.co/cD7SrAAgKu

— Garima Singh (@garimasingh097) January 14, 2020
'That's How You Engage Millennials'
very creative! that's how you engage millennials https://t.co/6Aepo5oEXc

— Chhavi Tyagi (@chhavi_tyagi1) January 14, 2020
'Super Cool'
This is super cool. Share as you watch our own Mr AK (Mario) on the rampage while shaping up Delhi's destiny against all obstructions and challenges faced in last 5 years. '#LageRahoKejriwal https://t.co/ZYascGJH5k

— Nimmi Rastogi (@nimmirastogi) January 14, 2020
The assembly elections in Delhi are scheduled to be held in a single-phase on February 8. The contest is primarily wedged between the ruling AAP and its prime challenger, the BJP. Both parties are locked in a heated verbal battle -- including an escalated fight on social media. Reaching out to the new-age voters, the AAP and BJP has released a spree of videos jabbing each other.
According to pollsters, AAP is leading the pre-electoral race so far. An opinion released by CVoter last week projected the Kejriwal-led party to return to power. As per the surve, the AAP is expected to bag 59 out of the 70 seats, whereas, the BJP and Congress are predicted to be restricted to 8 and 3 constituencies, respectively.