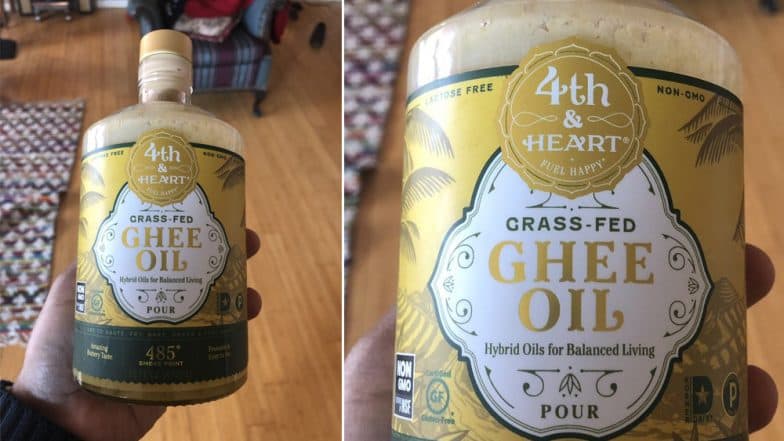 Good old ghee needs no introduction, especially to us Indians. The clarified butter, which has its roots originated in India holds special significance liberally around the country in everything from food to traditional medicines. Apart from its taste and health benefits, we are also too much attached emotionally with the desi ghee. And why not? Recently, when a Los Angeles-based company discovered this superfood and repackaged it into 'grass-fed ghee oil', our desi Twitterati were raged for all fair reasons. The tweet which is going viral shows a pic of Fourth & Hearts Ghee oil bottle.
It is understood that the current market has become a bit saturated, which is why many companies in order to remain in the competition are trying to maintain the quality of their old items or re-packaging them. But this strategy is ridiculous. On the bottle of the pourable ghee, it is written, "Our ghee oil is a (60/40 butter oil/grapeseed) hybrid of a slow cooked butter oil and grapes. The slow cooking of the oil allows us to preserve the vitamins found in butter that burns off in high-temperature cooking. Use to saute, bake, scramble, or fry, in salad dressings or even blended in your hot coffee. Excellent for high-temperature cooking." Ghee in hot coffee? WTF! 8 Health Benefits of Ghee That Will Make You Ditch Butter and Oil. 
Meet Grass-Fed Ghee Oil. 
This is what they have done to our ghee pic.twitter.com/D1ZfuagHaz

— Angry Cussing Baba (@BabaGlocal) February 25, 2019
According to a Twitter user reported that it not real ghee, but a mixture of random oils that ghee-like texture.
I used this stupid ghee oil thing for 2 years thinking it was actual ghee. I realised last month only that it was just some random oils mixed together that somehow gave the ghee like texture. 😭 pic.twitter.com/bmABPHdQbF

— Prachi Bhardwaj (@ThatLegalEditor) February 25, 2019
Furious desi ghee lovers could not resist this ridicule and backlashes the Los Angeles-based company.
White people are just SO GREAT at packaging/branding 😂😩 https://t.co/iZf4Las75N

— Artful Dodger (@RahulChels) February 26, 2019
Literally!
When the label says pour, it means down the drain.

— Bhanupriya Rao (@bhanupriya_rao) February 25, 2019
We Say, The Later One!
So is it ghee or is it oil? Or is it the tears of Indians every time they come across such nonsensical crap from the Americans?

— labellagorda (@labellagorda) February 26, 2019
Bollywood Actress, Swara Bhaskar Joined in Too.
Literally WTF !!! 😡😡😡 im a #GheeNationalist https://t.co/nXYhL4xUGK

— Swara Bhasker (@ReallySwara) February 25, 2019
Yes, it seems that chai latte and turmeric latte and Yoga were not enough, that this company westernised desi ghee into a weird cocktail which is anything but ghee. Recently, coconut shells were being sold on Amazon for about Rs. 3,000 which caused a similar outrage on the internet. Seriously, how far is too far?