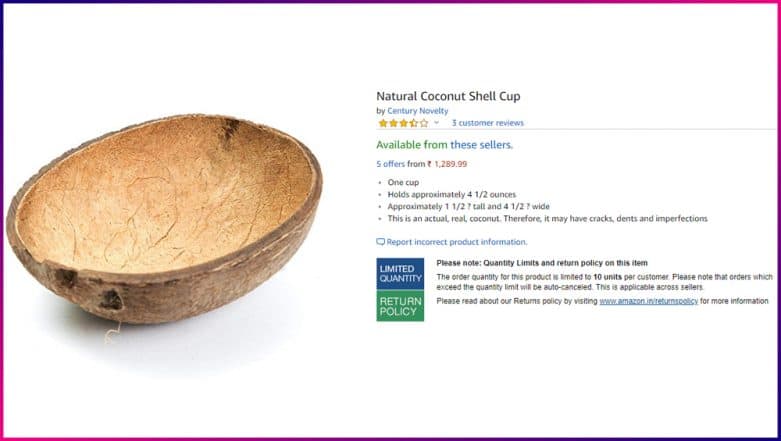 The internet is full of amazement and it will always have something surprising or shocking to offer. You can never really predict what will emerge while you are surfing on the internet, more so if you are an avid online shopper. But who would have thought a coconut shell which most of us throw away will be selling as cup online! Termed as Natural Coconut Shell Cups, Amazon is selling half of the coconut for almost Rs 3000. With a 55% discount on the same, it is now selling for Rs 1365. Netizens are shocked to find this discovery and Twitter is clearly amused. Amazon Selling Toilet Seats With Golden Temple Picture, Punjab CM Amarinder Singh Demands Withdrawal and Apology.
A Twitter user shared the picture online and no sooner the rarity started trending, some laughing away, some clearly shocked at the discovery. Some could not believe it was actually selling and thought it was a joke! Something that we all threw away is now being sold online so expensive. These are typically sold for the Hawaiian parties, as the description reads. Used to serve tropical drinks in them, these shells are also used as a decoration item on the table. Amazon Sells Toilet Covers With Islamic Scriptures, Takes Down After Complaints From Muslim Community.
Take a Look at Coconut Shell Cups Being Sold on Amazon
Seriously? 🤷‍♀️ pic.twitter.com/btViUdhFbJ

— Rema Rajeshwari IPS (@rama_rajeswari) January 15, 2019
Twitter clearly could not take it and the funny reactions began pouring in. Check how some of the people reacted to this item.
Business idea
I will be a crorepati soon. Found the trick .

— Anand ଆନନ୍ଦ (@TheCrazy_Freak) January 15, 2019
If at all I knew this earlier, I would have been a millionaire by now :(

— Aneel Kanuri (@myflyingthought) January 15, 2019
Does anyone want for free?
Hahahha….I can give them to whoever wants it for free...everyday!

— Me 🇮🇳 (@lotusprings) January 15, 2019
Oh, mother!
Oh no.. means my mother burns around 8 to 10 k every morning.. 😥

— whysoserious (@Ramkrushna96) January 15, 2019
Clearly, a lot of us are regretting throwing away so many of rupees in the dustbin or just burning them as fossil fuels. Who would have thought coconut shells would become luxury party decorative item!