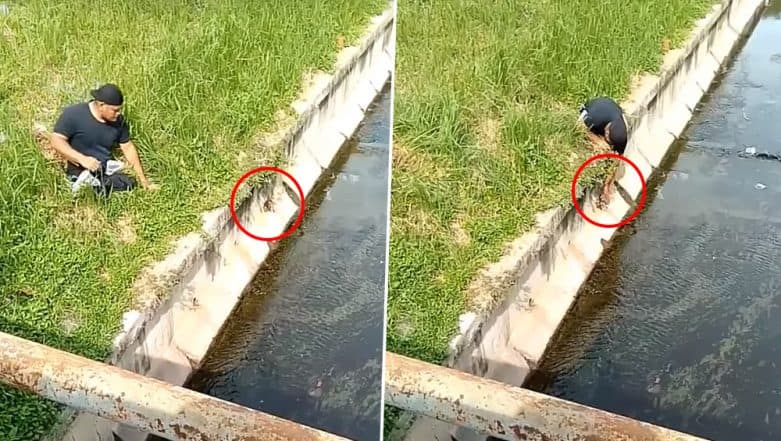 A Malaysian man has posed as a great example of going the extra mile for animals, when he risked his own life to save a kitten from drain. Abu Fathiyyaturahma Menk Abdun Mujtahid, a paralympic athlete was on his way to the sports complex when he heard a kitten mewing. A little kitten had trapped itself in a drain, with no way out and dirty water beside. The terrain to reach there was difficult, especially since Abu is handicapped. But that didn't stop him from risking himself. He climbed out of his wheelchair and saved the kitten. The entire episode was captured on video by his other disabled friend. The video went viral and internet is hailing him as a hero. Dramatic Rescue! Cat Slides Down Indian Dam Spillway, Saved by US Army Corps (Watch Video).
Abu and his friend were on their way to the Likas Sports Complex where they train everyday. They saw a kitten fallen into the big drain and it was completely drenched. The kitten was trying to hold on to the concrete so that it would not fall into the water around. Abu mentioned that he could not leave the poor kitten which already seemed to scared. So he decided to get down and save it. His friend has a prosthetic leg so he too could not help in saving the helpless animal. Man Developed Customised Drone to Rescue Puppy From a Drain in Lucknow, Watch Video.
Watch Video of Handicapped Man Saving Kitten From a Drain:
We can totally see how difficult it must have been for Abu as he scrambles up and down to reach the kitten. It wasn't an easy task as the drain was a little steep and a little miscalculation could've resulted in an accident. But Abu was adamant and got down to saving the kitten as soon as he could. He adjusted himself twice to reach the kitten and finally got it back up to safety. He then uses his arms to get back to his chair. Abu shared this incident on his Facebook page and the internet has hailed him as a hero. The video is indeed an great example of altruism.