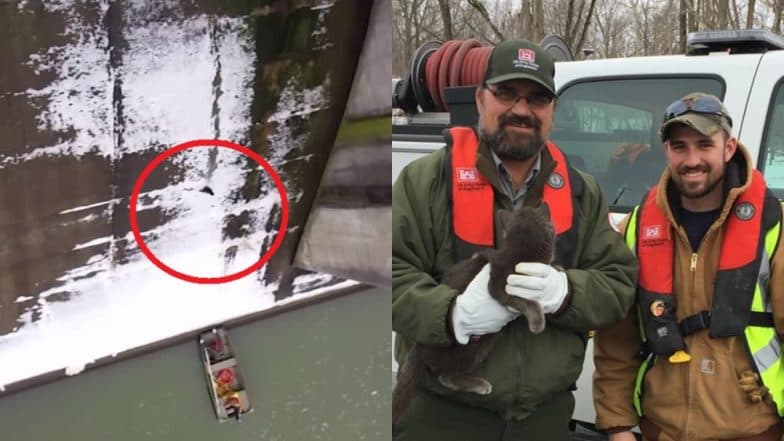 Video of a cat sliding down the spillway of a dam has left social media users shocked. The video shows a wayward cat going down the slope only to be rescued by a group of men on a boat. The dramatic rescue of the cat went viral on social media with people exclaiming at the way in which it was saved.
The footage caught social media's attention after The Huntington County Sheriff's Department shared it on Facebook. According to the post, the cops received a call about the cat which had become stranded on the spillway. While it was not known how the animal reached there, it clearly looked distressed. Man Developed Customised Drone to Rescue Puppy From a Drain in Lucknow, Watch Video.
The post reads, "The cat was clearly in distress and retreated to the very top of the spillway area and lodged itself in the metal structure. There was not any way to gain access to the animal, short of taking a boat out and hoping we could coax it down. It was decided it was worth a shot to attempt the help the cat versus doing nothing."
The workers sought permission to stop the water flow and reached the slope's end with a boat. The cat eventually slid all the way down and members of the U.S. Army Corps of Engineers grabbed it before it could reach the waters. Cat Climbs Into Box; Accidentally Posted 700 Miles Away in Canada.
Watch the video of the cat being rescued below:
Soon a woman commented on the post thanking the officers for saving her pet. She said that it was an "inside-outside cat" and had been missing for two weeks. Her comment reads, "Mr. Vanjie is safe and sound! He has been missing for almost 2 weeks. I'd truly like to thank the Huntington County Sheriff Department and the rescuers from the Army Corp of Engineers who saved our beloved cat! He is an inside-outside cat we took in when he landed on our doorstep a little over a year ago. We are very thankful to have him home! He is exhausted!"