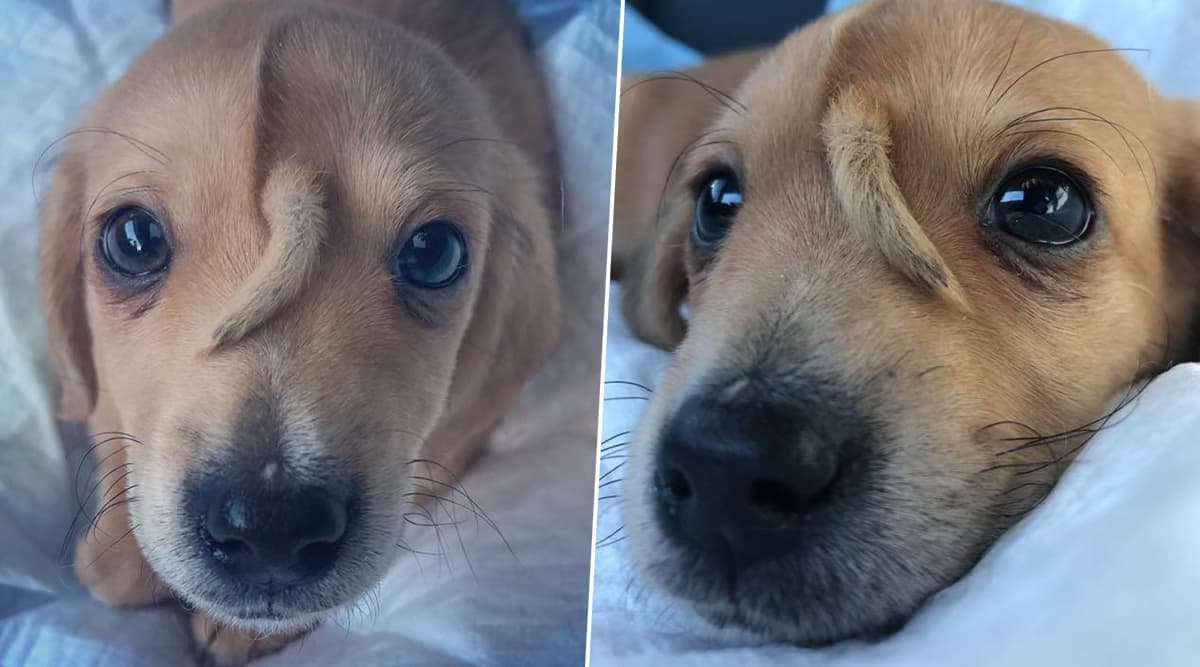 Who doesn't love puppies but this super cute two-tailed puppy has gone viral on social media platforms amusing netizens. Also, called 'Magical Unicorn', Narwhal was recently rescued by Missouri-based rescue organisation Mac's Mission from freezing cold. The most special thing about this puppy is that it has a tail growing from its head and the internet is falling in love! So don't you think, Magical Unicorn doesn't have a tail at the back, the pup is blessed with two tails! The puppy was found wandering in cold temperatures with an older dog last week. When it was brought home, rescuers found it had an injured foot and were shocked to see growth from its head falling between the eyes. Nori the Dog With 'Human Face' Is Not the Only Pooch That Looks Like a Person! Meet Yogi (View Pics)
Sharing the dog's thoughts on becoming popular on social media, the organisation shared his picture with the caption, "It's me Narwhal!! I don't understand what viral is but my foster mama said my story being viral helps ALL our special needs dogs here at the Mission. You are welcome. I am super excited for being the poster child for 'special is awesome'. Sleep tight, k thanks, Narwhally." Rare Dog Breed Mexican Hairless Which Looks Like a Statue Shocks Netizens! (See Pictures)
Check Out The Facebook Post Below:
Unicorn At The Vet:
Check Out Video of The Puppy Playing:
To find out the cause of the two tails, they examined the animal and took his X-rays. The vet told the rescuers that the growth on the head is not connected to anything at all and it is of "no real use other than making him the COOLEST PUPPY EVER!" Sharing photos and videos of the pup on Facebook, they said that they named him 'Narwhal the Little Magical Furry Unicorn' in honour of his unique appearance. Mac's Mission in a Facebook post said that the growth doesn't affect Narwhal and it is just simply there.