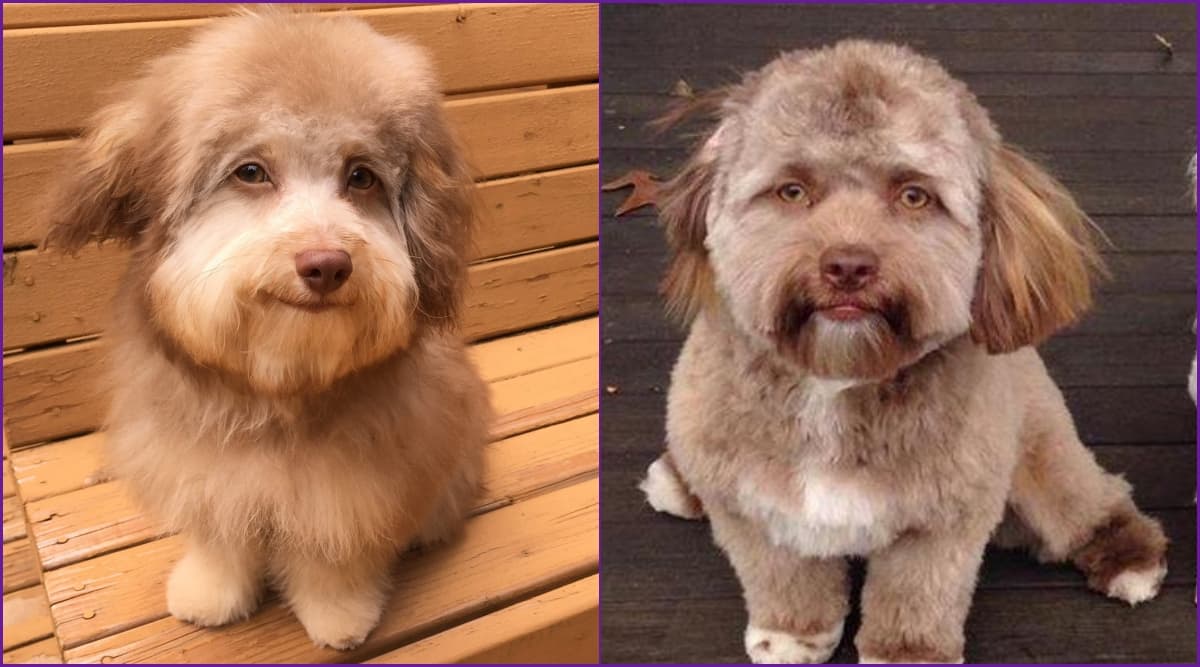 If you are an ardent lover of dogs then there is one dog on the internet which may make you feel very uncomfortable solely with its looks. A dog named Nori from Seattle resembles a human! Yes, an Aussiepoo mix breed owned by Kevin Hurless and Tiffany Ngo have very human-like features on its face. And thanks to this very unique look, the dog is going viral on social media. Large eyes, pink lips and a very human-like smile, Nori is currently driving the internet crazy. But is Nori the only one? No, last year a dog named Yogi sent the internet into a tizzy with its human attributes. Rare Dog Breed Mexican Hairless Which Looks Like a Statue Shocks Netizens! (See Pictures)
The human face is so very evident that the owners often get asked if there is some kind of face-swap technology they have used! Talking about Nori, Kevin told a report, "When he was a puppy, we couldn't go more than a block without someone stopping us to ask questions about him. It has become less frequent as he's gotten older, but we still often hear about how human his face and eyes look." And with such unique looks, Nori's owners have created his Instagram account, which has by now over 800 followers.
Check Pics of Nori, Dog With Human Face:
Those Googly Eyes!
View this post on Instagram
Sneaky Hooman Face
View this post on Instagram
Pictures Shared By Nori's Owner:
I wonder if he's related to Nori @figurativelol pic.twitter.com/tRLvIzuBU9

— kj (@HurlKevlar) September 24, 2019
Most comments on Nori's pictures talk about how much of a human he looks! "Nori is a Toy Australian Shepard and Toy Poodle mix and he often looks like he's smiling," says Kevin. He added that when they first saw him they too noticed his unique face but did not expect he will get such reactions from people.
Like we mentioned, this is not the first time such a dog has got the internet crazy. A dog named Yogi, a cute puppy of the Shih-Tzu breed resembles a human face so much! Yogi's face was shared on Twitter and people went crazy figuring out if he resembled any celebrity too.
Here's a Picture of Yogi Dog With Human-Like Face:
THIS DOG HAS A HUMAN FACE pic.twitter.com/nEmQ6ZgJcZ

— Ellie Hall (@ellievhall) March 12, 2018
The picture had sent the internet into a tizzy and people had options from comparing the face to Jake Gyllenhaal to Tobey Maguire. Both of these dogs have such a human face that it is unbelievable. But well, it is one of the rare things to see such an attribute on a dog and people are amazed.