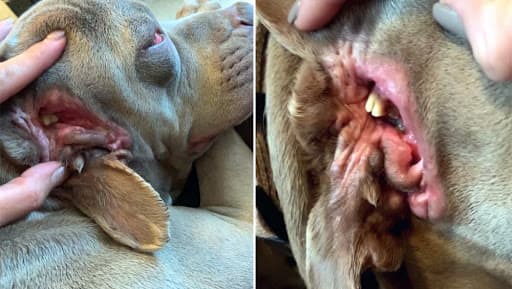 We have heard enough about the weird creatures or seen videos of some mutant seeming species that keep coming on the internet every once in a while. But a stray dog from Oklahoma city was discovered with a bizarre looking defect! It was eventually adopted by a rescue centre because of its two mouths. This stray dog, which was eventually adopted by animal rescue centre has two mouths and just one ear. This dog has such a defect that it in place of its one ear, there is a mouth with teeth and it salivates! What did you read? Yes, it's true. A dog named Toad is currently at a rescue centre called Mutt Misfits, which treats animals with major medical issues. Fish With Pigeon Head Found in China, Watch Video of The Weird Looking Mutant Species!
Toad is a female dog and 5-years-old. She was at Oklahoma City Animal Welfare shelter as a stray and was shifted to Mutt Misfits on discovering her unusual condition. On preliminary examination, they thought it had an extra ear but saw a mouth growing from the side. Heather Hernandez who looks after Toad said, "Immediately we recognized that she was very different to most dogs." The veterinarian at the clinic found it has a mouth, with proper teeth and even salivates. Two-Headed Deer With One Dead Head Found by a Hunter in Kentucky, View Pics!
Watch Video of Dog With Two Mouths in Oklahoma
Looks scary right? But the extra mouth does not cause it as much pain, other than discomfort due to the cracked teeth there. Those teeth were removed and then she was fine. Toad cannot hear or smell too well because of the realigning defect but other than that it can function well. Extra care has to be taken of Toad, like cleaning her side mouth at night, so that the saliva doesn't stick to her fur. Hernandez loves Toad as she is and said, "Just because an animal doesn't look perfect, it can still make a perfect pet and a perfect part of the family."