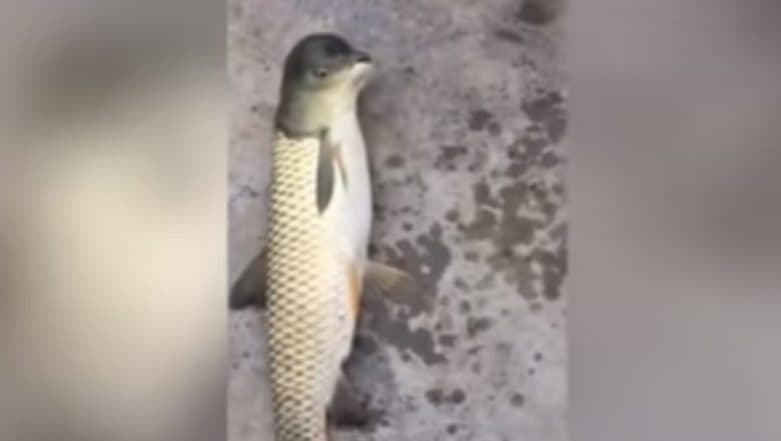 A mutant fish, if that would be right to call the species, was caught recently in China that has stunned onlookers. The huge and unusual fish has the head of a pigeon! It may sound strange but it is quite true. The odd-looking fish was caught by a Chinese fisherman in Guiyang City in Guizhou Province earlier this month. Onlookers present at the spot were shocked to see the weird-looking creature and took pictures. The video of the fish has also been captured.
The fish had a body like a grass carp with scales all over its body and it has a head of a bird. The video shows it lying on the ground and gasping for air. A grass crap is a common freshwater species usually found across Asian and North America. It is cultivated for eating in the country but this mutant fish has caught all the attention. But the fish was left back into the water and the finding was reported in several weird creatures found around the world. It is among the most bizarre creatures found in China recently.
Check the video of the fish with bird head found in China:
The pictures of the mutant fish found its way on the internet and it even fuelled debates as to who the fish's head resembles. People argued that it looks more like a dolphin face than a pigeon. Other users said the head resembles a parrot. Facebook users commented that the fish looks like a radioactive breed. Fish expert at Natural History Museum told MailOnline that they "cannot identify the cyprinid fish' but the fish could be showing a deformity known as 'pug-head', which is often seen in fishes." Guizhou Fisheries Research Institute has said it is just a deformed carp. One of the experts said a deformity like this could be observed in freshwater. Talking about the causes of the deformity the expert said, "One possibility is that the embryo was damaged when it was growing; another possibility is that the lack of oxygen in water - due to over-crowded fishing farming - caused the fish's head to be deformed." Well, it may be a deformity but it is sure weird.