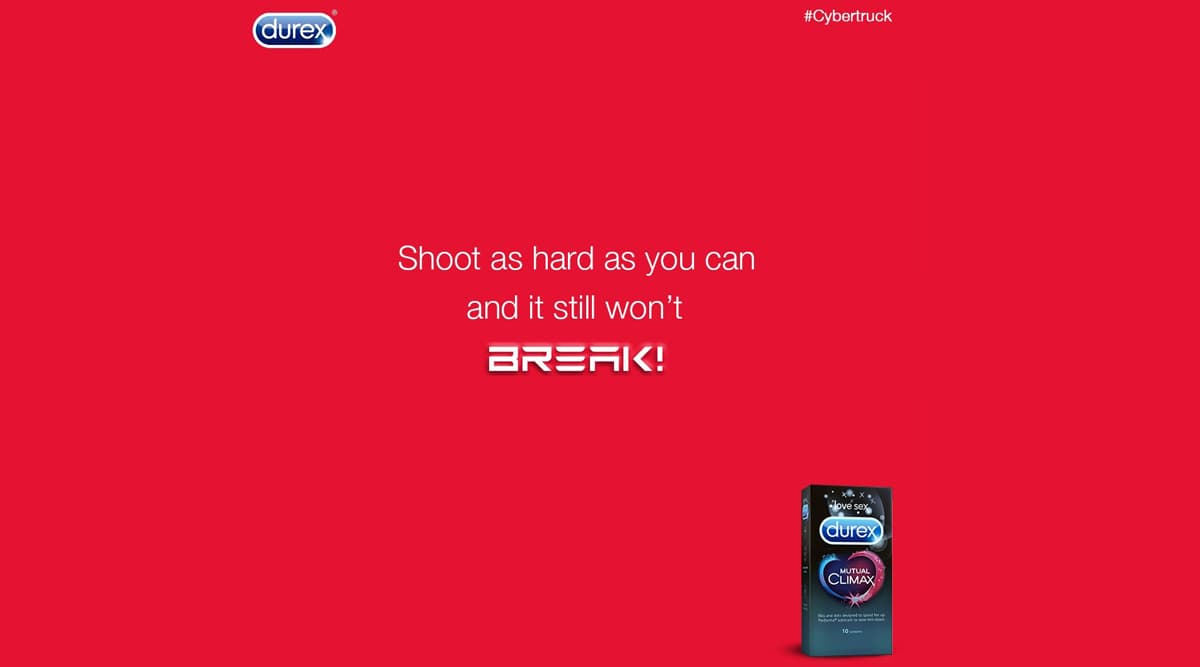 Tesla Cybertruck, a six-seater electric pickup truck was launched today by CEO Elon Musk. However, the unveiling event became quite an embarrassment for Musk as, during the demonstration, two of its windows got smashed. To make things worse, Musk was demonstrating how hard and unbreakable the glasses were. The boo-boo became the source of many memes and jokes on social media and joining them is condom brand Durex. The social media handle of Durex India took a dig at the Cybertruck's window-smashing to draw a point that their condoms won't break. The brand has been known for their creatives takes and marketing gimmicks and this one, once again has impressed the netizens.
The Cybertruck was another one of Musk's ambitious projects. Inspired by "Lotus Esprit S1" from the Bond film The Spy Who Loved Me, this six-seater electric vehicle will compete with another leader Ford in the market. Musk, to boast about the toughness of the glasses, threw a solid metal, baseball-sized ball at the driver side window. But unfortunately, the windows smashed. Although the Tesla CEO covered it up by saying, "Room for improvement", the incident was enough for people online to start making jokes and memes. Durex India also took their chance and decided to promote their "unbreakable" condoms.  Durex Takes the Viral FaceApp Challenge Showing How Condoms Would Look in 2069 and the Result Is Hilarious! (View Pic).
Check Durex India's Tweet on Cybertruck:
We could showcase it to you, but let's rather not! 😋 #CyberTruck.

To buy, click on https://t.co/OpegXM40jv. pic.twitter.com/KQBoxxMGTS

— Durex India (@DurexIndia) November 22, 2019
Their font of writing "break" imitates the design of the Cybertruck. And in the smart use of words, their caption reads, "We could showcase it to you, but let's rather not! 😋 #CyberTruck." Twitterati was once again loving the creativity of the brand and some of them gave funny reactions. Check how Twitter reacted to this ad.
Premature Ejaculation!
Is #cybertruck releasing in India or this was a premature ejaculation from Durex ? @elonmusk

— Ash B (@ashb_tweets) November 22, 2019
Clever Use of Words Again
Musk give this a try

— Prathamesh Padwal (@soomdimeikombdi) November 22, 2019
Loving it!
Nice one🤣🤣🤣

— Tanmoy Banerjee (@Tanmoy801755821) November 22, 2019
The condom brand in the past too has joined in the latest trends to get their point across. When Apple introduced the iPhone 11, Durex decided to creatively use all the new features on the phone to give sexual references. The brand has been great when it comes to marketing and catching up on trends. What do you think about their latest move?