Mumbai, November 11: Amid talks between the Congress and Nationalist Congress Party (NCP) over forming a government with the Shiv Sena in Maharashtra, a post is going viral on WhatsApp about portfolio distribution among the three parties. According to the viral post, Shiv Sena leader Aaditya Thackeray will swear in as Chief Minister with NCP leader Ajit Pawar as his deputy. Congress state chief Balasaheb Thorat will be Speaker of the assembly, read the post. BJP, Shiv Sena Split: Timeline of Maharashtra Political Crisis That Led to Hindutva Allies Breaking Apart.
The viral post further claimed that Advocate Yashomati Chandrakant Thakur, who is a Congress legislator from Teosa, will be Deputy Speaker. NCP leader Dhananjay Munde and Shiv Sena's Eknath Shinde will get Home and Revenue department respectively, the WhatsApp post claimed. The message is being widely shared on Facebook and Twitter as well. Given the possibility of the Shiv Sena-NCP-Congress government in Maharashtra, netizens are actually believing the post. Uddhav Thackeray For Maharashtra CM in Shiv Sena-Proposed Pact With Congress-NCP? Two Deputy Chief Minister Posts Offered.
Screenshot of Viral WhatsApp Post: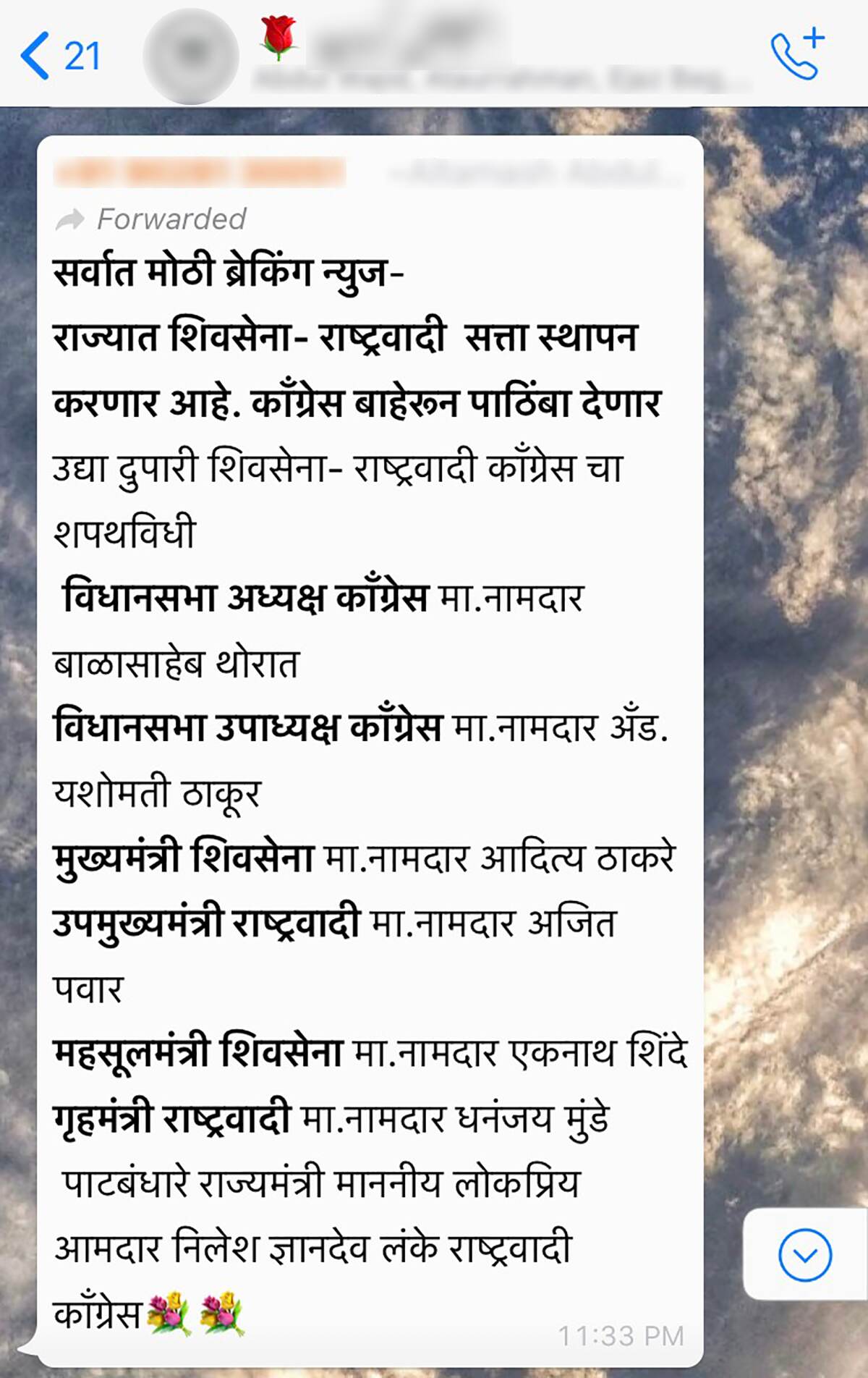 The post is indeed fake and no such decision have been made so far. While the NCP is ready to support the Shiv Sena after its minister Arvind Swant quit the Modi cabinet, the Congress is yet to decide on going with Uddhav Thackeray's party. Earlier today, the NCP said that it was waiting for the Congress to take a call on supporting a Shiv Sena government in Maharashtra, and would take a decision jointly with the grand old party. No discussion on portfolio distribution has been taken place.
Congress has called its MLAs from Maharashtra to Delhi for a meeting in the evening to take a final call on the matter. The unprecedented political development came a day after the Bharatiya Janata Party conceded that it was unable to form the government, following which Governor Koshyari invited the Sena to make an attempt.
Fact check
Claim :
Aaditya Thackeray will be Maharashtra's new Chief Minister and Ajit Pawar Deputy Chief Minister.
Conclusion :
The viral WhatsApp post about portfolio distribution among Shiv Sena, NCP and Congress is fake.