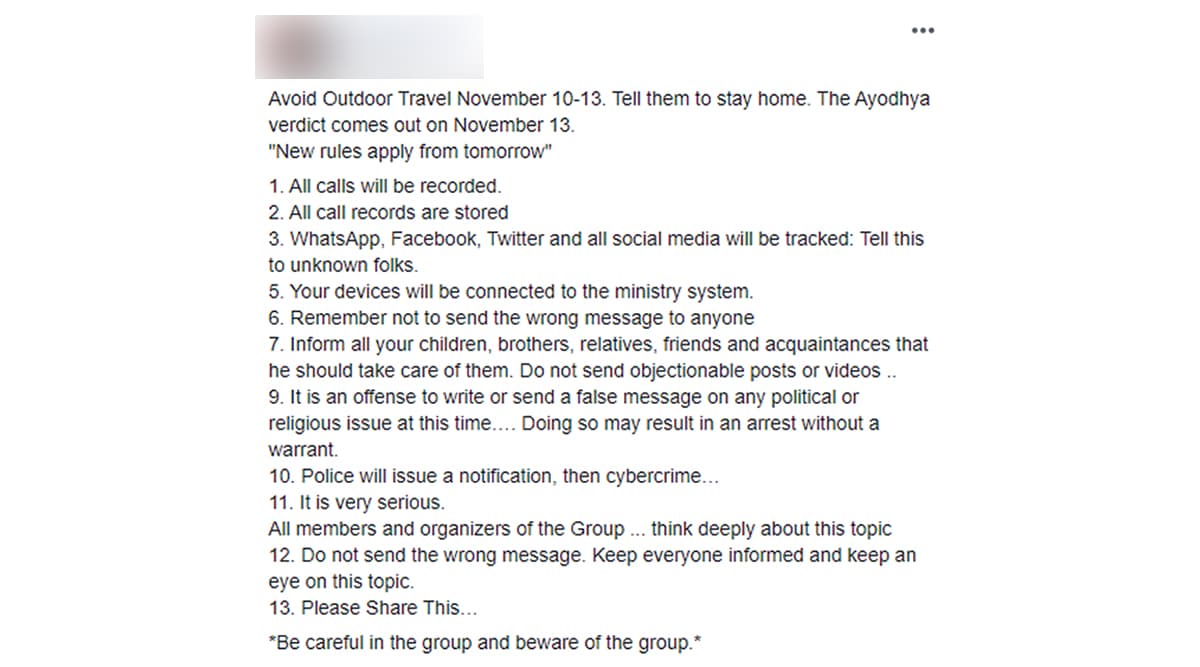 New Delhi, November 9: Ahead of the Supreme Court's much-awaited verdict in the politically sensitive Ayodhya case, a message is going viral on WhatsApp, Facebook, Twitter and other social media platform warning readers of surveillance of social media accounts. It is written in the viral message that social media accounts will be monitored, with electronic devices being connected with the ministry in the wake of the apex court's judgement on the title suit of the Babri Masjid-Ram Janmabhoomi dispute. Ayodhya Verdict Live News Updates.
The viral message states that all calls will be recorded and saved. Those who will make communal or political comments on social media will be charged and the cybercrime department will initiate action against them, read the post. It also warned readers not to forward posts or videos which are critical of the government or the Prime Minister. The post is being widely shared on WhatsApp and Facebook. While the intention of the message is noble, it must be noted that no such surveillance of social media is being conducted. Ayodhya Verdict Today: PM Modi Calls For Harmony, Says Judgment Will be 'No One's Victory or Loss'.
Message Claiming Social Media Surveillance Goes Viral:
Ayodhya verdict

New rules of communication will come into force from tomorrow: -

1. All calls will be recorded.

2. All call recordings will be saved

3. Whatsapp, Facebook, Twitter and all social media will all be... https://t.co/EoGnI6ZsYl

— Pitam Baneree (@Pitambj4) November 8, 2019
While Ayodhya administration has warned residents of the district against making any defamatory remark on deities, the city police have confirmed that the viral message is fake. On November 5, the Twitter account of Ayodhya police said that some people had attempted to spread rumours on social media. The report, shared by Ayodhya police, stated that such efforts by mischief mongers have been neutralized ahead of the verdict.
Ayodhya district magistrate Anuj Kumar Jha has issued a slew of directives in view of the Supreme Court's today's verdict in the Babri Masjid-Ram Janmabhoomi title dispute case. "No attempt should be allowed to make any insulting remarks on great personalities, deities and gods on any social media platform such as Instagram, Twitter and Whatsapp. Besides, no installation of any idol of any deity will take place without permission from the district administration," says the order.
Fact check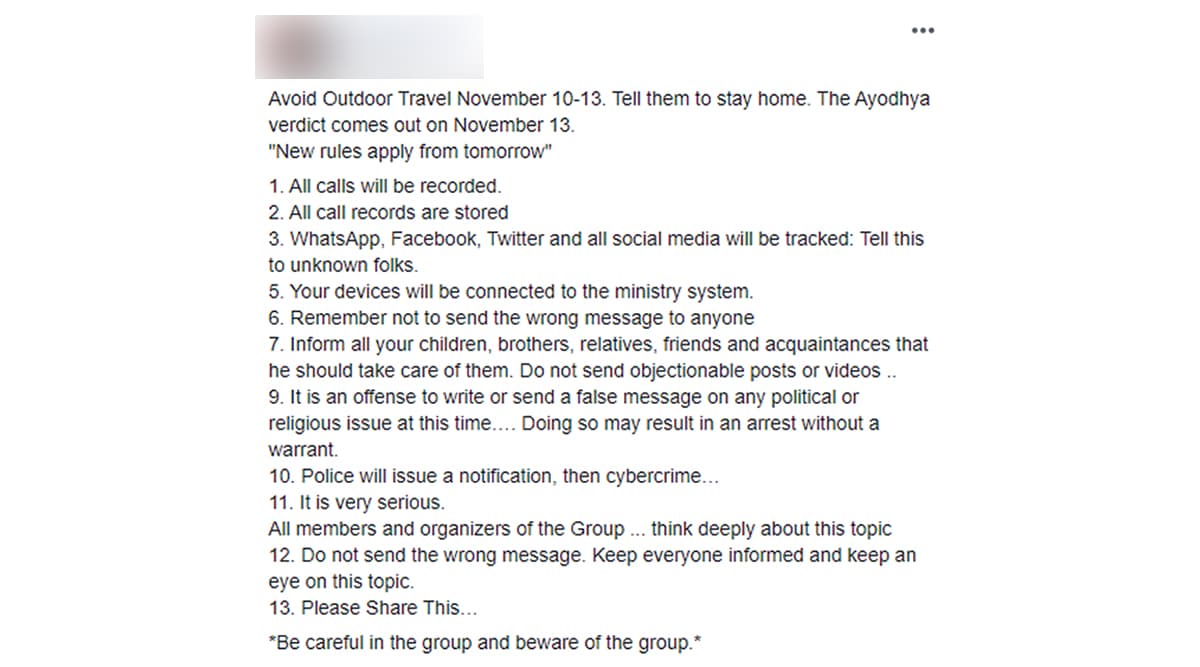 Claim :
WhatsApp messages and calls will be recorded ahead of Ayodhya verdict.
Conclusion :
No, messages and calls are not recorded.