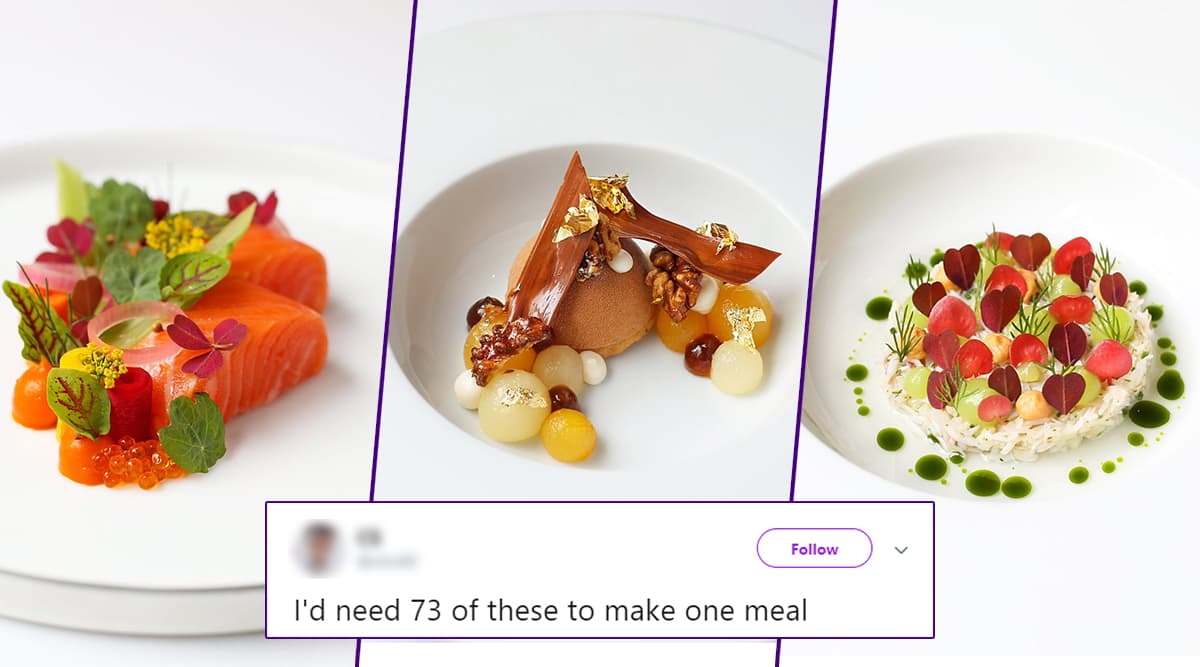 Celebrated chef Gordon Ramsay is known for his culinary mastery and food critiquing. With his own line of restaurants boasting of Michelin star awards, Ramsay keeps sharing pictures of some of the dishes made in them. Recently, Ramsay shared a few pictures of seasonal dishes made at his signature restaurant, Restaurant Gordon Ramsay in Chelsea, London. He shared three pictures of exotic dishes made in here but Twitterati, however, wasn't so impressed. The little portions on the plate seemed to a major concern for many netizens. Amusing comments followed on Ramsay's "stunning seasonal dishes."
If you are among the ones who love hogging on food, then well, quantity served in a plate does matter. The pictures shared by Ramsay showed very little portions on the plates, decorated well with some leaves and fruits. But the portion size was far from filling at least for netizens, who left some funny and amusing comments. Gordon Ramsay's Butter Chicken From His Restaurant at Heathrow Airport Gets Hilariously Trolled on Social Media, Check Funny Tweets.
Check Gordon Ramsay's Pictures of Seasonal Dishes:
Absolutely stunning seasonal dishes at @restaurant_gr !! Gx pic.twitter.com/gl11deYwSJ

— Gordon Ramsay (@GordonRamsay) October 2, 2019
Not Even a Mouthful
Not even a mouthful of rice smh https://t.co/efOPHBOAk2

— ⚒Sean⚒ (@SeanBurton95) October 3, 2019
But Where's the Food?
Dishes are stunning but where is the food? https://t.co/qHGw5TMCu8

— Laughing Satya (@Satya_PKS) October 3, 2019
Dishes are stunning but where is the food? https://t.co/qHGw5TMCu8

— Laughing Satya (@Satya_PKS) October 3, 2019
Hahaha!
The last one looks like my Petri dish in biology https://t.co/UT4LHh6drX

— Emily💕 (@estewart2407) October 2, 2019
Oops
Vegetables cut karte waqt thode jo pieces gir jate hain, woh sab milake isse👇jyada hote hain https://t.co/fKAZq1peTG

— Spurty (@SpurtyRao) October 5, 2019
Get 72 More of This Please
I'd need 73 of these to make one meal https://t.co/4YfATNAhmn

— CS (@chin80) October 2, 2019
Not Filling
I love this but Is this actually for eating or tasting? I mean I would love something after these to actually fill my stomach https://t.co/ufrBebM507

— Brijesh Deb 🇮🇳 (@brijeshdeb) October 5, 2019
Accurate much?
Yeh khaane se pehle khaate hain ya baad mein ?? https://t.co/ioJRyC3qn8

— The-Lying-Lama 2.0 (@KyaUkhaadLega) October 2, 2019
Some users also commented that the presentation was indeed beautiful but the smaller portions were still a concern. Well, but that is how it is in most of the fancy restaurants where the cost of the dish is pretty high compared to the food that comes on a plate. Twitterati was voicing the same concern with funny jokes and comments here.